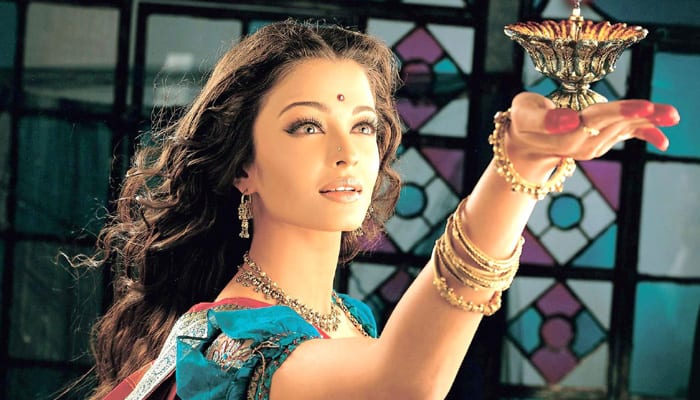 It would seem that Aishwarya Rai wanted a career in medicine first, then she shifted to archaeology, and then dropped out to discover the world of modeling and from there it seemed to be a sure way to acting. Her modeling career did last for a while as she found that she was rather good at it and it did become a big part of her life, but after a while getting up in front of the screen became the driving force in her life. Rai is the type of person it would seem that wants to help the world in a big way and as she's been seen to be a very charitable person it would seem that she's on the right track. While a lot of people in the US might know next to nothing of her career it is evident that she's managed to create something of a great reputation when it comes to her time on the screen.
Here are a few of her best movies thus far.
5. Taal
Leave it to someone's family to screw up a relationship between two people that happen to love one another. It's always a rather difficult moment in any culture when status is what keeps people from really uniting and is thus used as a measure of how a person must be and where their place is in life. Mansi and Manav are two individuals that happen to care very deeply about each other, and when when Manav's family disrespects her and her father during a visit it becomes a reason for Mansi to tell Manav to leave her alone. Thankfully though Manav pleads with her and insists that his feelings are real, to which Mansi finally replies by reciprocating his feelings and admitting that she is in love with him as well.
4. Jodhaa Akbar
Rai seems to enjoy acting in love stories, as this one sees two individuals that initially don't seem to care as much for one another as you might think, but come to a greater understanding as the movie goes forward. Jodhaa is betrothed to one man but is forced to marry another in order to secure a peaceful alliance. Her displeasure is obvious but she can't risk angering anyone since it would mean the end of the alliance and it would shame her family. However, when an individual in the employ of the man she marries tries to ruin her, it takes a monumental effort for the truth to come out and for things to be patched up.
3. Ae Dil Hai Mushkil
Sometimes a person wants someone that doesn't want them back no matter what. Ayan was in love with a woman that considered him to be just a friend and nothing more, but he had trouble accepting that and thought that maybe things would change. When she was out of his life for a time however he tried to love another woman that seemed to have no place for love in her heart, but it didn't work as he kept pining for the one woman he wanted but couldn't have. The woman he was with saw this and left, as many would since there's no point trying to find the love in a person's heart when it's reserved for someone else.
2. Hum Dil De Chuke Sanam
The back and forth love triangles that seem to form in movies sometimes make a person's head spin since two people seem to be in love one moment and then another person comes along and one of them falls in love with that person and so on and so forth. The idea of this movie is that the marriage between two people was not going to be allowed at first, so the woman eventually met someone else and was going to marry him, until she read a few letters the first man had sent to her that she'd not received at first. Upon reading the letters she wanted to be with the first man, but upon seeing how the second man cared for her she warmed up to him and eventually stayed with him.
1. Devdas
Friendship is never as simple of a thing as people make it out to be since throughout the years friends come and go, but the strongest bonds between two people are those that tend to stay and mature into something more than mere friendship. The problem with friendships however is that they have to eventually change and grow along with the people or they stagnate and become something else, something that invites a great deal of personal disaster and ends up destroying relationships. While Devdas did keep his promise to be on Paro's doorstep before he died, he couldn't help but pass away as she was forbidden to see him.
Rai is definitely prominent in love stories.
Tell us what's wrong with this post? How could we improve it? :)
Let us improve this post!