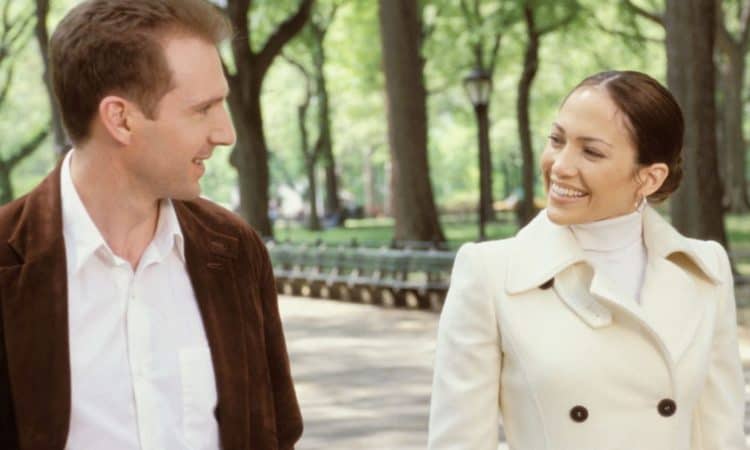 Maid in Manhattan is a romantic comedy film starring Jennifer Lopez as a single working mother who gets a job cleaning at a hotel. She has to juggle her work, her family, and herself, but soon enough she finds herself falling for a high-profile politician, played by Ralph Fiennes. The film takes place in New York City. Maid in Manhattan is the movie that made Jennifer Lopez a true-blue Hollywood star. Here's the movie's official synopsis, according to Rotten Tomatoes: "The story of Marisa Ventura (Jennifer Lopez), a single mother born and bred in the boroughs of New York City, who works as a maid in a first-class Manhattan hotel. By a twist of fate and mistaken identity, Marisa meets Christopher Marshall (Ralph Fiennes), heir to a political dynasty, who believes that she is a guest at the hotel. Fate steps in and throws the pair together for a magical night of romance. When Marisa's true identity is revealed, the two find that they are worlds apart." While it did not receive critical acclaim during its premiere, it pulled Jennifer Lopez status up as an A-lister, making everyone in Tinseltown notice her. The movie was a box-office success, grossing $95 million in the United States and Canada, and $60 million in other territories for a total of $150 million worldwide. It received mixed reviews from critics, who praised Lopez's performance but panned the entire direction of the movie. The film was nominated for two Teen Choice Awards and, unfortunately, a Razzie award. Maid in Manhattan is an old classic that is often overlooked but has a lot to offer. The film has something for everyone: comedy, romance, drama, and some good laughs mixed in for good measure. While the movie was not appreciated during its time, it's still an iconic J-Lo movie that deserves to be rewatched on its 20th anniversary.
The cast
Maid in Manhattan had a superb cast in Jennifer Lopez, Ralph Fiennes, Natasha Richardson, Stanley Tucci, Tyler Posey, Frances Conroy, Chris Eigeman, and Amy Sedaris. This ensemble cast should be enough to get you to rewatch the movie. The chemistry between Jennifer Lopez and Ralph Fiennes in Maid in Manhattan is so strong you can feel it. This is a movie that they both wanted to be involved with and they both wanted to do their part. The movie is especially highlighted by the casting of these two people who have beautiful chemistry together. The chemistry between them really comes across on screen and leaves a lasting impression. They are able to work well together because of their mutual respect for one another and their understanding of what each other needs in order to elevate the film. You watch as these two work together as equals but also see how each one compliments the other throughout their whole time playing their characters in Maid in Manhattan. The supporting cast isn't too shabby either. Stanley Tucci, specifically, features his mastery of support acting, which elevates the quality of the movie.
The soundtrack
The soundtrack of Maid in Manhattan is full of classic, timeless tunes that are the perfect complement to the movie's plot. The film features a carefully curated playlist that includes Paul Simon's "Me and Julio Down by the Schoolyard," Teena Marie's "Lovergirl," and Kelly Rowland's "Train on a Track." Norah Jones' songs are also prominently featured in the movie. She sang "Come away with me" and "Don't Know Why."
It's Jennifer Lopez at her best
While it's not the most well-received movie ever, even for a rom-com which critics are usually forgiving of, Maid in Manhattan showed us the unlimited potentials of Jennifer Lopez and how exactly she can shine brighter in Hollywood. Maid in Manhattan isn't her best work — you'd be hard-pressed to think of one you can say is her best work, anyway — but it cemented Lopez's status as one of the most bankable stars in Hollywood. In an interview Lopez did with BBC during the release of the movie, she said she deeply related to the character she was portraying, which is probably the reason why Lopez put her best foot forward in this movie. "Marisa is more like me than any character I've ever played. She's Puerto Rican. She's from the Bronx. She has this young son and she's just trying to make ends meet. Every day she gets on the train to work. She goes to this big city of dreams and she wants more. She has aspirations in that way. I really relate to her."
It's an underappreciated movie
No one expected Maid in Manhattan to be that year's Citizen Kane, but as far as cute rom-coms go, it's not nearly as bad as what the critics said. The Guardian is the first outlet to defend the movie, writing last year that Maid in Manhattan actually had its moments: "Maid in Manhattan stands out as a curious, absurdist fairytale. It deserves another watch because of its fantastic ignorance to the context of its making. It is the unexpected death knell of the romanticised American dream onscreen; it is the last gasp of old-fashioned romcom idealism in a different world. It tells us, in the most glowing of terms, that you can't hope to work your way into a better life any more, that in fact the odds are so stacked against you if you are a single, working-class mother that all you can hope for is a chance, mistaken encounter to be swept off your feet. And then, you too can become a profiteering business owner, enacting the means of your own subjugation on those less fortunate. Happily ever after, indeed." The AV Club also came to the movie's defense, writing that the movie is actually well-directed. "Working with cinematographer Karl Walter Lindenlaub, director Wayne Wang uses graceful anamorphic wide-screen compositions to orient the viewer in the physical and social space of the hotel. There's no incentive for Wang to direct the morning meeting as a shot/reverse shot—cutting between the management and the maids in order to establish the disconnection between the two groups—or to use wider-than-average compositions so that extras are always visible in the frame. But he does it anyway, creating a sense of the cramped world that the characters inhabit."
Tell us what's wrong with this post? How could we improve it? :)
Let us improve this post!