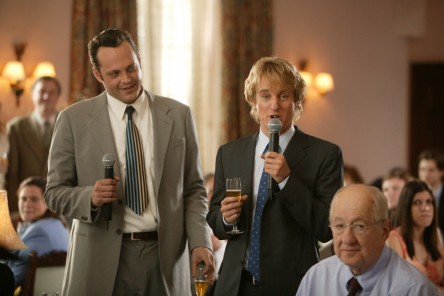 Wedding toasts are at best unpredictable, especially in movies. You don't really know if the guy or gal that stands up to speak is drunk or not before they begin, and there's no telling what they're about to say. Some toasts are simply silly while others are so sincere that they melt your heart. The one thing that is true about most wedding toasts is that they're going to happen whether you want them to or not. Sometimes though, you really wish the person would just sit down.
Here are a few wedding toasts you might remember from the movies.
5. The Wedding Singer
Boy this just went from awkward to bad to worse. Adam Sandler likes to bring Steve Buscemi into his films a lot and it's actually very cool that he does. Buscemi is a skilled comedian and simply knows how to deliver a line no matter it's uncomfortable. Can you even imagine your brother getting up to give a toast and dropping a bombshell like this at your wedding? I think we'd all agree that Adam Sandler made a good save on this one.
4. The Hangover 2
Wow. It's hard to know who had the worst delivery in this one, Stu's soon to be father in law or Alan. Let's go with Alan just to be safe since he doesn't always seem to know what he's saying. This wasn't truly a wedding toast since the wedding hadn't even happened yet, but the disapproving father was definitely intent on making sure it didn't happen at all. Good for Stu when he finally stood up to the guy. I think he even won points with his wife's father finally.
3. Old School
So, a wedding a toast is not the place you air your personal grievances at how your life has turned out. It might seem that way because you have a microphone so of course everyone wants to listen to you ramble on, but it's usually best if you say congratulations and just move on.
2. My Best Friend's Wedding
Best friends know how to give the best gifts, and most times they're not something you can wrap. Despite how much she fought and kicked, metaphorically speaking, Julia Roberts eventually had to admit that her best friend had found his perfect match. In a very touching gesture she bequeathed the song that she and her best friend had enjoyed for so long to the happy couple.
1. Wedding Crashers
Usually if you're toasting your sibling you have some creative license to say what you'd like. But if you really want to avoid making a social faux pas you might want to listen to the guy that tells you that your speech is a little risque. Keep it simple, keep it light, and no matter what don't say anything that's insulting about your sibling or their spouse in your wedding toast. Save that kind of stuff for anecdotes you can tell to your friends or later on with your significant other.
Wedding toasts are meant to be congratulatory, charming, and full of well wishes to the happy couple. They can be funny, but unless you're in the movies keep it light and witty, don't feel the need to embarrass anyone, especially the bride and groom.
Save