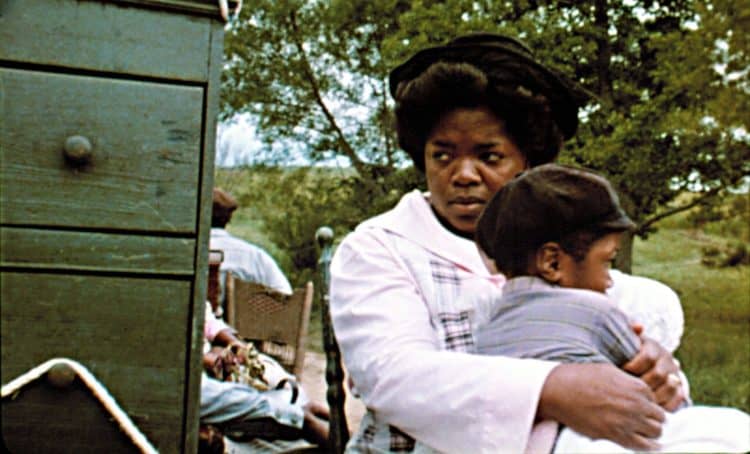 When people think of Oprah Winfrey, money is the first thing that tends to come to mind. The former talk show host has amassed more than $2 billion since starting her career in the 1980s. While there's no doubt that she has been all about her business over the years, she's also made time to do the things that she loves, and acting is one of those things. Oprah started her acting career in the mid-1980s and it didn't take long for people to realize that she was a natural. Whether working on a big-budget film or a TV movie, Oprah always manages to bring something special to every project she's a part of. Here is our list of Oprah Winfrey's top five acting roles.
5. A Wrinkle in Time
A Wrinkle in Time is one of Oprah's most recent acting roles, and it was also quite different from the other projects she's worked on. While most of her acting work has been on projects geared towards adults, A Wrinkle in Time was a children's movie based on a book of the same name. Oprah's character, Mrs. Which, is an other-worldly being who is as old as time. Oprah's performance revealed the true versatility of her acting skills and she was very excited to be a part of it. In an interview with Collider, Oprah said, "I just think the message is so timely. It's wonderful that there is a heroine in it. It's great that we're all knockout dressers, as the angelic beings, and that we're female, but I really do think it's a story for everybody. Everyone who I've encountered, who actually grew up with the book, has just become so excited and weepy and a little cray over it." Unfortunately, the movie didn't get the best reviews, but it still deserves a spot on this list because it was great to see Oprah step out of her comfort zone as an actress and try something new. After all, the ability to take risks is a very important quality to have if you want to grow in the entertainment industry.
4. The Butler
Released in 2013, The Butler was loosely based on the life of a man named Eugene Allen. Eugene worked as a butler in the White House for 34 years. The movie stars Forest Whitaker as Cecil Gaines, a butler who spends decades working in the White House, ending his career after president Barack Obama is elected. Although Cecil's job is the main focus of the movie, it also covers other areas of his life including his family. Oprah plays Cecil's wife, Gloria, who is a strong and consistent presence in his life. The movie provided an interesting perspective on the realities of race in America, but it also told a beautiful story about love, dedication, and change. Although many people looked down at Cecil's work as a butler — sometimes even including Gloria — he took great pride in what he did and he loved being able to support his family. What makes Oprah's work in The Butler especially interesting is that it marked her first on-screen movie role in more than a decade. On top of that, she was specifically chosen by the film's director, Lee Daniels. While talking to The New York Times, Oprah said, "I was involved because Lee Daniels was relentless. It was a very difficult time for me to say yes. He goes: "It's not going to take that much time. I'm going to do that thing where you shoot your stuff all at one time." That didn't happen." Oprah's undeniable on-screen presence was definitely felt throughout the film, and her portrayal of Gloria earned her lots of attention. For her work, she earned nearly a dozen nominations and she won an award from the African-American Film Critics Association Award for Best Supporting Actress.
3. Beloved
Beloved is one of Oprah's most memorable roles. The film is based on the novel by Toni Morrison and it follows the life of a formerly enslaved woman named Sethe. Unfortunately, however, Sethe isn't even able to enjoy her life as a free woman because there is an evil spirit that haunts her home. Throughout the movie, viewers watch as Sethe attempts to rid her home of the spirit. Despite doing poorly at the box office, Beloved was popular among the Black community after its release. In addition to starring in the film, Oprah was also one of the producers. It's also important to note that even though Beloved is a fictional story, it is loosely based on the story of a woman named Margaret Garner. During the 1850s, Margaret and her family escape slavery and but were later captured under the Fugitive Slave Act which required enslaved people to be returned to their owners, even if they were captured in free states. However, when Margaret was caught, she refused to let herself and her children be subjected to the horrors of slavery yet again. Before being apprehended, Margaret stabbed and killed her two-year-old daughter because she felt that death would be more peaceful than life as an enslaved person. Margaret also planned to kill her other children and herself, but she was stopped. Although she was never tried for murder, she was forced to return to her owner.
2. The Women of Brewster Place
Unless you've followed Oprah's acting career closely, you may not be familiar with the 1989 TV mini-series The Women of Brewster Place which is based on Gloria Naylor's novel of the same name. In the series, Oprah plays the starring character, Mattie Michael, who moves away from her small southern town after she becomes pregnant. After eventually moving to New York City, she struggles to get on her feet until she meets a kind older woman, Eva Turner (Barbara Montgomery) who offers to let Mattie and her son, Basil, move in rent-free. Mattie, Basil, and Eva live happily and when Eva suddenly passes, Mattie becomes the new owner of the house. However, when Basil kills a man in a bar fight, Mattie uses the home as collateral to bail him out of jail. He doesn't show up for his court date and she loses the house. She then moves into a somewhat rundown apartment building called Brewster Place. While the building is certainly lacking in amenities, Mattie ends up finding a great sense of community. Although The Woman of Brewster Place wasn't a big feature film, Oprah put her best foot forward in her portrayal of Mattie. Throughout the mini-series, we got to see her tap into her range as an actress, and it was great to see how she brought the character to life. In 1990, she briefly reprised her role as Mattie in the short-lived TV series Brewster Place.
1. The Color Purple
The Color Purple was Oprah's first acting role, and ironically, it was her best and most memorable. Her character, Sofia, was a tough woman who wasn't afraid to speak her mind. She also refused to conform to the expectations society placed on her. Unfortunately, as a Black woman in the 1900s, this didn't go over so well. In the movie, we see Sofia go through some very challenging times, including a stint in jail. However, despite all of the things she went through, Sofia never let anything keep her down for long. Oprah's portrayal of Sofia was masterful and authentic. Since she was not yet a famous talk show host at the time, it was easy to see her for the character she was playing and not the billionaire we all know today. Not only did the movie get great reviews from critics, but Oprah's performance showed that she could have easily has a successful acting career had she not chosen to focus on the talk show world. Oprah's performance earned her an Academy Award nomination for Best Actress in a Supporting Role. She also received a Golden Globe nomination for Best Supporting Actress – Motion Picture. We also can't forget that Oprah delivered two of the movie's most memorable lines "all my life I had to flight" and "you told Harpo to beat me!".
What's Next For Oprah's Acting Career?
Although Oprah did some voice work in 2019, A Wrinkle in Time marks her last on-screen acting role. Now that Oprah is retired from the talk show world and presumably has a little more time on her hands, many people have wondered if she will use it to take on more acting opportunities. Unfortunately for her fans, that doesn't seem to be the case. According to an article from People, Oprah said that acting simply doesn't love acting the way she used to. She also added, "I think to be really, really good at it, you've got to do it a lot. You've got to work at it. And it's got to be something that you have true passion about. I don't think it's something you can dabble in. It was fun to be Mrs. Which, and I did that because I wanted to go to New Zealand and wear the costumes. But no, it doesn't feed my soul anymore".