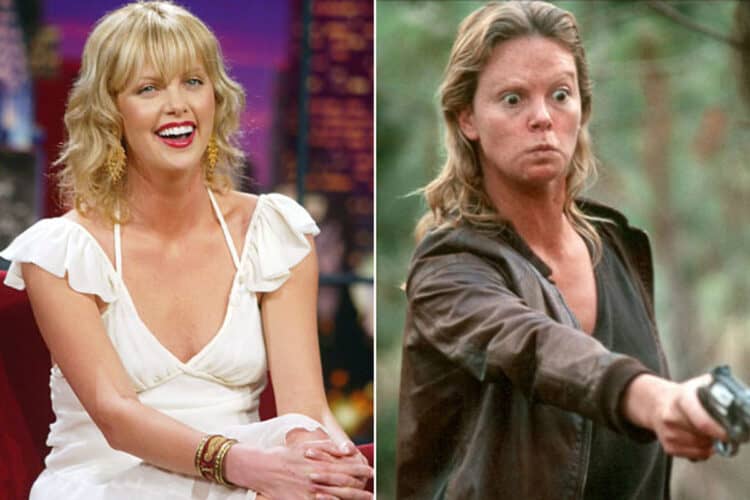 Serial killers are a blot on humanity and portray the worst side of human beings. After all, while we should never accept but can at least understand how someone can commit murder in a fit of rage, it is indeed beyond comprehension why someone would make deliberate efforts to kill people in cold blood, and even take pride in it. But even this teaches us a little more about the human mind. And since not all of us can get down to decoding these stories and learning more about these killing sprees, and also because such stories form the perfect recipe for a thrilling piece of work that will have audiences riveted and horrified at the same time, there are filmmakers who have taken it upon themselves to retell these stories in their own ways. And that is what this list of Movies With a Spotlight on Real-Life Killers Who Once Existed (Or Still Do) is all about.
Monster
One of the most realistic portrayals of a serial killer and one that even left the talented actress Charlize Theron disturbed and shocked, Monster is a retelling of the truly monstrous life led by the convicted serial killer Aileen Wuornos. Between 1989 and 1990, while engaging in prostitution in Florida, Aileen was held responsible for the killing of seven of her clients. And while Aileen maintained that all these male victims had tried to rape her or had succeeded in raping her, the fact that she did not go to the cops nor refrain from engaging in prostitution again worked against the flimsy defense she was trying to build. After her sentencing, Aileen spent 12 years on death row in the State of Florida, before being executed by lethal injection on October 9, 2002. Playing the part of this highly notorious serial killer, Charlize underwent her own share of trauma, having already witnessed such killings in real life after her mother had shot dead her father and uncle in trying to protect her, and in her interviews, revealed how difficult it was for her to take on the role. Nevertheless, Charlize's excellent portrayal of Aileen Carol Pittman aka Aileen Wuornos in Monster won her, among other accolades, wins at the Academy Awards, the Golden Globe Awards, the Screen Actors Guild Awards, and the American Film Institute Awards in the Best Actress category.
Zodiac
Based on the sadistic murders committed by a killer who remains unidentified to this day, Zodiac is a film based on the Zodiac Killer. Starring Jake Gyllenhaal, Mark Ruffalo, Robert Downey Jr., Anthony Edwards, Brian Cox, and others, the film revolves around the time when officers from various law enforcement agencies were hot on the heels of the killer. It shows the immense pressure that these officers were under, the fear that surrounded the killings, and the series of efforts taken to find the killer. Of course, as it was in real life, the killer was never caught in the movie either. Pegged with the murder of at least five confirmed victims, with unconfirmed estimates pegging the number at anywhere between 20 and 28, with some claims from the killer or impersonators claiming to be the killer putting the number at 37, the Zodiac Killer wreaked havoc in the Northern California region in the late 1960s. Boldly and shamelessly communicating with newspapers and even giving himself the title, the killer remains an enigma even today, with several cases associated with him open up to this day. Of course, Zodiac is one of the many works that depict the time when the killer was most active and comes pretty close to the prevailing circumstances at the time.
No Man of God
Theodore Robert Bundy aka Ted Bundy is a serial killer and rapist who after sustained denial of any involvement in crimes, confessed to kidnapping, raping, and killing at least 30 victims, although the number is estimated to be a lot higher. Roaming the length and breadth of the country and committing these heinous crimes across seven states in the period between 1974 and 1978, and possibly earlier too, Ted Bundy was a monstrous and sadistic sociopath who, in his own words, was "the most cold-hearted son of a bitch you'll ever meet". And No Man of God was a cinematic attempt to showcase details related to the killer, especially his interviews with FBI Special Agent Bill Hagmaier during his imprisonment at the Florida State Prison. With Elijah Wood playing the role of the FBI Agent and Luke Kirby impressively carrying off the role of Ted Bundy, No Man of God remains a very close depiction of these interactions.
Wolf Creek
Although Wolf Creek is mostly a work of fiction and the "based on true events" — which was only a marketing gimmick — misled the audience into thinking that the storyline of the movie was indeed accurate, the reason the movie finds a place in this list is that the crimes depicted in it were indeed based on several real-life crimes. More of a horror movie than a crime thriller, this one was written, directed, and co-produced by Greg McLean and led by a cast that included John Jarratt, Nathan Phillips, Cassandra Magrath, Kestie Morassi, and others. Proclaimed by critics and fans as one of the most popular grindhouse films of all time, the crimes portrayed in Wolf Creek were indeed committed by various murderers and sadistic criminals, including real-life serial killer Ivan Milat and another killer named Bradley Murdoch who was found guilty of the murder of an English backpacker. Made on a rather modest budget of AU$1.4 million, Wolf Creek turned out to be a hit with audiences, raking in a cool $AU35 million at the box office.
The Texas Killing Fields
The Texas Killing Fields is a movie based on, well, the Texas Killing Fields, a patch of land measuring 25 acres or so and located in League City, Texas, only a mile away from the major interstate highway of the state, the Interstate Highway 45. So why was this patch of land given such a horrifying name? Well, standing testimony to the horrifying excesses of sadistic minds, this is where the bodies and remains of at least 30 murder victims were found during the 1970s, with most of these young girls and women. With most victims aged between 12 and 25, it was concluded that this was the handiwork of not one but at least a few serial killers, although there were several holes in this theory too. The reason was that during the time, many of these murders were pegged on those either serving time already or those who gave in to police interrogation under duress. Some criminals like Michael Lloyd Self, Edward Harold Bell, William Lewis Reece, and Mark Stallings did come to be associated with the killings. Starring Sam Worthington, Jeffrey Dean Morgan, Jessica Chastain, and Chloe Grace Moretz, The Texas Killing Fields stands testimony to the horrifying story behind the place.
The Texas Chain Saw Massacre
Starring Marilyn Burns, Paul A. Partain, Edwin Neal, Jim Siedow, and Gunnar Hedson, The Texas Chain Saw Massacre was mostly a work of fiction, but since it was openly declared to have been partly inspired by Edward Theodore Gein aka Ed Gein, also known as the Butcher of Plainfield or the Plainfield Ghoul, we figured it could be placed on this list. Convicted for the murder of two women, Mary Hogan and Bernice Worden, but suspected to have murdered many more, the mental instability of Ed Gein proved to be a hurdle for further investigations, although it was an open truth that this sociopath and mentally unstable man was known to exhume corpses buried in graveyards in an around Plainfield, using their bones and skin to craft trophies and keepsakes. Loosely based on these events, The Texas Chain Saw Massacre is also known to have been based on the political climate of the times. Made on an extremely modest budget of between $80,000 and $140,000, the movie was a runaway hit, raking in a whopping $30.9 million in revenue. Of course, it has also developed cult status since it was released in 1974.
The Boston Strangler
Back in the early 1960s, Albert DeSalvo aka The Boston Strangler was held responsible for the rape and murder of at least 13 women in the Boston area. Also known as the Silk Stocking Murders, while these murders were initially linked to Albert DeSalvo, investigations conducted later revealed that there might have been more than one killer involved. The movie, The Boston Strangler is a biographical crime film, which although not an accurate depiction, is loosely based on the murders. Starring Tony Curtis, who played the role of the rapist and murderer, Henry Fonda, George Kennedy, Mike Kellin, Murray Hamilton, Sally Kellerman, and William Hickey, the film begins with the premise of the city of Boston waking up to the news of a serial killer on the prowl and thereafter, goes on to show the crimes as well as the apprehending of the perpetrator. While the criminal has long been dead, meeting his end by being stabbed to death at Walpole's infirmary at the age of 42 in 1973, this 1968 version of The Boston Strangler as well as other works stans testimony to his horrific crimes.
Chicago Massacre: Richard Speck
Richard Speck was a terrifying and sickening specimen of the human race who was convicted of a mass murder that involved the killing of eight student nurses on the night of July 13th, 1966. Either strangling, stabbing to death, or slashing the throats of all his victims, the seasoned criminal also had a long history of altercations, brawls, stabbings, aggravated assaults, rapes, and murders to his name before this incident. Chicago Massacre: Richard Speck is a movie directed by Michael Feifer that covers this story. With Corin Nemec playing the role of the now-dead serial killer, and Andrew Divoff, Tony Todd, and Debbie Rochon bringing up the rest of the main cast, the film reveals the life of the mass murderer and towards the end, also shows his life in prison, with glimpses of how he was even enjoying his time behind bars until he finally dies of a heart attack in 1991. Actor Corin Nemec received a considerable amount of praise for his portrayal of the murderer from critics and audiences alike.
To Catch a Killer
A menace to society and one of the most horrific killers in US history, John Wayne Gacy aka The Killer Clown, was a pederast and serial killer who was held responsible for the murder of at least 33 young boys. He was known to rape and torture his victims before sending them to their deaths. This man's crimes first came to light in 1968 when he was arrested and imprisoned for sodomy. Instead of serving the entire sentence of 10 years, he ended up serving only a little more than a year and a half and was soon luring his victims to his ranch house on the pretext of showing them magic tricks (he used to entertain children in hospitals and at other events dressed as Pogo the Clown or Patches the Clown). The hunt for a missing teenager led police to him and soon enough, the bodies of his victims began being uncovered. JohnWayne Gacy was sentenced to death in 1980, spent the next 14 years on death row, and was finally executed by lethal injection in 1994. The television film To Catch a Killer is a two-part film based on the events leading to the hunt and arrest of the killer. Starring Brian Dennehy and Michael Riley, the film was broadcast in the US, the UK, and Canada and was well-received by critics as well as TV audiences.
From Hell
Jack the Ripper is a name that sends shivers down the spines of all those who know about the heinous crimes of this unidentified serial killer who was also known as the Whitechapel Murderer and Leather Apron. Mainly targeting female prostitutes from the impoverished locales in and around East End London, particularly the Whitechapel area, the killer was known to slit the throats of his victims and also indulge in mutilations to the abdomen. In fact, his methodical cuts were so precise that it was assumed that the person had a surgical or medical background. Mostly taking place between 1888 and 1891 and confusing investigators with several wild goose theories, the killings have remained unsolved and soon became one of the most legendary serial killer incidents to this day. With Johnny Depp and Heather Graham leading the way and Ian Holm, Robbie Coltrane, and others playing out supporting roles, From Hell was a 2001 period horror-thriller that plays out during the horrid times when Jack the Ripper was letting loose his murderous ways all across Whitechapel.
It's Time to End This List of Movies That Reveal to Us the Inhumane Nature of Some
While watching any of the movies on our list of Movies With a Spotlight on Real-Life Killers Who Once Existed (Or Still Do) is enough to make you shiver, truly learning about these serial killers and reading about all the crimes they have to their name indeed makes us wonder about the kind of world we live in or how we some people can even label themselves as human. In a world where even the most violent of animals are known to kill only when they have a reason, it is indeed horrifying to know that there exist humans who are even worse than the wildest of animals. Well, we can only hope that the days of the serial killer are well behind us, although if we look around at the killings in the name of politics, nationalism, and religion that occur around us in their thousands, we wonder which killers truly prove to be more dangerous than the others.
Tell us what's wrong with this post? How could we improve it? :)
Let us improve this post!