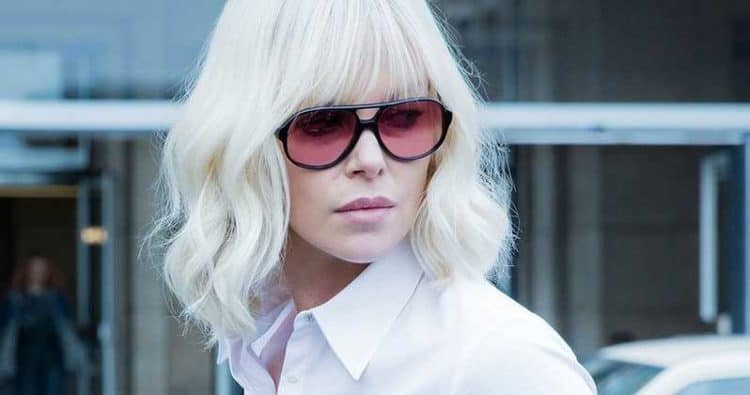 Even though she is a movie star and prides herself in being called one, Charlize Theron's characters on screen are as far from the red carpet glam as one can be. The actress has mastered the art of bringing trauma to life, whether she's playing a sex worker convicted for the murder of her clients or a former homecoming queen, who returns to her hometown in search of an old flame. Theron has had a longstanding career that is quickly approaching three decades and includes several accolades, most notable of which is an Academy Award. Here's how that came about:
A Tumultuous Childhood In South Africa
Born to road constructionists, Charlize Theron grew up on a farm near Johannesburg, South Africa. In an interview with Drew Barrymore, Theron revealed that she was raised in what may not be deemed as the most perfect of circumstances. " I was raised in a country during a time that was filled with a lot of turmoil. Apartheid. I was raised during the apartheid era." Theron said. She admitted to being privileged since the color of her skin got her into places 'it didn't afford to other people with different skin color.' " It really traumatized me," she pointed out. Within her own family, Theron was dealing with her dad's addiction to alcohol which often led to abuse. Battles at home led to a final altercation that saw her mother shoot back her father in self-defense, leading to his death.
Moving To The United States
When she was 16 years old, Theron landed herself a modeling contract and moved with her mother to Italy. The pair spent a year in Europe and eventually moved to the United States, where Theron tried a hand at dancing. The dream to be a dancer was cut short when her knees 'gave out' after three days. In 1994, Theron set her sights on Hollywood. Her first couple of months involved living paycheck to paycheck. Theron would later cross paths with talent scout John Crosby, who introduced her to an acting school. In 1995, Charlize appeared in the film Children of the Corn III: Urban Harvest, where she played the non-speaking role of Eli's ( Daniel Cerny) follower. A year later, Theron was cast as Helga Svelgen in 2 Days in the Valley and as Tina Powers in That Thing You Do! In 1997, she made an appearance in Trial and Error, and also landed her breakout role.
Breakout Film: 'The Devil's Advocate'
Charlize Theron's big break in the acting industry came in the form of The Devil's Advocate, a 1997 film. Based on a novel by Andrew Neiderman, the film told the story of an extremely successful lawyer named Kevin Lomax ( Keanu Reeves), whose entry into a new firm unveiled the truth that his boss had more than met the eye. Theron played the role of Max's wife, Mary Ann Lomax. Entertainment Weekly's Owen Gleiberman wrote of Theron's performance: "Amazingly, the one performer who succeeds in creating a flesh-and-blood victim is Charlize Theron. At first, you think she's just babelicious window-dressing — her face is all soft, cherubic curves, with lips as ripe as Monroe's. But as the devil plays his games, Mary Ann, left behind by her husband, begins to lose her mind and see visions of the dark side, and Theron, soulful in her terror, convinces you that she's really seeing them. When an actress brings this much conviction to material this luridly outlandish, it's anyone's guess what she could do with a real role."
Cruising Through The Late '90s And Early 2000s
With fairly sufficient recognition, Theron had earned enough attention to make regular income as an on-screen actress. Between the time she landed her breakout role and the period in which her career soared, Theron appeared in several films, some of which did not do so well at the box office. Mighty Joe Young, in which Theron portrayed the role of Jill Young, was a box office flop that grossed an estimated $50 million against a $90 million budget. Some of her most successful films during that era include The Cider House Rules and The Italian Job. During that period, Theron took a liking to directors, and opted to appear in some films that she thought weren't particularly good, but helped her stay on track.
Winning An Academy Award
In 2003, Theron starred in Monster, a biographical film based on the life of Aileen Wuornos, a sex worker who was executed for killing seven of her male clients. Through the film, Theron earned a much-deserved Academy Award. Film critic Roger Ebert wrote of Theron's performance: "I confess that I walked into the screening not knowing who the star was and that I did not recognize Charlize Theron until I read her name in the closing credits…I didn't recognize her, but more to the point, I hardly tried, because the performance is so focused and intense that it becomes a fact of life. Observe the way Theron controls her eyes in the film; there is not a flicker of inattention, as she urgently communicates what she is feeling and thinking. There's the uncanny sensation that Theron has forgotten the camera and the script and is directly channeling her ideas about Aileen Wuornos. She has made herself the instrument of this character."
Transitioning Into Production
Following her Academy Award, Theron became a well-paid actress, commanding an estimated $10 million paycheck per film by 2006. She went on to land several critically acclaimed roles, such as that of Britt Ekland in The Life and Death of Peter Sellers. Her role in North Country earned her an Academy Award. Hancock, released in 2008, was a box office success that grossed over $600 million worldwide. In 2009 Theron took a break from the acting industry. She later made a comeback with an out-of-the-norm performance in Young Adult. In addition to acting, Theron took a liking to production, playing a role behind the scenes in Dark Places, Brain on Fire, Long Shot, Bombshell, and The Old Guard. Through her three-decade career, Theron attributes her success to humility. At a past interview, she said, " The greatest thing that I've learned in my journey and doing this is that, if you come with your own agenda and with your own ego, and you try to kind of force something and control something, you can't make a good movie."
Charlize Theron
Tell us what's wrong with this post? How could we improve it? :)
Let us improve this post!