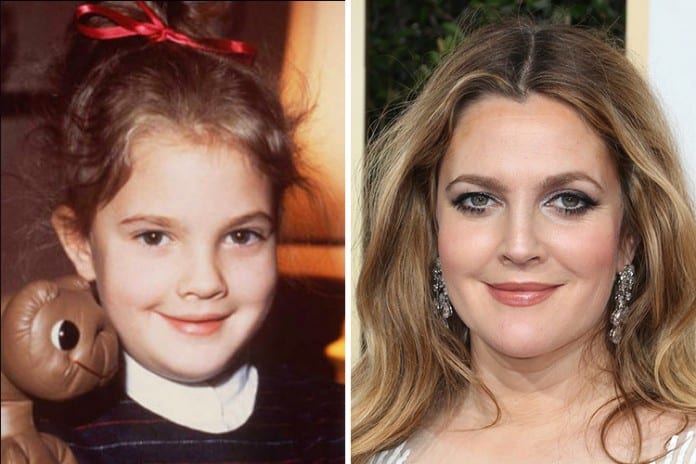 There have been countless of child stars who have fallen prey to the perils of success at such a young age. So many innocent souls who deserved so much better. Fame and fortune are double-edged swords, it takes more than talent to survive the battlefield that is Hollywood. One child star who has led a tumultuous life is no other than Drew Barrymore.
An Early Start
The acclaimed actress had showbusiness running through her veins from a young age. Barrymore was born into a family of actors. All her paternal great-grandparents and paternal grandparents were actors. Her father, John Drew Barrymore, was also an actor, while her mother, aid Barrymore, was an aspiring actress. There's no denying that she was made to be under the spotlight. Barrymore's big break came at such a young age. She was just 6-years-old when she started shooting for the classic Steven Spielberg science fiction film, E.T. the Extra-Terrestrial. The world instantly fell in love with the adorable little girl whose older brother developed a friendship with E.T. It did not take long before Barrymore became a household name, who went on to charm her way through late night talk shows, and star in string of box office hits.
The Fall from Grace
Barrymore's road to fame was not an easy one. It was one riddled with potholes and warning signs. Achieving a great level of success at such a young age may seem admirable, but in reality, it also robbed Barrymore of her childhood. Trouble started brewing even before Barrymore become a teenager. Her experience was something far from normal. Instead of going to school, making friends, and experiencing puppy love like any normal teenager, Barrymore got exposed to the deadly combination of the Hollywood party scene, alcohol, and drugs. By the time she turned 13, she was already placed in rehab, and even spent another 18 months in an institution for the mentally ill. A year after, Barrymore was already emancipated, and sent back inside the four walls of rehab after a suicide attempt. Things were starting to look downhill if no immediate action was taken. It was such a dark time in her life, and one that she had to overcome with a lot grit and determination.
Redemption at Its Finest
Overcoming addiction and a traumatizing childhood can be one of the most difficult things that a person has to overcome. This makes it even harder to judge someone whose shoes you haven't walked in, as well. After all, you never know what type of internal battle the other person is fighting. Fortunately for Barrymore, her rehab and addiction story did not have a tragic ending. She was able to fight past her inner demons and conquer her addiction. This serves as an inspiration for many to work towards self-love and empowerment. Good vibrations followed, and Barrymore's career took on a different turn afterwards. She became one of the lead actresses of the 1990's and 2000's, and went on to be part of classic romantic comedies, such as Never Been Kissed, The Wedding Singer, and 50 First Dates, as well as the iconic Charlie's Angels film franchise.
Apart from acting, Barrymore has also ventured into producing and entrepreneurship. She founded the production company, Flower Films, and has also launched cosmetics, clothing, and accessories lines under her Flower banner. She continues to serve as a good role model by sharing her challenging life experiences with the public through her first autobiography, Little Girl Lost, which was followed by a collection of autobiographical essays included in her other book titled, Wildflower. Barrymore is proof that people deserve second chances in life, and that changing for the better is possible if you put your whole heart into it. She continues to keep busy by spreading her positivity by hosting a talk show aptly called, The Drew Barrymore Show. She is an effective interviewer and a constant ray of sunshine whose radiance and energy are instantly passed onto her guests.
We all love hearing about success stories, even if it's about someone we don't personally known. Barrymore's is no different. She has defied the odds, and has bounced back in the best way possible. There is no such thing as a perfect life. Everyone has their own cross to carry and battles to fight. The important thing lies in how we are able to rise back from the setbacks and come out stronger. There is a Latin phrase that goes, "Veni, Vidi, Vici", which translates to "I came, I saw, I conquered". Barrymore came into the world as a gift to us, audience members. She saw and experienced firsthand the dangers of fame and fortune, and she conquered them all just like the true queen that she is.Steven Spielberg