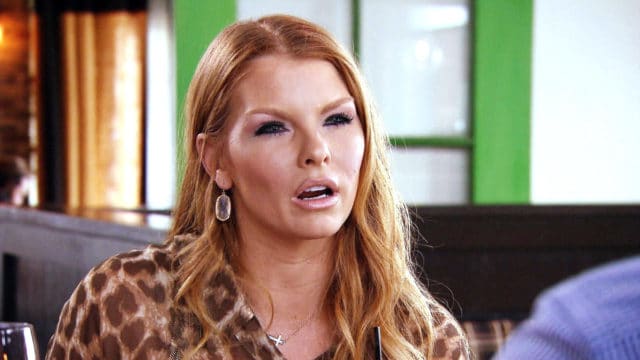 Who says that you can't clone success? Well, they have not observed the success of producers like Dick Wolf and the Law & Order Franchise of Jerry Bruckheimer and the CSI franchise. Now you can add Andy Cohen and The Real Housewives franchise to the growing list of franchised television production. The latest installment of The Real Housewives franchise, The Real Housewives of Dallas, brings a lot of the commonalities associated with the franchise, but it also brings a Texas mindset and attitude with it. One of the firecrackers that ensure that there will never be a dull episode is Brandi Redmond.
If you have watched more than one episode of the series, you already know just how disrupting Brandi can be, but you will likely not know what drives her. Here are five interesting facts about the reality television star.
1. She is Very High Strung from an Emotional Perspective
While Brandi's co-star, LeeAnn Locken, is wired with a quick temper, Brandi is very emotional, and it is often her emotionalism that tends to get her in trouble. Despite her emotionalism, Brandi has been one of the most open during the first season of the show. She has even exposed certain issues that she is having at home with her husband. Unfortunately, it has proven difficult for other members of the cast overlook her disruptive behavior, making for some very interesting moments.
2. She Admits that Marriage is a Work in Progress
Brandi openly admits that her husband, Bryan, have been through a lot. She treats it all as a learning experience and she believes that what they have gone through has made them stronger. She believes one valuable lesson that they have been able to take from their recent challenges is the importance of effective communication, and she believes that they are both better communicators because of their previous challenges.
3. Bryan Was in a Dark Place Last Season
Brandi said that everything that she and Bryan were going through, along with some other things that have not been openly discussed really put Bryan in a dark place, and it obviously showed in his behavior. She believes that Bryan will be a much happier person during the latest season of the show. He should not be distant and closed off as he was during last season. It is understandable from a male perspective. When you open up your life like this, you really have no idea what you are getting yourself into.
4. Brandi Has Pretty Much Offended Everyone on the Show
As stated earlier, Brandi is somewhat high strung as far as her emotions are concerned, and this often leads to her saying and doing things that come back to bite her in the butt. It seems that she has clashed with virtually every member of the cast at some point, and she has even put her friendship with Stephanie Hollman in Jeopardy. Will Brandi be able to tone down moving forward? Who knows.
5. She Is a Mother and Is Often Ridiculed
While the show is about being housewives, it should not be overlooked that most of these women are mothers, and with being a mother comes an entirely different standard of operation. Brandi has caught a great deal of heat from co-star, LeeAnn Locken, because of some of the things that she says and does. There was the poop-hat incident (you will have to watch the episode) that really caused LeeAnn to question how Brandi's daughters would turn out with a mother who constantly makes lesbian jokes and references and frequents male strip clubs (again, you must see the episode).
Save
Tell us what's wrong with this post? How could we improve it? :)
Let us improve this post!