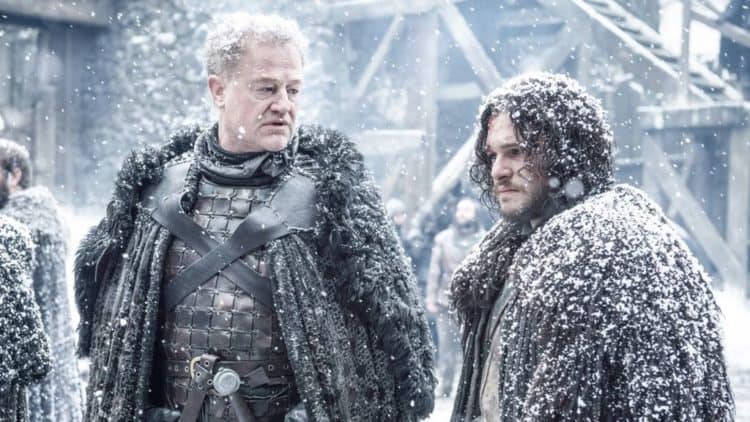 If you're a Game of Thrones fan, you were probably used to seeing Owen Teale covered in snow while playing Alliser Thorne. Owen played the character for five years and became a familiar face to people all over the world. However, Teale has officially brought his skills to another TV fantasy world. He has a main role in the Sky One series, A Discovery of Witches. Not only does the role give Owen's fans a chance to see him in action again, but it's also part of a really great show. Despite being a veteran in the acting world, Owen has proven that he can still keep up and he's got lots of great things to offer. Continue reading for 10 things you didn't know about Owen Teale.
1. He Won A Tony Award
Most of Owen's fans know him best from TV, but he's also a very accomplished theater actor. In 1997, he won a Tony Award for Best Featured Actor in a Play for his work in A Doll's House. Like many other actors who have acted on stage and on screen, Owen has a deep appreciation for both mediums.
2. He's Not Active On Social Media
These days, actors often feel pressure to have a strong social media presence. But Owen hasn't succumbed to that pressure. Instead, he likes to keep a low profile and keep all of the attention he gets strictly on his work. We weren't able to find any official social media accounts on any of the major platforms.
3. He Wasn't Originally Cast As Alliser
Unless you're a die hard Game of Thrones fan, you may not know that Owen wasn't actually the person who was originally cast as Alliser. Owen told Entertainment Weekly, "It's no secret that another actor did the pilot and then they replaced him with me." Although he didn't know what to expect going into the project, he was very excited about the opportunity.
4. He Studied At The Guildford School of Acting
Owen discovered his passion for acting when he was a teenager. Once he realized it was something he wanted to do he knew he had to take it seriously. He attended the Guildford School of Acting in England during the early 80s. The school also boasts other notable alumni like Billy Nighy and Brenda Blethyn.
5. He's A Father
Owen doesn't like to share much about his personal life, however, we do know that he is a father of three from two relationships. He has been married twice with his first marriage ending in an annulment and his second ending in divorce. Both of his ex-wives are actresses.
6. He Was Born In Wales
Wales is a small country in the United Kingdom. Despite it's small size, it has a very unique culture that its natives are very proud of. Owen was born and raised in Wales and attended Cynffig Comprehensive School. He eventually relocated to London to pursue his acting. It's unclear where he's based out of today.
7. He Didn't Grow Up Wanting To Be An Actor
Owen was always interested in the arts, but he simply never saw them as something he could actually pursue. For that reason, he never thought much about being an actor. When discussing his journey to acting, he told Broadway World, "It happened quite late for me; I hadn't grown up thinking I wanted to or feeling like I was one. It's very much a need to tell people stories."
8. He Credits A Teacher With Getting Him Involved In Acting
By the time Owen was in high school, he had become somewhat of a trouble student. He started organizing parties and was eventually suspended for bringing alcohol to school. One of his teachers, Mr. Davis took an interest in him. Instead of seeing the problems Owen was having, Mr. Davis chose to focus on the positives. Mr. Davis helped Owen get a job at a local theme park where Owen was hired to dress up as one of the park's characters which helped ignite his passion for performing.
9. He Has Some Advice For Up And Coming Actors
With such a long and successful career under his belt, Owen knows a thing or two about making it in the entertainment industry. If he could offer one piece of advice to aspiring actors, he told Broadway World it would be this: " be as specific as possible; when you practise, don't allow a mood or emotional state to take over."
10. He Loves Playing Complex Characters
When it comes to the types of roles he likes to play, Owen is always up for a challenge. After all, that's one of the things that keeps the job fun and exciting. He likes characters who have layers to them, and the complexity of a role is one of the things he tends to appreciates the most.