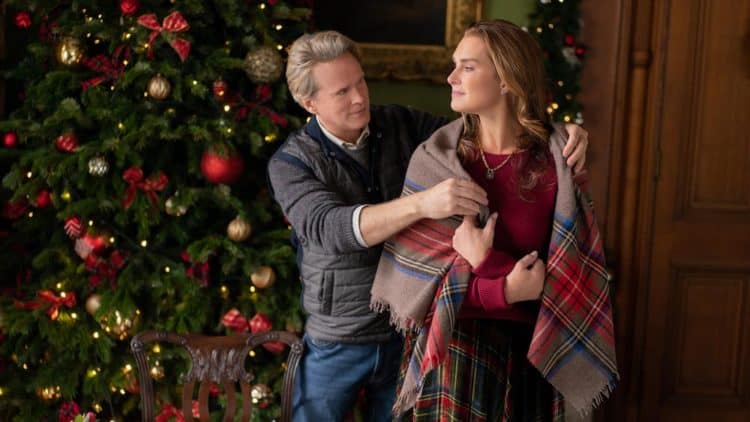 As far as Christmas movies are concerned, A Castle For Christmas isn't exactly It's A Wonderful Life, but it's comforting enough to have it play in the background while you're doing something else. Defying expectations, it surprisingly received positive reviews, with Variety's Courtney Howard writing: "Its sincere, aspirational sentiments about it never being too late to write your own second chapter feel genuinely meaningful." A Castle For Christmas stars Brooke Shields as a successful romance writer hoping to find some peace and quiet in Scotland and Cary Elwes as the duke who hesitantly welcomes her to his castle. According to UPI, Shields, 52, says playing her character in the movie fulfilled a lifelong dream: to be able to perform physical comedy on-screen. "I think it's funny when you see someone just unravel," Shields said. "There's something that happens to me when I can attach my body to it that finds the humor. It's easier for me to find the humor with the physicality than just the words." While she's not particularly known for comedy, Brooke Shields says it has become one of her favorite things to do in front of the camera, citing an appearance she did for Friends for inspiring her. "After I did a Friends episode, that sort of opened up the world of TV sitcoms to me," Shields said. "I don't want to ever go back. I just love comedy so much that I'm very happy right in this lane. I think when you do a show like that day in and day out for years, you really start to understand the language of comedy. I just started thinking I want to live here. I don't really want to live anywhere else. I want to live right here in this type of TV and film."
In an interview with ComingSoon.net, Shields explained how she developed her chemistry with Elwes. She said that having to shoot A Castle For Christmas during Covid times created a bubble that forced the cast to become closer with each other. "I mean, we were so lucky because we really couldn't leave our bubble as a crew and cast. So we were kind of out in the middle of nowhere and many a meal, many a dinner, many days that we had off, we would explore and it's really important. It was a lovely experience because it reminded me of the way movies [were shot] when, like The Blue Lagoon, where we lived on an island for forever. That kind of similar focus, similar camaraderie. We all had to learn how to do the dances. I had to practice drinking whiskey every day. I just wanted to really get good at it. And he helped me or encouraged me with that." One of the more surprising parts of the movie was Drew Barrymore's surprise cameo, appearing as herself interviewing Shields' character in her real-life talk show, The Drew Barrymore Show. What has Brooke Shields been up to, aside from starring in A Castle For Christmas? Here are a few things that have kept Shields busy over the past couple of years.
Brooke Shields' personal life
Brooke Shields is married to writer Chris Henchy, who co-founded the website Funny or Die with Will Ferrel. He's also written several of Ferrel's films, such as The Other Guys, The Campaign, and Land of the Lost. The two have been together for 20 years and have two children, Rowan and Grier. Brooke Shields has been vocal about her experiences with postpartum depression, suffering the condition after the birth of her second daughter. Tom Cruise once harshly criticized Brooke Shields for her outspoken support for the use of antidepressants, but the A-lister has since apologized to Shields for his insensitive remarks, according to Entertainment Weekly. She spends a significant amount of her time raising awareness for postpartum depression, even writing a book about it titled "Down Came The Rain."
Brooke Shields was also particularly close to the late singer Michael Jackson. She spoke at his funeral, according to MTV, saying, "Thinking back to when we met and the many times that we spent together and whenever we were out together, there would be a caption of some kind, and the caption usually said something like 'an odd couple' or 'an unlikely pair,' but to us it was the most natural and easiest of friendships… Michael always knew he could count on me to support him or be his date and that we would have fun no matter where we were. We had a bond… Both of us needed to be adults very early, but when we were together, we were two little kids having fun."
A few years ago, Brooke Shields revealed in an interview with Watch What Happens Live's Andy Cohen that Donald Trump tried to ask him out after he divorced Marla Maples. Recalling the event to Cohen, Shields said: "He did ask me out later. I didn't go out. He called me, I was on location doing a movie, and he called me right after he had gotten a divorce. He said, 'I really think we should date because you're America's sweetheart and I'm America's richest man, and the people would love it." Shields turned him down, telling the future president that she already had a boyfriend.
Brooke Shields' recent projects
Brooke Shields currently voices a character in Momma Named Me Sheriff, an adult animation showing in Adult Swim. It's not her first time voice-acting, lending her distinct voice to the same character in Momma Named Me Sheriff's prequel, Mr. Pickles. When she signed up for the cartoon, Shields didn't expect it to be for adults. "When they (animators) showed me (initial images), they said, 'Do you want to play this character?' I said, 'Oh great, a cartoon! This is fabulous, my kids can watch it!'" She said in an interview with Good Morning America, according to Hollywood.com. She also had a recurring character in the hit sitcom Jane the Virgin, appearing in 14 episodes as River Fields. In 2020 she appeared in a Mexican film titled My Boyfriend's Meds, starring Mexican superstars Jaime Camil and Sandra Echeverria.
Tell us what's wrong with this post? How could we improve it? :)
Let us improve this post!