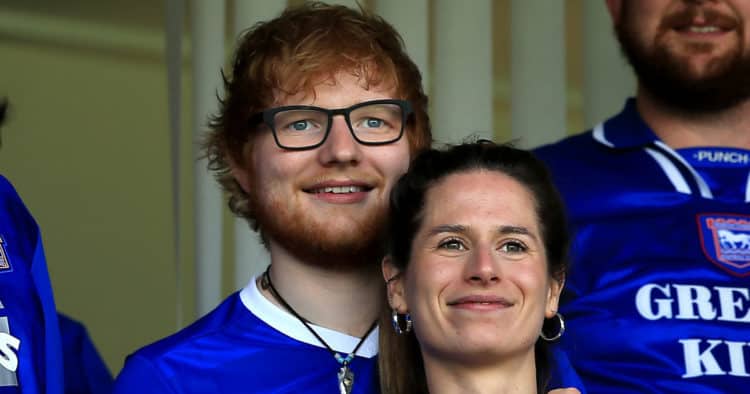 We all know and love Ed Sheeran. He makes the most amazing music, and he's so talented it makes us all wonder how one person was able to capture all of that amazingness. He's been a favorite of ours for many years now, but we want to know more about his wife. Her name is Cherry Seaborn, and she is the woman who made her husband a father. There is a lot of excitement and happiness in their lives right now, and we want to share in that with them by sharing what we know about the superstar's lovely wife.
1. She's an Accountant
Well, we don't know if she's an accountant, per se, but her job title is senior consultant in risk advisory at an accounting firm. So, that makes her something of an accountant by proxy if she's not one by actual trade, right? Obviously, we know very little about accounting.
2. She's Smart
Not just smart like most people are smart. She's highly intelligent. She's got a degree in molecular biology. Yes, that's accurate. And, to make that impressive feat sound even more impressive, she earned that degree at Duke University in North Carolina.
3. She's Athletic</2>
When she's not busy being highly intelligent, she's also very athletic. She was part of the English Women's Hock League for two seasons in college. The university website says that she helped her team make it to the runner-up position at their own version of the championship game, which is nothing short of completely cool.
4. She Met her Husband in High School
It turns out that they've known one another for a very long time. In fact, they met in high school in England. They met at Thomas Mills High School in Suffolk, and he wasn't even famous when they met. However, they were only friends for a very long time. They began seeing one another seriously back in 2015.
5. She's Private
She might be married to one of the most famous musical superstars in the world, but she is someone who likes to keep her private life to herself. She's someone who values her privacy and their marriage and family more than anything, and we love and respect that about her and her husband.
6. She was a Secret Bride
It was just before the Christmas season in 2018 when this couple decided to get married. They didn't tell anyone, but they did have a very small group of their friends and loved ones join them. They tied the knot at the singer's estate in Suffolk, and they kept things to themselves. We love that she got to be a secret bride and just enjoy this time.
7. She Quit Her Job for Her Husband
What's really cool is that it was right when they got back together in 2015. She quit her job in New York and he decided to leave music for a while, and they decided that the best thing in their lives would be to spend a year bonding with one another and just getting to see where things would go and how they would work. After a year, she went back to work in England and he went back to making music.
8. They're Having a Baby
They kept this situation to themselves, and we just found out in August 2020 that she's having a baby. They are expecting their first child, and that is so exciting. Except, this is not just any pregnancy announcement. She's due any day now, according to reports. The coronavirus lockdown allowed them to keep her pregnancy to themselves almost all thew ay through, which is amazing.
9. She's Taking Time Off
She might be leaving her job again, but this time for a reason that is better than any other. Now that they are going to have a baby, the couple wants to focus on raising their new baby together. This is a time that will be exhausting, special, wonderful, beautiful, long, and hard, but it's also going to be quick. This time goes by so fast, and you don't get it back. We love her choice to focus on being a mom.
10. She's Creating a Self-Sufficient Living Environment
In July of 2020, some news broke that she'd decided to leave her job again to focus on growing a self-sufficient environment. She wanted to grow a garden to sustain her family, but no one knew at the time that her family would include a little baby with her husband. This is something we think is so cool, and we love her for it.