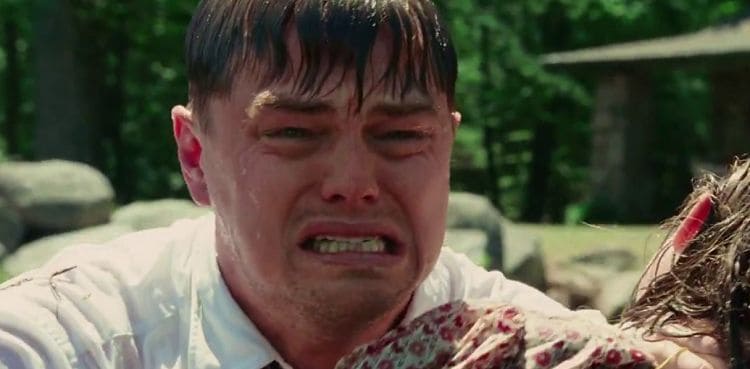 Leonardo DiCaprio is one of the most celebrated actors of his generation. This was proven when almost all of Hollywood was rooting for him to finally win an Academy Award after multiple well-deserved nominations. This speaks volumes to the type of actor his is onscreen, as well as to the kind of philanthropist and environmentalist he is offscreen. DiCaprio has gone on to be part of our lives by portraying unforgettable roles that have stood the test of time. He has collaborated with the best of the best, and continues to find ways to reinvent himself and his craft. There's always something new to look forward to every time. Here are five of the best crying scenes of the actor, in no particular order:
5. Revolutionary Road
The romantic drama was a reunion project of DiCaprio and Kate Winslet (The Reader), who first collaborated in the epic romance movie, Titanic. The film traversed the events leading to the breakdown of a marriage. DiCaprio and Winslet played the roles of Frank and April Wheeler, respectively. A couple who struggled to cope with the personal problems and external pressures surrounding their marriage. The intense confrontational scene wherein April reveals to Frank that she is no longer in love with him was the final straw that broke the camels' back. What was once a happy union turned into a toxic one, because of miscommunication and unresolved conflicts. DiCaprio portrayed the role of a scorned husband who also had his fair share of misdeeds. It was a painful movie that left an impactful impression.
4. Shutter Island
DiCaprio is most known for his collaborations with acclaimed director, Martin Scorsese. This psychological thriller was a massive success, and for very good reason. It featured an unpredictable storyline all tied together with a huge revelation at the end. DiCaprio portrayed the role of U.S. Deputy Marshal, Edward "Teddy" Daniels, who was tasked to investigate a psychiatric facility on the Alcatraz-like Shutter Island after a patient goes missing. The dream sequence scene towards the end of the film where Teddy's real identity and history are revealed was a plot twist nobody imagined. It turns out that Teddy was actually a dangerous patient who resided in Shutter Island for murdering his manic-depressive wife, Dolores, portrayed by Michelle Williams (My Week with Marilyn), after she drowned their three children. Teddy suffered from immense guilt for his actions, and was finding it difficult to come to terms with his actions. It was such a chilling and heartbreaking moment that put a lot of events in perspective.
3. The Great Gatsby
The classic novel was brought to life once again through Baz Luhrmann's colorful and whimsical film adaptation. DiCaprio portrayed the role of Jay Gatsby, an elusive millionaire who is known for throwing wild and over the top parties at his mansion, with the hopes of gaining the attention of his first love, Daisy Buchanan, portrayed by Carey Mulligan (An Education), who was already in married to Tom, portrayed by Joel Edgerton (Animal Kingdom), an old-money socialite who did not want anything to do with Gatsby. The scene where Gatsby lost his composure after Tom reveals the truth behind his unexplained wealth to Daisy was one of the rare occasions where we witnessed Gatsby become so unhinged. He was too caught up in the past, and wanted to prove himself to Daisy and everyone else that he made it big. His desire to have Daisy back in his life was rooted on desperation and insecurity, which would later be the cause of his untimely demise. It was a tragic ending to a beautiful story.
2. The Wolf of Wall Street
The biographical crime black comedy was another hit collaboration with Martin Scorsese that has grown to become a cult favorite. The film was also based on the memoir by Jordan Belfort, portrayed by DiCaprio, whose notoriety stemmed from years of controversial business malpractices as a stock broker, which even led him to serve some time in prison. The scene where Jordan gave an emotional speech to his employees showed what kind of motivator he was. He did not play by the rules, but he certainly knew how to engage and influence a room full of people. DiCaprio embodied the flamboyant character with such flair— there was simply no better actor for the role.
1. Once Upon a Time in Hollywood
The comedy drama by another acclaimed filmmaker, Quentin Tarantino, brought together Brad Pitt (Fight Club) and DiCaprio, two powerhouse stars who we never imagined would share a screen anytime soon. Pitt portrayed the role of Cliff Booth, the loyal stunt double of fading actor, Rick Dalton, portrayed by DiCaprio. The scene where Rick breaks down in his trailer from immense pressure to be at tip top shape for his new movie by perfecting his lines was a dose of reality for a movie star who was slowly losing his shine. DiCaprio delivered his monologue perfectly, and did not falter one bit. He captured the emotions of pain, insecurity, and fear of rejection with such conviction, which he skillfully carried on throughout the rest of the film.to look forward to
Tell us what's wrong with this post? How could we improve it? :)
Let us improve this post!