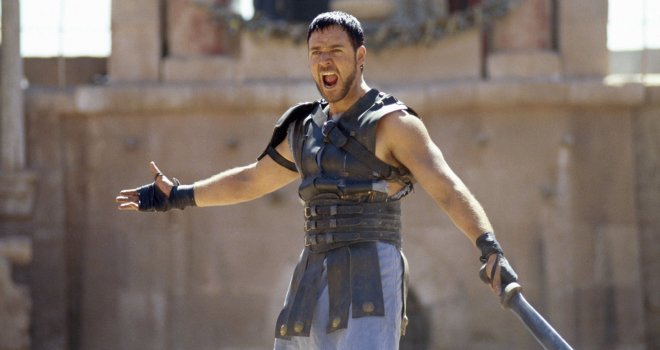 Russell Crowe is an actor whose performance is captivating and intense in almost every film he plays. Throughout his career, he has earned overlooked gems and huge blockbusters as an Oscar winner. Russell's latest film is Unhinged, a thriller whose role is a mad man seeking revenge. His famous roles make him a villain as he seems to enjoy playing the roles that come in the middle. Here is a list of memorable roles ranked from villains to heroes.
1. Maximus in Gladiator
Maximus is a famous role Russell has ever played. His family gets killed, and those in power betray him. The part features a Roman general who is noble and brilliant. Maximus is sold as a slave who is a gladiator. He encourages others to fight to earn their freedom. He also inspires them to fight those in power that are corrupt. Though vengeful, Maximus realizes the fight is more incredible than revenge hence becoming the peoples' hero.
2. Jim Braddock as the Cinderella Man
Cinderella Man, a real-life story that premiered in 2005, entails the Jim Braddock inspiring history. During his life as a successful boxer, he faced the Great Depression, which affected most Americans. But he got back to the ring hence becoming hope for the enslaved. Like most boxing movies, Jim is the perfect underdog for any film. Though the sports make him fierce, he is peaceful, striving to be the best for his family and ensuring that pride doesn't change that.
3. Richie Roberts in American Gangster
American Gangster, directed by Ridley Scott, was premiered and became famous in 2007. Russell plays Richie Roberts, a committed detective on a case concerning the crimes of Lord Frank Lucas. Frank (Denzel Washington) is a famous gangster in Harlem, courtesy of his heroin business. The film is all about Richie Roberts bringing him down. Though Richie is a failed husband, father, and husband, he serves as the most honest cop in the state. He hates corruption and looks forward to the downfall of Frank Lucas. He also has another mission; bringing down the dirty cops that contribute to the problem.
4. Jeffrey Wigand in The Insider
The Insider earned Russell the first Oscar nominations. It is an exciting drama with Michael Mann as its director. Russell plays Jeffrey Wigand, who serves a tobacco company as a researcher. He broke the confidentiality agreement by warning the public about the tobacco hazards the company is hiding. As a flawed man, Jeffrey's life is shuffled, and he is prone to anger. However, he put things in order in a way that seems right. He exposes anything he thinks can save peoples' lives.
5. Jackson Healy in The Nice Guys
Shane Black is behind creating The Nice Guys, a hilarious detective tale. Russell plays Jackson Healy, who is a muscle for hire. He partners with Ryan Gosling, a private eye, to solve a case on a missing person. Like most of Russell's roles, Jackson Healy can comfortably resort to violence as the only solution. He knows he is not a good guy, so he strives to be better by doing noble things.
6. Bud White in L.A Confidential
L. A Confidential became a breakthrough in Hollywood for Russell. The crime drama is a noir thriller for Chinatown. It focuses on three detectives in Los Angeles that are on the same case. Russell plays Bud White, a detective who is both committed and violent. He is willing to go against the law to bring down the bad guys. Though he seems like the people's protector, he beats and kills suspects hence abusing his power.
7. Ben Wade in 3:10 To Yuma
The genre popularizes Westerners with its modern gems. 3:10 to Yuma is an entertaining movie that premiered in 2007 where Russell plays Ben Wade. The star is Christian Bale, a rancher that transports dangerous fugitives like Wade using a prison train. Ben Wade is someone that can be charming at one point and kill you at the next. He is a murderer and criminal but willing to save innocent lives.
8. Javert in Les Miserables
Les Miserables is an Oscar winner film famous in Broadway Musical whose story exposes justice to the world. The film features Hugh Jackman, who just came out of prison seeking a better life. However, Javert, who is a determined lawman, pursues Hugh to return him to jail. Javert is in a community that makes him more powerful than anybody else. He firmly follows the community law that makes him unable to distinguish what is wrong and right. His worldview is flawed as he pursues a man willing and dedicated to doing well.
9. The Man in Unhinged
Unhinged is a thriller film that Russell elevates by his performance. He is the film's unnamed villain, a man that believes in retribution and justice. While driving, The Man encountered an unpleasant and brief road rage with a woman. Since then, he seeks to ruin her life. His way of hunting the woman and her loved ones is troubling. The fact that he feels justified for doing terrible things to people who were just rude to him makes him more terrible.
10. Hando in Romper Stomper
Before becoming a Hollywood star, Russell became famous for playing in Romper Stomper. The Australian drama features Russell as Hando, a skinhead leader. He leads neo-Nazi groups that claim to clear his neighborhood using violence.
Tell us what's wrong with this post? How could we improve it? :)
Let us improve this post!