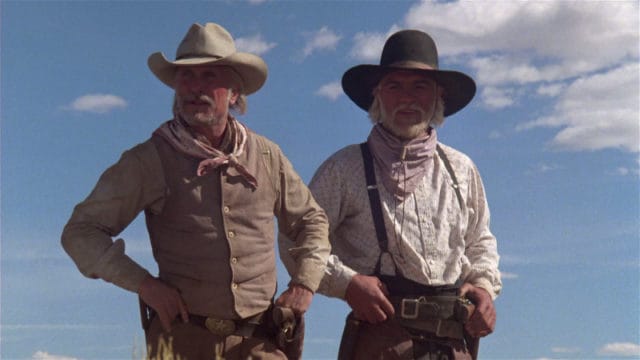 Westerns are a genre consisting of some of the best movies ever produced. Recently we've seen somewhat of a resurgence of Westerns as filmmakers like the Coen Brothers and Quentin Tarantino have taken on modern day films with a Western Style. While it is true that people don't produce these types of films nearly as much as they used to, Westerns were very important in shaping the current day idea of filmmaking. Westerns tend to bring back the feeling of the old days when technology had not evolved as much and movie making was more about script writing as compared to showing stunts and CGI.
For some nostalgia and trivia, here are 20 excellent Westerns you very well likely may not have ever seen…..but you should:
The Hired Hand (1971)
The Hired Hand is a great western directed by Peter Fonda. It's cast includes Peter Fonda himself, Verna Bloom and Warren Oates. Here, they revolve around living the dream. Not many people know about the lifestyle that Jesus lived, but when you look at many Westerns, you will realize they contain many mythic stories and allegories on the same subject. The hired hand also features a lot of showboating in fashion and style. Some characters assume angular poses throughout the movies and use the cowboy code of honor to their advantage.
Open Range (2003)
What might be somewhat surprising is that the director of Open Range is Kevin Costner and the movie features various cast members such as Robert Duvall, Annette Bening and Kevin Costner himself. If you are looking for a Western field with action, then this is one for you. The weapons that the director chooses to use in this film are uniquely designed to bring out the closeness, rustiness and unpredictability in the western. The sound effects during the final showdown are also something to write home about. In the end, this western film leaves an overwhelming impression.
The Claim (2000)
Director Michael Winterbottom was at the helm of this amazing western film. The Claim, filmed in 2000 stars Peter Mullan, Milla Jovovich and Wes Bentley with the theme "the life and death of a man of character." This film is less of a spaghetti western and more of a ploughman's western. It features a character by the name Thomas Hardy who is the Mayor of Casterbridge relocating from his town to the coast. However, he does not get the expected results he wanted and instead he faces startling effects. The entire film features various themes such as dirty politicking, love stories and gut-wrenching revelations.
Rancho Deluxe (1975)
With Frank Perry as the main director, Rancho Deluxe features a cast with Jeff Bridges, Sam Waterston and Slim Pickens. The film features a number of broke characters who wishes to have the things they do not afford. These include cowgirls, a low interest loan, a color TV and free beer amongst other luxuries. The film also adopts a good use of mockery. The feeling it brings to its audience is amazing and it ranks in our top twenty westerns of all-time.
Meek's Cutoff (2010)
It may not be of the past variety of Western, but Meek's Cutoff is surely one of the best westerns on record. With Kelly Reichardt as its director, the cast involves people like Shirley Anderson, Bruce Greenwood and Michelle Williams amongst others. In most western films, you can tell that it is not women's work. Traditionally, you will not be able to see a woman starring in any of the films. However, Kelly Reichardt broke this and bought a confident and uncompromising story. This shows how strong a filmmaker she is and why the film is a success.
Day of the Outlaw (1959)
This huge western classic is directed by Andre de Toth and features several casts including Burl Ives, Tina Louise and Robert Ryan. Just like the dictionary's meaning of the word Stark, the film features many pleasant prospects. While it uses harsh photography, Robert Ryan plays the role of a murderous cattleman perfectly well. However, he finds his match in Burl Ives who is fierce, and very intelligent. If you haven't see Day of the Outlaw, we highly recommend it.
The Missouri Breaks (1976)
Arthur Penn directed the 70s classic The Missouri Breaks. Is isn't often you have one Jack Nicholson and Marlon Brando featured in a movie together, let alone a Western. The film features a series of both romance and sadism as we find it in the ever-flowing Missouri River. While rustling is the main agenda, the western also features an array of darkly comical existential vignettes. The characters in the film are desperate and death is no news. The actors here do their job so well that we cannot help but include this great western in our list.
Ulzana's raid (1972)
This is another action packed western directed by Robert Aldrich. The cast here involves several amazing actors such as Joaquin Martinez, Burt Lancaster and Bruce Davison. While many westerns focused on consequence-free screen violence, Robert Aldrich's film brought even more venom in this. Twenty minutes into the film, we witness a sight of Apaches playing a dirty game featuring a dead soldier's body. The scenes continue all over the film. It is the vigorousness and the action in this western that enables it to rank high above other films ever produced.
Blazing Saddles (1974)
With the legendary Mel Brooks behind the directing of this western, its success comes as no surprise to us. The film involves casts such as Gene Wilder, Cleavon Little and Madeline Kahn amongst others. The year 1974 features the traditional western was sailing very well that Mel brooks could have just gone home happy. However, he chose to help Richard Pryor in making one of the greatest and funny films something that shows his willingness to take risks. As much as many people think that the results were imperfect and that Pryor should have played the lead, the western is still a success. The scenes highlighted are iconic and the film has a great appreciation for one-liners.
Wagon Master (1950)
Many people who have watched this western argue that it is one of the most definitive in the industry. Being a John Ford production, it involves various cast members such as Ben Johnson, Joanne Dru and Ward Bond. In this and many of his other films, John Ford demonstrates the ability to make wise political, psychological and anthological observations without biasness. The film also features Benjonson who is a horse wrangler alongside Mucker Sandy as they try to transport clients over a rough terrain. When the going gets tough, the clients become vulgar in frustrations and their only consolation is the regular huffing and puffing. In addition to that, the film also emphasizes on claustrophobia, which makes it a great western to watch.
Requiescant (aka Kill and Pray) (1967)
When compiling a list of some of the best westerns of all-time, we might run out of words to describe some films. For instance, this western from Carlo Lizzani is so intense from the beginning. Its tittle also shows that it is one to watch (if you have not that is) and the casts here do not need any introductions as they are well versed with their job. Just as a spoiler though, the film's director who is a staunch socialist tries to bring political ideologies to the masses by any means possible. This includes sadism and aristocratic inhumanity.
Lonesome Dove (1989)
This is directed by the great Simon Wincer and involves different characters such as Robert Duvall, Tommy Lee Jones and Danny Glover. This movie is so long, some people consider it as a miniseries. Apparently, it is adapted from arguably one of the best books ever written in the western genre called The Last Picture Show by Larry McMurtry. The movie also features other amazing characters (apart from the main ones) such as Frederic, Angelica Houston, William Sanderson and Diane Lane. The directing and the acting in this film is excellent and it deserves to feature in the top 20 best westerns of all-times.
A Man Called Horse (1970)
Elliot Silverstein is the main director in this western, which also involves a few cast members including Richard Harris, Judith Anderson and James Gammon. This film is adapted from the short by Montana journo. In this film, we see Richard Harris is a bored English aristo whose main purpose is to work his way into the greasy totempole. A series of mind-blowing clashes features the film throughout its entire production. If your hobby reading and want to understand more about the English language, then this one is for you.
Vera Cruz (1954)
This is another great film from the great Robert Aldrich. The cast features other big names such as Gary Cooper, Burt Lancaster and Denice Darcel. As compared to other western films, this one is slightly different and is remembered because of its ability to do away with traditional themes and setting up new ones. From this film, you do not expect to get railroad ramifications and different types of rivalries. This makes it spontaneous and definitely one of the best westerns of all times.
Little Big Man (1970)
This is an Arthur Penn production featuring various casts such as Dustin Hoffman, Faye Dunaway and Chief Dan George among others. Many people who have watched this western film agree that it is one of the greatest ever produced. Having been released at a time when Vietnam War had just ended, the film aimed at making a reflection of what actually happened. Here, Dustin Hoffman plays the role of Jack Crabb who is a white man raised by Indians. The Indians use the term "human beings" in most part of the productions and Jack spends his life being a drunkard, gunslinger and a muleskinner, apart from being an American warrior.
Rancho Notorious (1952)
Among all the other works that Fritz Lang ever did, this proves to be the liveliest. Featuring casts such as Marlene Dietrich, Arthur Kennedy and Mel Ferrer, the film features Arthur trying to track down a man who "robbed" him his wife to be. In his quest, Arthur ends up uncovering a den of thieves much to everyone's surprise. The film gets interesting when Arthur finds out that his boss is the crime leader and he seems to have hit a deadlock in his mission. This film has enough action to keep anyone glued to the television and is definitely one of the best all time westerns.
Tell us what's wrong with this post? How could we improve it? :)
Let us improve this post!