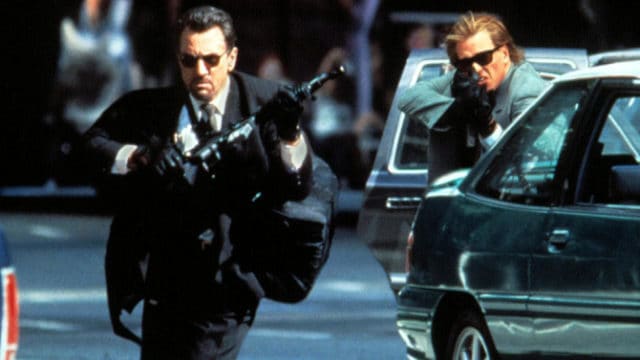 Michael Mann is a director that likes to make you think and while you're doing that he comes up and hits you with something you weren't expecting so that you now have to pull double duty by thinking on the run. That's the beauty of his movies is that you don't always see what's coming and have to adapt and roll with the punches in order to really understand everything that's going on. If you lag behind for even a moment you'll have to do your best to catch up or watch the movie again and keep your eyes open on the second go-around. His films are entertaining and engaging but they're also something you might want to pay attention to with great care.
Here are a few examples.
Heat
A lot of people didn't even need to hear about the plot or premise to get excited about this one. The showdown between DeNiro and Pacino, two actors that were at the top of their game and had never really met but had acted in the same movie, were now opposite one another. It was a matchup for the ages and it blew people away when it came out.
Collateral
This movie starts off kind of slow but you still need to pay attention because key information is given to you at almost every stage. It doesn't matter if Cruise is talking or not, or if Foxx is just driving around in his cab looking for fares. You need to pay attention to this film otherwise it can be very easy to lose the small, seemingly innocuous details that can tell you just what really is going on.
The Insider
This was one of Mann's most reputable films and was lauded as one of his best works. Any insider that decides to blow the whistle on a company that is culpable for the well-being of so many is a serious threat that many in power often feel needs to be dealt with. They take on a certain level of danger that can change a life forever, for better or worse.
Tell us what's wrong with this post? How could we improve it? :)
Let us improve this post!