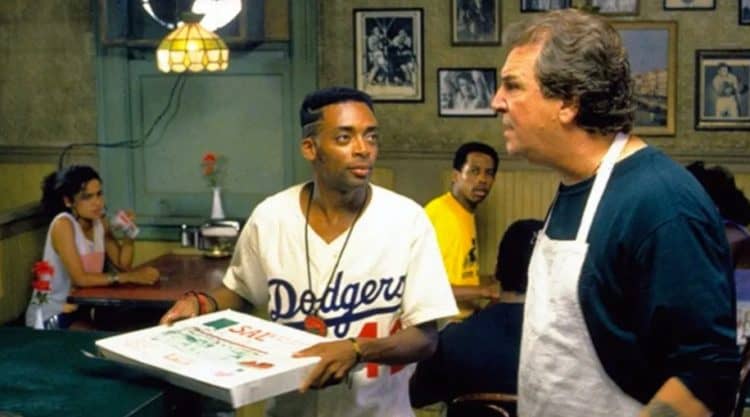 One of the most happening cities in the world and surely one that never sleeps, there are bound to be loads of stories that New York City has to share with the world. And thankfully, the entertainment industry has done well to pick up some of these stories and transform them into gripping storylines that make for some great movies. While the locations of this cool city always make for the perfect backdrop for the settings in a movie, the people here, the culture, the fast-paced life, and just the variety it offers you inspire some great plots too. All in all, New York City makes for quite the canvas! And here we are, bringing to you from this canvas, Ten Awesome Movies Straight Out of New York City!
25th Hour
If 24 hours is all you have before you go to jail for dealing drugs, what will you do in those few hours? This is a question that Monty Brogan, played by Edward Norton, has to answer. And it all begins with questions. Questions about who stands by him at this hour, who is set to benefit by sending him away, and who are the people he can truly trust. In the end, a line from him pretty much sums up what he has to do, "Champagne for my real friends, and real pain for my sham friends,". With a rather different storyline from the ones we are used to, this drama film directed by Spike Lee was inspired by the novel The 25th Hour and was adapted by the novelist David Benioff to give it the onscreen persona of 25th Hour. Among other things, the portrayal of New York City was particularly a heart-touching experience for the audience as it was right after the September 11 attacks that the movie was released. Showcasing the resilience that the city teaches its dwellers, 25th Hour does more than just entertain, it touches you on several levels too.
Do the Right Thing
Often labeled one of the most important films of the 1980s, Do the Right Thing is yet another movie from the Spike Lee stable, that with his scattered style of storytelling also speaks for a segment of the population through premises that are either brushed under the carpet or proclaimed as anti-social. Humorous yet insightful, playful yet serious, and seemingly petty yet enormously powerful, the film turned out to be a landmark one for the city, not just due to the many references to it, but also due to the highlighted problems that come along with it, thanks to its identity as a melting pot. As far as locations were concerned, the shooting for the entire film took place in a small section of Brooklyn, on Stuyvesant Avenue in the Bedford-Stuyvesant neighborhood, and any true blue New Yorker who has frequented this section of the city during the 80s would be quick to point out some well-recognized places from here. A unique take on racial tears in the fabric of the city, Do the Right Thing is right up there on our list of favorite New York City movies!
Once Upon a Time in America
An epic crime film that is yet another representation of the brilliant filming that went down in the 1980s, Once Upon a Time in America is based on the happenings in the first half of the century when the city was only evolving and finding its true identity. And finding themselves in this melee are childhood friends who, in furthering their life of crime, not only invite trouble from the law but also change the equation between themselves. And although most of the filming took place in different locations all over the world, this is only understandable considering how the filmmakers had to deal with the challenge of reincarnating the New York of the 1930s, and we all know this is a cheaper affair in other locations than it would be in New York City itself. Even so, some of the most crucial bits in the film do find the locations of New York popping up. Different versions of the film were released in different locations, making the film's reviews somewhat of a mix, but all in all, Once Upon a Time in America is considered an epic crime film that does enough justice to gangster movies.
Serpico
The onscreen Detective Frank Serpico, also a real-life hero, played by Al Pacino, is an NYPD cop who struggles to get past all the corruption that has firmly entrenched itself in the New York Police Department, and if we had to sum it up in one line, this is what Serpico is all about. But then, when a movie is as brilliant as this one, this description hardly does justice to it! Led by the eternally talented Al Pacino is in itself a blessing for the movie, considering how this is one actor who can bring the most subtle nuances that make a world of difference to any role. Fighting his way through the deceit and resistance that comes his way when he decides to do his bit towards cleaning up the corruption or at least exposing all the dirt that has accumulated in his department, Serpico realizes that it isn't as easy as it looked, and in the real Frank Serpico's own words, the main inspiration behind it all was as simple as this. When asked by none other than Al Pacino himself why he did it, Frank simply answered — "Well, Al, I don't know, I guess I have to say it would be because… if I didn't, who would I be when I listened to a piece of music?". That there is a life lesson we can all adopt right away!
American Psycho
A film that further catapulted the respect that audiences anyway had for Christian Bale's acting prowess, American Psycho is one of those rare films that makes you fall in love with the antagonist of the story, despite his excesses and cruelty, and that there is the magic that the film's storyline weaves around you. Set in an upmarket New York City where Patrick Bateman's classy life as a successful investment banker is only interspersed with his perverse indulgences, the film takes audiences on a wild ride into the mind of a psychopath, and a charming one at that, and even relives some introspective moments with him that has him seeking justice but never receiving it. A film that is a welcome departure from the usual psycho-killer fare that we are used to being doled out from Hollywood, this one has New York City written all over it. And although filming did take place in Toronto too, American Psycho is an all-out New York City film in so many ways.
Dog Day Afternoon
A highly successful film that was inspired by a real-life bank robbery in Brooklyn, Dog Day Afternoon has Al Pacino, John Cazale, James Broderick, and Charles Durning leading a cast that delivers some great performances that work in perfect tandem with the unique storyline of the film. And it's New York and Brooklyn all the way, this one! Even the opening sequence of the film portrays New York City and all its favorite views and eventually settles at a cemetery with Manhattan in the background. And of course, since the storyline itself is majorly set in a bank in Brooklyn, this one is indeed an all-out New York City film. A high-voltage drama that goes beyond the usual bank robbery story that is often seen in films, this one is also an anti-authoritarian film that, in addition to references to the Attica Prison riot, the Vietnam War, and the Watergate scandal, also portrays a gay character, certainly a pathbreaking move for a film that was made in the mid-1970s. In addition to robbing the box office blind with collections of over $50 million, as against the relatively measly $3.5 million or so it took to produce it, Dog Day Afternoon was also quite successful on the awards circuit that year, nominated in several categories and also notching quite a few wins.
Rent
A musical drama that brings to life a very different New York City than the one that is usually portrayed in films, Rent is all about a group of unconventional youngsters who are struggling to keep their identity alive as they even struggle to make the rent in the East Village area of New York City. An adaptation of the Broadway musical that went by the same name, the film reveals to audiences just how difficult it is to live a life that's miles away from the usual yardstick while fighting against challenges ranging from drugs to the looming danger of AIDS as a disease that was only being uncovered. And although audiences did find the movie to be loosely woven in several departments, what makes the film stand apart is its depiction of a different side of New York, one that existed all along but seldom made it into the mainstream. As a film that has a lineup of extremely interesting characters including a filmmaker, an HIV+ rock musician who has won his battles against addiction, a professor of philosophy who is gay and has AIDS, a drag queen and street musician who is also battling AIDS, a bisexual performance artist, and a lesbian lawyer who has passed out from Harvard, Rent is quite an interesting take on all things different.
Taxi Driver
A movie that redefined the way we saw Robert De Niro forever, Taxi Driver is a breakthrough movie for several reasons, and the main protagonist of the movie is a major reason indeed! Directed by the one and only Martin Scorsese, the movie was a controversial one for several reasons. For one, it was the unforgiving and unapologetic violence that has been depicted towards the end of the movie. Secondly, the fact that filmmakers cast a 12-year-old Jodie Foster as a prostitute in the film too raised quite a lot of hue and cry. And of course, thanks to its popularity, the ideas in the film were picked up by quite a few unscrupulous elements from society, including wrongly inspiring John Hinckley Jr. to take on the assassination of the then-President of the United States, Ronal Reagan. But despite all the bad publicity it received, as well as the trickling of bad news that followed it, the movie is recognized as an iconic milestone in filmmaking, and in addition to several awards nominations, was also voted by the US Library of Congress to be preserved in the National Film Registry. Of course, considering how it exposes the underbelly of New York City and has plenty of the sights and sounds of the city in it, all these elements add up to make Taxi Driver a New York City film too.
Manhattan
Woody Allen is famous for looking at even the most normal things from a different perspective, and thanks to his movies, audiences have always been introduced to a different side they did not even know existed. And that's exactly what Woody does again with Manhattan. Shot in black-and-white, the film revolves around the romantic pursuits of a 42-year-old comedy writer who has won over the affection of a 17-year-old but is now in pursuit of his friend's older mistress. A romantic comedy that also has dollops of drama in it, this one has an impressive star cast leading the way, from Woody Allen, Diane Keaton, and Michael Murphy, to Mariel Hemingway, Meryl Streep, and Anne Byrne. Of course, there's a lot of New York in it, and even the opening montage of the film is dedicated to the many sights of the city, including Manhattan, and moves on to a storyline that again, has the New York spirit in heavy doses. Making its way into several AFI Top 100 lists and critically acclaimed, Manhattan remains one of Woody's most notable works.
Rosemary's Baby
Set in a New York City apartment building and particularly noted for one of its live shots in the city with the main protagonist of the film walking into oncoming traffic, and the director shooting it all with a handheld camera, Rosemary's Baby sure has a lot of New York in it. As a psychological horror film, this one has Mia Farrow dishing out one of her career-best performances, and with Roman Polanski at the helm, it was always destined to be a landmark film. Revolving around a pregnant woman who is convinced that her baby is being sought after by her neighbors to use in their satanic rituals, the film swings between paranoia and the occult, often leaving audiences wondering which one to choose as reality and which one to relegate as the figment of a pregnant and disturbed woman's imagination. Relevant as a great piece of work even today, Rosemary's Baby may leave you disturbed, but it also keeps you riveted the entire time, much like New York City!
Let's Wave New York City Goodbye For Now!
For a city that may be friendly but is also extremely dangerous at the same time, New York City sure has a lot of fans, and whether or not one can live up to the city and all it demands in return for what it gives, on everyone's wishlist is the dream to someday to pay this iconic city a visit. While the sights of the city are always a huge draw, it's the people and the culture that NYC reflects in everything it stands for that is more of a magnet for those who wish to go beyond the usual. Well, we hope the movies that are on our list of Ten Awesome Movies Straight Out of New York City! have helped you get to know the city a little better than you did!