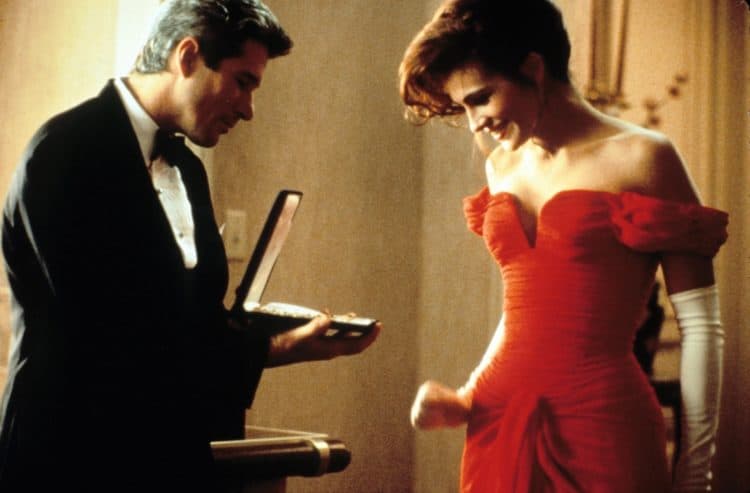 Hollywood actor, Richard Gere, has managed to sustain his heartthrob status through the years. His debonaire looks reminded us of old Hollywood, and his portrayal of powerful men made us swoon each time. Gere rose to fame in the 1980's when he landed the leading role in the crime drama, American Gigolo. This propelled him to great heights, and began his journey as a coveted leading man. His versatility as an actor allowed him to try out different genres, but one that stuck with him were his rom-coms. It was almost impossible not to fall for his puppy dog eyes and crinkly-eyed smile each time. The actor may not be as visible in mainstream movies anymore, but the career he established is one that will still be enjoyed by generations to come: Here are five heart-fluttering scenes starring Richard Gere:
5. Pretty Woman
The iconic rom-com starred Gere as dapper and wealthy businessman, Edward Lewis, who unexpectedly fell in love with a prostitute named Vivian Ward, portrayed by Julia Roberts (Eat Pray Love), whom he hired to be his escort to several business and social functions. The scene where Edward invited Vivian to go with him to San Francisco was like something straight out of a fairytale. Gere was the perfect prince charming that could sweep any woman off her feet, and his chemistry with Vivian was simply off the charts. The film was just the right mix of candid, funny, sentimental, and romantic— easily making it one of our favorite rom-coms of the 1990's.
4. Runaway Bride
Gere and Roberts' second collaboration proved to be successful once again. The storyline followed Maggie Carpenter, portrayed by Roberts, a woman who is known for leaving a string of fiancésat the altar. Gere starred alongside her as Ike Graham, a news reporter tasked to cover Maggie's infamous story. The two characters' business relationship turns romantic, and Maggie decided to give marriage another shot. The scene where Maggie proposed to Homer was sweet and intimate. The tables have turned, and Maggie has transformed from a runaway bride to a woman who finally found her better half. The dialogue was honest and real, and Ike's reaction to it all was heartfelt and swoon-worthy. Gere has this ability to show vulnerability while melting our hearts in the process, and he does it ever so gracefully in the film.
3. Autumn in New York
The romantic drama was able to capture both love and heartbreak in a little under two hours. It followed the story of Will Keane, portrayed by Gere, a serial womanizer who falls in love with Charlotte Fielding, portrayed by Winona Ryder (Stranger Things), a terminally ill young woman. The film tackled mortality, and how the right kind of love can make the painful experience worthwhile. The scene where Will and Charlotte start to fall for one another was so pure and reminiscent of young love. Here were two people who came from different age groups and life experiences, yet had this connection that could surpass even the most painful of challenges. The film tugged on our heartstrings and made us truly realize how grief is the price we pay for true love.
2. Shall We Dance?
Who knew Gere could also dazzle on the dance floor and make us fall in love with his dance moves? He portrayed the role of John Clark, a lawyer who discovers what he is missing in life through the art of dancing. He secretly worked on his moves with a skilled and sultry dance instructor, Paulina, portrayed by Jennifer Lopez (Hustlers), after work. Hard work pays off, and this was evident in the scene when John successfully competed in a waltz competition. The film explored how there is more to life than just your job and how you can always pursue your passion, no matter your age. Gere executed the character as flawless as his dance moves, and made us fall in love with him all the more.
1. Nights in Rodanthe
The romantic drama was adapted from a bestselling novel by famed author, Nicholas Sparks. It featured a love story between two middle-aged people, Adrienne Willis, portrayed by Diane Lane (Must Love Dogs) and Dr. Paul Flanner, portrayed by Gere. They were two lost souls who found solace during a tumultuous time in their lives, which led to a timeless love story unlike any other. The goodbye scene where Paul had to go on a Medical Mission while Adrienne had to go home to her family after a passionate encounter at the seaside village of Rodanthe was heart wrenching to witness. They planned to get together again after sorting their own lives, but this proved to be unsuccessful after Paul met an accident. Gere and Lane have already collaborated in the past, and both actors just seem to age so gracefully. We had a lot of realizations after watching the heartbreaking film, and one of those is that the beauty of true love lies in its ability to find you at any age or stage in your life.
Tell us what's wrong with this post? How could we improve it? :)
Let us improve this post!