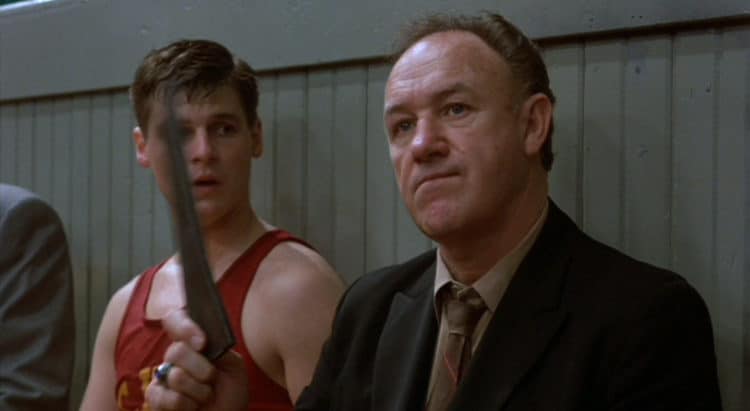 Basketball is one of the most popular sports in the United States, so it's not surprising that it has been the center of dozens of fills over the years. Whether based on a true story or following the events of a fictional team, basketball movies come in a wide variety and can be funny, dramatic, sad, or a mixture of all three. These movies often contain universal life lessons that anyone can relate to which is why they also have the ability to appeal to people who aren't necessarily the biggest basketball fans. If you're looking for something to watch, a basketball movie is something you can always depend on. Keep reading to check out our list of the 10 best basketball movies of all time.
20. Juwanna Mann
Released in 2002, Juwanna Mann stars Miguel A. Núñez Jr. as a fictional professional basketball player named Jamal Jeffries. When Jeffries, who has a bad reputation for his out-of-control antics, is dropped by his team, he comes up with a scheme to continue playing basketball by dressing as a woman and joining the WUBA (a fake league based on the WNBA). The movie was a box office flop and the overall concept hasn't aged well. That said, Juwanna Mann is one of those movies that's nearly impossible to forget.
19. Double Teamed
If you were a kid during the early 2000s, then you remember how exciting it was every time a new Disney Channel movie was released. In the winter of 2002, the network premiered the movie Double Teamed which told the story of real-life basketball players and identical twin sisters, Heather and Heidi Burge. Looking back, the movie is a little on the corny side, but it was very entertaining for its time. It was also nice to see women be the stars of a sports-centered movie since men are usually cast for these roles. Both Heather and Heidi eventually went on to play in the WNBA although both of their careers in the league were short-lived.
18. Sunset Park
Set in the Brooklyn neighborhood for which the movie is named, Sunset Park is centered around a high school gym teacher named Phyllis Saroka (Rhea Perlman) who decides to apply for a job as the coach of the boys' basketball team. Although she is hired, Phyllis doesn't know anything about coaching and she struggles to connect with the players and get their respect. Over time, however, the players start opening up to her and she leads them all the way to the championship game. Even though Sunset Park wasn't a huge box office hit, the movie had a great cast and it found the perfect balance between humor and grit.
17. Rebound: The Legend of Earl 'The Goat' Manigault
Since Rebound: The Legend of Earl 'The Goat' Manigault was a made-for-TV movie, it didn't get a lot of attention upon its release in 1996. However, the movie featured an awesome cast and a solid story. The movie was about a basketball player named Earl 'The Goat' Manigault (Don Cheadle) who became a playground legend in New York City due to his talent and athleticism. Sadly, however, addiction would take over Earl's life and his dreams of making it to the pros would never materialize. In real life, Earl Manigault passed away in 1998 at just 53 years old.
16. Above The Rim
Even though it's been 25 years since its release, Above the Rim is one of those movies that will probably never get old. The film follows a high school basketball player named Kyle Watson (Duane Martin) who is hoping to get a scholarship to attend Georgetown University. However, he finds himself in a sticky situation when he gets caught up with a local drug dealer who is pressuring Kyle to play for his own interests. Above the Rim was a success at the box office and is now widely considered a classic. The movie also stars Tupac Shakur and is the last of his to be released during his lifetime.
15. Glory Road
Glory Road is based on the true story of the 1966 Texas Western Miners men's basketball team. The movie tells the story of how the team defied the odds and went on to win their first NCAA championship. This accomplishment was especially monumental because the Miners were the first team to do it with an all-Black starting lineup. The film starred Josh Lucas as legendary basketball coach Don Haskins. The real Don Haskins passed away two years after the movie's release.
14. Eddie
Eddie is the perfect example of a basketball movie that even non-sports lovers can enjoy. The film stars Whoopi Goldberg as a diehard Knicks fan who gets the opportunity to become the team's coach. Sure, the premise is completely unrealistic but Eddie is still a fun movie to watch. Some would even argue that it's so bad it's good.
13. Cornbread, Earl, and Me
Released in 1975, Cornbread, Earl, and Me may not be as popular as some of the other movies on this list, but it's a movie that deserves attention. With an early appearance from Laurence Fishburne, the movie is about a neighborhood basketball star named Cornbread (Jamaal Wilkes) who is on the brink of going off to college to continue his basketball career. Sadly, however, Cornbread is shot and killed by police when they mistake him for the suspect in a crime. After his death, the movie focuses largely on Fishburne's character and the other young boys who looked up to Cornbread.
12. The Basketball Diaries
The 1995 movie The Basketball Diaries is based on a book of the same name written by Jim Carrol. In the movie, Leonardo DiCaprio portrays Carrol, a high school basketball player who is struggling with addiction. The movie is a tale about life, redemption, and self-love.
11. More Than A Game
More Than A Game is a 2008 documentary that focused on Lebron James' AAU team from their pre-teen years throughout high school. The project provided an interesting glimpse into Lebron's life before he became a professional basketball star. It also offers a great story about teamwork and dedication.
10. He Got Game
Starring Ray Allen as a talented high school basketball player and Denzel Washington as his estranged father, He Got Game is as much about forgiveness as it is basketball. Throughout the movie, Allen's character, Jesus Shuttlesworth, struggles to rebuild a relationship with his father, who accidentally killed his mother during a domestic dispute. Although the movie received many positive reviews, it didn't do well at the box office.
9. Blue Chips
There are lots of basketball movies that don't cast a single real-life basketball player, but Blue Chips wasn't one of them. Not only did the movie have cameo appearances from basketball legends like Larry Bird and Bob Cousy, but it also starred Shaquille O'Neal. The movie portrays the pressures that often come along with collegiate sports and the lengths that players and coaches are often willing to go to in order to win.
8. Air Bud
If you love basketball and dogs, Air Bud is definitely the movie for you. The star of this film is an adorable golden retriever named Buddy who has some serious skills on the basketball court. Buddy eventually joins his owner's high school basketball team and helps leads them to victory.
7. White Men Can't Jump
When people think of basketball movies from the 1990s, White Men Can't Jump is probably one of the first that comes to mind. The film was released in 1992 and became a huge box office success. With Wesley Snipes and Woody Harrelson in starring roles, White Men Can't Jump is funny and timeless.
6. Like Mike
When Like Mike was released in the summer of 2002, people flocked to the box office to see it. Not only did it star Bow Wow, who was one of the hottest young rappers at the time, but the movie also had cameo appearances from some of the NBA's biggest players. In the movie, Bow Wow's character, Calvin Cambridge, finds a pair of old basketball sneakers that give him basketball skills like Michael Jordan
5. Coach Carter
Coach Carter is another movie that people can enjoy even if they're not really into basketball. The film is based on the true story of Ken Carter, the former boys' basketball coach at Richmond High School. Coach Carter was a tough coach who wanted to do more than help his players improve their skills on the court.
4. Love And Basketball
Love and Basketball is a modern Black love story where basketball is always at the center. The movie introduced viewers to Monica (Sanaa Lathan) and Quincy (Omar Epps) as young children who live next door to each other. Although their friendship gets off to a rocky start, they end up bonding over basketball. What results, is a lifelong connection that eventually blossoms into true love.
3. Hoosiers
Hoosiers is easily of the most memorable basketball movies of all time. The film stars Gene Hackman as a high school basketball coach in Indiana named Norman Dale. When he takes over the team, he finds himself in a tight spot because the best player has left. However, he's ready to do what needs to be done to get the rest of the players ready to compete at a high level. Hoosiers received lots of praise from viewers and critics and it was wildly successful at the box office.
2. Space Jam
Space Jam is the highest-grossing basketball movie of all time and rightfully so. Although the movie is almost entirely animated, it stars Michael Jordan and it might just be the greatest movie appearance ever made by a professional basketball player. Even with countless advances in technology, Space Jam continues to be a timeless classic.
1. Hoop Dreams
The 1994 documentary film Hoop Dreams followed the lives of William Gates and Arthur Agee, two young basketball players from Chicago. The documentary was filmed over the course of several years and highlighted the ups and downs in the lives of both players. Hoop Dreams is often credited with changing the landscape of documentary filmmaking.
Tell us what's wrong with this post? How could we improve it? :)
Let us improve this post!