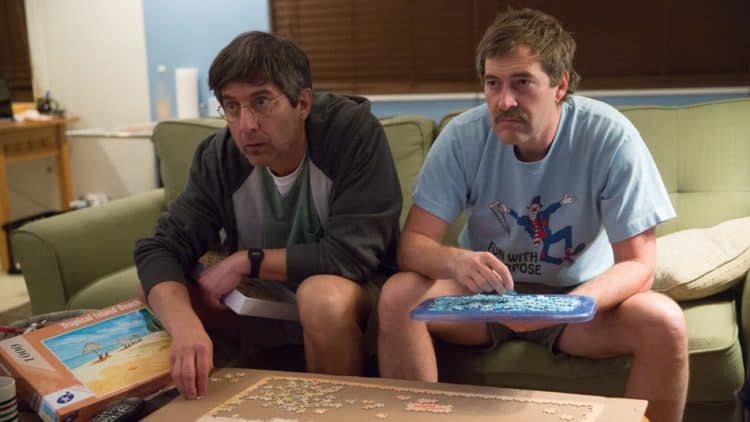 Netflix churns out new content every day. And it's all meant for you to watch and enjoy. There is so little time to watch so many comedies, you may think. But you better create time and see what good and original content means. From Oscar-nominated videos, movies, dramas, and comedies, Netflix is your number one plug. Some comedy you watch will leave you engaged and thrilled. You will be in stitches all the time! Each day Netflix aims at increasing the netizen's watch hour. And they are winning big while at it. There is everything for anyone. The production and distribution of several comedies showcase a high level of talent and we've decided to share 10 of them you can watch right now:
Paddleton (2019)
Mike (Mark Duplass) and his friend Andy (Ray Romano) are waiting for the news in the doctor's office. There is a possibility that Mike has cancer. His friend can't stop asking the doctor questions. Andy's reaction sends the doctor thinking that they might be close, like partners. And they end up lying about their relationship. However, it's not easy to learn how to live with a terminal illness. Paddleton takes you on a journey to accepting situations in life as they come. Mike and Andy exemplify how friends should stand for one another in good and bad times. It's a comedy that you can recommend to anyone going through a hard time.
A Futile and Stupid Gesture (2018)
Douglas Kenny as the founder of the National Lampoon magazine, is one humorous writer. He might be full of controversy, but his comedy has left a legacy. Futile and Stupid Gesture addresses Kenny's (Will Forte) story and influence in a sensational way which lays his career. It's an amusing comedy to watch as you find out if Forte will give his lead character the required performance.
War Machine (2017)
Brad Pitt's performance seems awkward, judging from the gazes of the troops under his command. On the other hand, General McMahon's men find him incompetent, confirmed by the original Rolling Stone article that shows reasons for his dismissal. Brad Pitt and Anthony Michael Hall hit the road to winning an unpopular war. Several uncertainties await them, including a journalist who is all set to expose the generals' campaigns. The proud general has a winning spirit, not understanding the hubris will be on his head. War Machine comprises violence, conflict of morality, and several themes. It's mind-provoking and funny.
Derry Girls
Derry Girls is a gem that has only two seasons of hilarious political conflicts. The comedy takes you to North Ireland in the year 1990 when the country faced many problems. Civil unrest is tackled comfortably without racial diversity. Four girls and one boy struggle to date, be heard, and look for survival under the watch of their 'harsh' parents. Their attitude is a mixture of fabulous and naughty. That makes the comedy enticing. Sister Michael steals the show with her iconic rolling of eyes. She has a great way of delivering her point. Her path to the comic world requires an award. If you want to rekindle your teens years in school, the show will give you that chance.
One Day At a Time
The Alvarez family loves and takes care of one another. Penelope Alvarez (Justina Machado), a war veteran converted to a nurse, ensures the family is intact. She has so much going on with her life, including taking care of her mother after her dad died. She is a single mom to Elena (Isabella Gomez) and Alex (Marcel Ruiz). Many families watching this drama will relate with Alvarez's family, which spice up the fun.
Happy Anniversary (2018)
If you always wow your friend's relationships and don't know the hard part, you better watch Happy Anniversary. Moly and Steve feel bored during their third anniversary. They miss going back to when they used to date and have fun together. You get to understand that couples pass the honeymoon stage; that's when the lovey-dovey starts to diminish. At this stage, it's the couple's responsibility to make the marriage work. Intimacy levels ought to be maintained at a level where you know what to do to your furious partner to smile. Let Molly and Steve help you relate with your current situation if you are a couple or expecting to get married.
On My Block
Visit Los Angeles with these four funny teens whose friendship is under test as you enjoy On My Block comedy. And as you explore, you will see the life of an ordinary couple who is not sure whether to call off their relationship or stick together. My Block is 1 hour and 18 minutes that you will relate with the dramas. You will learn what a friend of the couple generally means and the choices you make.
Little Evil (2017)
Raising someone else child can be fun unless it's a son of lucifer. When Gary (Adam Scott) marries Samantha (Evangeline Lilly), the woman of his dreams, he knew he hit the jackpot. But his happiness doesn't last long after he finds out that her six-year-old boy could be an Antichrist. It poses an acute problem in Gary's marriage and parenting, considering Samantha was once in a cult. The boy is full of dramas that keep Gary on toes until he discovers he is behind the horrors happening around them. He has to choose to eliminate the boy or help him.
Win It All (2017)
Gambling is not for the faint-hearted; you need muscles like Johnson. As a full-time gambler, he doesn't hesitate to gamble with the money he should guard. But this time around, he isn't as lucky. His skills fail him, and he lands in trouble.
Deidra & Laney Rob A Train (2017)
Meet the two desperate sisters Deidra and Laney, who will do anything to save their mother from jail. Even if it means robbing trains or whatever it takes, they are determined. In their criminal life, they end up reviving old relationships. Detectives are out to tail them. Though these comedies have less viewing compared to others, they remain a great watch. Add them to your bucket list, and be ready for endless laughter.
Tell us what's wrong with this post? How could we improve it? :)
Let us improve this post!