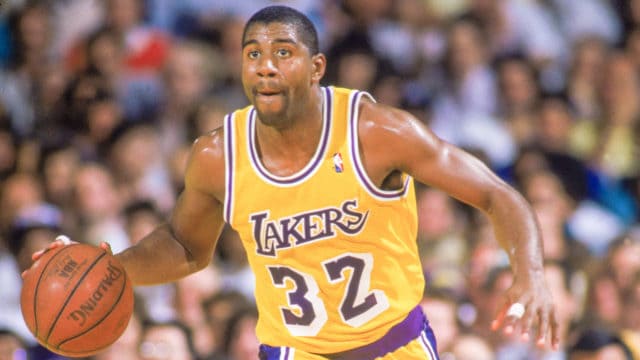 LA Lakers fans probably aren't all that picky but when it comes to representing their team it's usually best if a film has at least something to do with the game or the team in order to catch their interest. There have been some great movie moments that have managed to capture the Lakers and some that at least made mention of them somewhere in the story, but for most of them it's just the fact that it has to do with basketball and there's the Lakers logo somewhere to be found.
They seem to pop up in TV shows a lot more often.
5. Bowfinger
There's just one thing that Kit Ramsey isn't supposed to do under any circumstances, EVER. He CAN'T show it to the Lakers girls, no matter how much he wants to. But of course when you play the role of a big movie star that gets his way more often than the chances of having to flash the cheerleading squad is obviously going to be written into the script. Thankfully they get a good, healthy laugh out of it.
4. Love and Basketball
Q's life was going pretty good until he found out that his dad had been cheating on his mom for years. After that happened his basketball career started going down the tubes in a big way. Even when he got signed to the LA Lakers he was a backup instead of the star he'd been in high school and in college. That shows you that no matter how much talent you have that at certain levels some athletes just peak and don't get any better.
3. Daddy's Home
If nothing else this clip had to make it in here for the novelty of it. Farrell's character is so smashed that by the time he gets on the court he looks like he's about to fall down without even touching the ball. But unfortunately for him, and for the unlucky cheerleader that he beans with the basketball, he's still able to stumble around and act like a general fool for a few seconds longer. Don't shoot hoops while drunk, if that's a moral to follow.
2. Scary Movie 4
This one was just funny since it has more to do with two of the players that were on the team together for a while. Shaq and Kobe were a dominant force during their time, and in this clip as Shaq realizes he's been chained by the ankle he starts to panic until a voice calls out "You're not dead. You're being held against your will.". The best part is when he answers, "Kobe?". That got a lot of people laughing hysterically.
1. Are We Done Yet?
Chuck is the guy that basically does everything and has done everything you can possibly think of. He's a contractor, a real estate salesman, he's helped women give birth before, he's a pracitioner of Capoeira, and of course, he played on the same team as Magic Johnson. In fact he even gets in touch with Magic Johnson while Suzanne is giving birth. Probably not the best time, but hey, when it's Magic Johnson….
Lakers fans should be able to appreciate these moments.