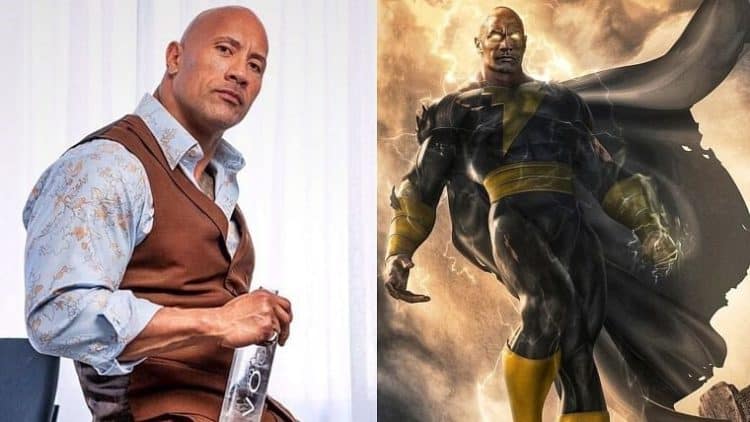 The game plan for the DC Extended Universe has been a rather rocky one, to say the least, but it seems that it now has a set course for the future. With the recent success of its latest movies, it is likely that the universe will continue to deliver more movies, but its most recently confirmed movie has certainly gotten fans to raise their eyebrows with extreme curiosity. If you can't remember when Dwayne "The Rock" Johnson was set to play Black Adam, no one will blame you because that was over a decade ago. Johnson was long rumored to be the main antagonist in the Shazam movie for several years, except the project faced many production issues, causing it to remain in limbo for quite a while. When the movie, Shazam!, finally had a release date set, it was confirmed that Black Adam wouldn't even be appearing in the film, and will instead be getting a film of his own. Due to the wish washy news of the film's production over the years, fans have been skeptical on whether or not a release date will ever be confirmed. However, just three days ago, Warner Bros. has come out and confirmed a release date for the Black Adam film. The film is set to be released on December 22 of 2021, with Johnson saying that filming should start next year. While this news is exciting, it is possible that fans don't truly understand how important this film is, due to Black Adam's lack of popularity. Any further news on the film has yet to be revealed, but since a release date is confirmed, let's take a look on how it can benefit the DC Extended Universe as a whole.
Earlier this year, Shazam! released with a warm reception from critics and fans, but it barely broke even, making the future of any sequels for the character uncertain. While director David F. Sandberg has confirmed that a sequel is in development, simply taking a director on his word is really not good enough to rely on. However, since Black Adam has confirmed its release date, it does solidify his claim and further supports the future of Shazam having his own sequels. For those who haven't seen his movie, a minor spoiler is ahead and it does involve Black Adam. While the character did not physically appear in Shazam!, he was briefly referenced by The Wizard as being his former champion and being corrupted by the power that was bestowed upon him. The next reference to the character was in a deleted scene when the Shazam family sat upon their thrones and noticed an empty seat, with Darla happily saying that they will treat the unknown and supposed hero as family. It is highly unlikely that Black Adam will meet Shazam in his solo film, but his inclusion in the DC Extended Universe will make their interaction inevitable. Whether or not Black Adam is included in the Shazam! sequel, the two characters are the opposite sides of the same coin and one can't exist without the others, so if the Black Adam movie is happening, then we can bet that more Shazam! movies will be seen in the future.
With the massive success of Joker, DC has set a record that has set the bar for future comic book films. What it ultimately proves is that not every comic book movie has to be a super hero movie, given Joker's status as a famous comic book villain. The same goes for Black Adam and while he is not nearly as popular as The Joker, he has the advantage of being played by Dwayne Johnson. Since he is in a movie literally every year, it is undeniable that his stardom power will be the perfect advantage for the Black Adam film to make the big bucks. While Joker was a big hit for DC, not all of their films set in the big cinematic universe have done well at the box office, leading many fans to believe that its future may not be as long as we hoped. However, landing a star like Dwayne Johnson in a leading role is the perfect way to boost their cinematic universe's popularity and set high box office records on top of it. Black Adam's success will help pave the way for more villains to get their own solo films and will make him a chief character in the DC Extended Universe.
Those who are familiar with Black Adam should be aware of the fictional country of Kahndaq, the homeland of Black Adam and a place of intense violence. Due to the nation's lack of proper leadership, Black Adam took it upon himself to become dictator and rule the country with an iron fist, delivering his own brutal sense of justice. While he is by definition a dictator, his leadership does provide stability to Kahndaq, as Black Adam eliminates crime and protects it from whatever threats it may face. This dynamic would be interesting to explore in the film, but the real advantage it provides is introducing us to a larger universe. Several reports suggest that Black Adam will face the hero known as Hawkman, along with two other heroes known as Stargirl and Atom Smasher. If these reports are true, then it is highly possible that the DC Extended Universe will introduce the Justice Society of America, the superhero team that served as the predecessors to the Justice League. Not only would this be fun to see, but it also means that the DC Extended Universe will be expanding to incredible lengths, introducing new characters and even new worlds from the comics. Having Hawkman in the film would introduce us to his race of Thanagarians, a race of literal hawkmen and hawkwomen, giving us a whole new species. The extra inclusion of Stargirl and Atom Smasher would further increase the existence of more heroes with the possibility of an interaction with the Justice League in the future. Overall, the Black Adam film not only sets the bar higher for the character, but for other characters as well.
Final Thoughts
Any further details on the plot of the Black Adam film have yet to be confirmed, but a release date is enough for us to get excited about. Whether or not you are a fan of the character, it is highly likely that the film will be a big win for DC. Are you excited for the Black Adam movie? Let's expect Dwayne Johnson to flex his muscles bigger than ever!