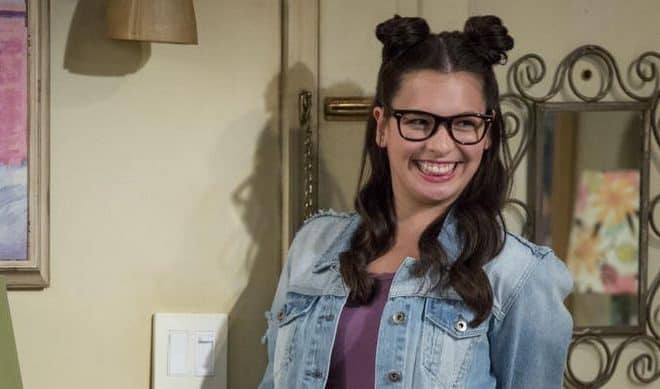 After years of landing minor roles, Isabella Gomez finally got her big break when she was cast as Elena Alvarez in the series, One Day at a Time. The show aired on Netflix for its first three seasons and is now being aired on Pop TV. One Day at a Time which is based on the 1970s series of the same name, follows a single Cuban-American mother as she raises her family in California. Isabella's work on the show has gotten her a lot of attention from viewers and critics. There's no doubt that she has a bright future ahead of her. Let's talk about 10 things you didn't know about Isabella Gomez.
1. She Was Told Not To Wear Makeup For Her One Day At A Time Audition
When actors show up for auditions, it's pretty common for them to make sure their hair and nails are on point. However, when Isabella Gomez was getting ready for her One Day at a Time audition, she was surprised when she was asked not to wear any makeup. Although the directions seemed strange at the time, they were perfectly fitting for Elena's character.
2. Opportunities 'Dwindled' After Being Cast On One Day At A Time
It seems logical that landing a starring role in a TV series would result in even more opportunities. But being cast on One Day at a Time has actually had the opposite effect for Isabella Gomez. She spoke about her experience at the National Association of Latino Independent Producers conference and said, "It's interesting because I am white passing. So, when I got here people didn't know I was Latina. I was going out all the time, getting call backs all the time. Then I booked 'One Day at a Time' – which thank God. But, then people found out I was Latina. And then, the auditions dwindled and people don't want to see me as much."
3. She Didn't Know She Would Be Playing An LGBT Character
Elena Alverez' sexuality is a big part of her story line on One Day At A Time. However, when Isabella Gomez first landed the role, Elena's sexuality had not yet been determined. Although Gomez is not a member of the LGBT community in real life, she understood the importance of having a character that brings a new level of representation to the show.
4. Stephanie Beatriz Is Her LGBT Icon
Isabella Gomez takes her role as Elena Alverez very seriously and wants to make sure she is portraying every aspect of Elena's identity as accurately as possible. She looks up to fellow actress, Stephanie Beatriz, who plays a bisexual character on Brooklyn Nine-Nine and is also bisexual in real life. Beatriz also appeared in the third season of One Day at a Time.
5. She Was Born In Colombia
Although she is a member of a Cuban-American family on TV, Isabella Gomez was actually born in Colombia. She and her family moved to Florida when she was 10-years-old and she eventually relocated to California in 2015. She says that being part of One Day at a Time has taught her a lot about Cuban culture.
6. In The Heights Is Her Favorite Musical
Isabella Gomez may be a screen actress, but she also has a deep love for theater. She became interested in theater during high school when her school put on a production of the musical, In The Heights during her freshman year. She wasn't part of the cast but participated in the production as part of the makeup crew.
7. She Hopes To Do Character Work Some Day
As an actress, Isabella is constantly looking to try new things to improve her craft. One of the things she'd love to try one day is character work. She describes this kind of work as "like something like what Johnny Depp does in which he transforms himself into these out of this world characters, that is terrifying to me. I hope that I get to do it because I think that I would grow so much, and it seems like such a cool process to be able to build this person from the ground up."
8. Grey's Anatomy Is One Of Her Favorite Shows
Grey's Anatomy is currently in its 16th season. As someone in her early 20s, it's a show that someone Isabella Gomez' could have grown up watching. However, Isabella didn't get into the show until more recently when she randomly picked it out and started binging. She now considers Grey's to be her favorite show and admits that she will cry when it gets canceled.
9. One Day At A Time Is Her First Multi-Camera Show
Despite having acted on several shows throughout her career, One Dat At A Time is her first time working on a multi-camera show. The show is shot with four cameras in front of a live audience. Even though filming in front of a live audience has similarities to stage work, Isabella says she feels less pressure on set because even though there's an audience, they can easily do another take if someone messes up.
10. Her Dad Is A Lawyer
There are a lot of contracts involved with work in the entertainment industry which means it's always a plus to have a good lawyer on your side. Luckily for Isabella Gomez, her father is a lawyer and he has been able to help her navigate several of the situations she's come across in her career.
Tell us what's wrong with this post? How could we improve it? :)
Let us improve this post!