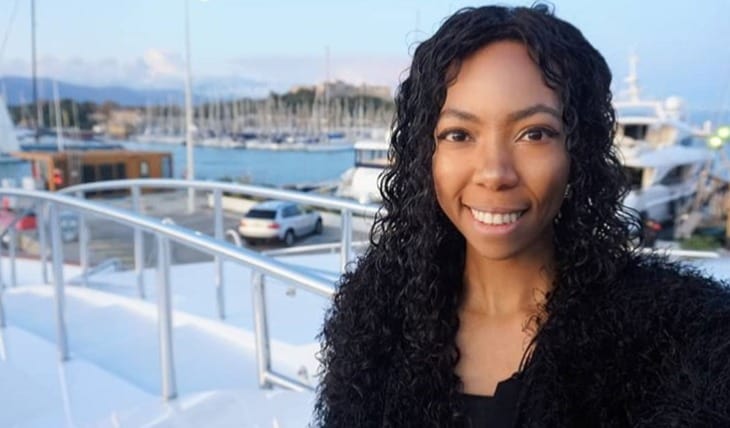 If you follow "Below Deck," then the 7th season has brought with it one person who must have captured your attention: Simone Mashile. She is the second stewardess, but her competence leaves a lot to be desired by her superiors. She has made the season enjoyable with her go-getter attitude that goes beyond her professional life. The reality television show is what has thrust Simone into the limelight, and as people are getting curious about her, we have uncovered a few facts as listed below.
1. She is keen to learn
They say a day gone having not learned anything is a day wasted, and it seems that Simone stands by this belief. Therefore when she felt there was still a lot more that she needed to learn and was not being given a chance, she began complaining to her fellow crew members. Hoping to rectify the situation, Simone approached Kate Chastain to teach her more. Unfortunately, she did not quench her thirst for knowledge since Kate was not ready to have someone who did not even have the basics. Captain Lee shared Kate's opinion stating they are not there to teach Simone everything, especially when opening a bottle of wine proved challenging.
2. She has been crushing on Tanner Sterbuck for some time
Women may like a man but never make a move lest they are labeled "cheap." We have always been inclined to think that it is a man's job to chase a woman and Simone kept hoping that Tanner would realize she was interested in him. Fortunately, her prayers were answered one day when they both got drunk, and Tanner made his move. They began kissing so much that Skippon felt that was unnecessary PDA. For Simone, she could not hide her excitement in her confession when she revealed that Tanner is her type and even had a hard time breathing whenever he was around her.
3. She was sexually harassed on the show
Simone decided to wear garter for a pirate-themed day. Moments later, she realized she had made a grave mistake because one of the guests took it as an invitation to make a move on Simone. The guest made sexual comments, including how he wanted to bend Simone over in the bathroom. Kate saw Simone's plight and moved her to where the guest would not have contact with her. However, others like Captain Lee thought she was inviting the harassment with the garter.
4. Her family background
In her interview with Glitter, Simone revealed that she is from South Africa's capital city. Johannesburg. Simone was raised by a single parent whose income fell in the lower bracket. Still, she is grateful that her disadvantaged background helped to shape her into the strong woman she is today. Besides, getting to play in the mud with neighborhood boys is a memorable experience she would not give up for anything.
5. Her family is of academic achievers
Show a child the path to follow, and they will never depart from it. Simone has been trained all her life to follow in the footsteps of her family members who have set quite high standards. For instance, her uncle went down in history as the first back person during the apartheid era, to win an Anglo American scholarship. Simone has another uncle who is both a physicist and electrical engineer, and at 96, Simone's grandmother will not dare use a calculator since she believes it weakens the mind.
6. What encouraged her to get into yachting?
It has been said that curiosity is the engine for achievement; hence, the future belongs to the curious. As if to prove this belief true, Simone could not let her language skills go to waste. Therefore to her, there was no better way than to explore the world where she would meet people who speak different languages. Further, having been born into poverty, yachting was the ideal opportunity to see how the wealthy live. What sealed the deal was the friend who had the yachting experience and told Simone that yachting was something she would enjoy.
7. She is book-smart
As much as Simone comes from a family of high achievers, it was not a guarantee that the genius streak would be in her DNA. However, she has proven that it runs in the family with her ability to graduate with a mathematics degree. Being a bright girl, Simone received academic scholarships for both high school and college.
8. She is a model
On her Instagram, Simone describes herself not just as a yachtie and mathematician but as a model as well. Of course, with her slim figure, curly hair and bright smile, Simone chose a career that fits her well. After college, she got an office job and began modelling part-time. The 9-5 job soon became monotonous, and Simone left it to venture into modelling full-time. The decision has proven beneficial in fulfilling her love for travelling since she has been to France, Italy and California. She acknowledges her beauty by referring to herself as "Siren" on one of her Instagram pictures.
9. She likes keeping fit
As a model, taking care not to get too curvy or flabby comes with the job, and Simone takes her modelling career seriously. She has, therefore, become a fitness addict and works out daily to maintain her trim figure. However, it is not just about the physical health that she cares about; her mental fitness is also essential to her. Simone hence practices meditation and yoga. Her positivity is evident in her Instagram where one post reads that a child who falls 50 while learning how to walk never thinks to themselves that it is not for them.
10. She can be emotional
For someone whose yachting career dates back to 2017 and who has been a sous chef and stewardess, you would think by now Simone is an expert in her profession. Besides, Simone has already proven she is witty, considering her ability to get scholarships based on her academic competence. Therefore when you see her struggling to open a wine bottle, carry plates or cut fruits, it makes you wonder what Simone has been doing for the two years she has been on the job. Well, even Simone questioned her abilities when a drunk guest carried plates better than she does and Simone wound up crying.
Tell us what's wrong with this post? How could we improve it? :)
Let us improve this post!