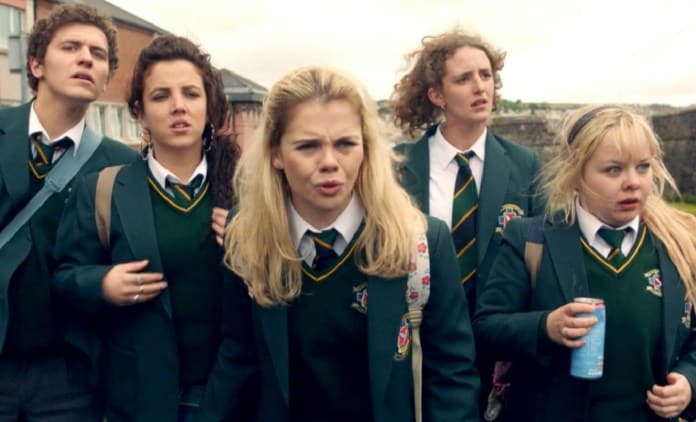 If you are a fan of the hit television series Bridgerton, you've probably heard of Derry Girls, Nicola Coughlin's award-winning and funny show. With the imminent return of the show's third and last season, fans around the world are anxiously awaiting any information about the official release, as well as the stories and characters that will be featured. Derry Girls is a film that explores the life and lifestyle of a group of young women in Derry, Northern Ireland. Derry Girls features a bunch of teens as they grow up and learn about the responsibilities of the society in which they live, both great and small.
The students have a lot to work out, from armed officers' limitations to ordinary high school turmoil. What more can life potentially do to bring you down when all that counts is a smile from your crush? Not only is it a great drama to watch, but it's also educational. Not even to add that you should be prepared to reminisce about your high school years, pals, and possibly even the boy or girl you had your eyes set on. With both the show's present course and news from the performers, the next season 3 will most likely be the series' final installment. Therefore, if you have not seen it yet, now would be the time!
Derry Girls Season 3 release date
Derry Girls Season 3 has yet to be given an official announcement on its release date. Season 3 of Derry Girls will premiere once the plague has passed. Unfortunately, Season 3 of Derry Girls cannot be expedited, which is a bummer. The popular series' actress Nicola Coughlan, who acts as Clare, says it's "vital" that the program is shot in Derry instead of just anyplace else in the world, although "we can't do anything involving a crowd right now" given the constraints. However, things may improve sooner than predicted, since Northern Ireland is rapidly vaccinating its inhabitants, allowing the production of Season 3 to resume this summer.
We may now anticipate the teen drama's premiere between late 2021 and the beginning of 2022. This is according to Nicola Coughlan's announcement on her Twitter account. The actress who plays Clare Devlin on the popular tv series. According to What's on Netflix, the series will premiere first on Channel 4 throughout the United Kingdom, followed by Netflix in the United States and several other regions. The more waiting game is in store for Netflix UK subscribers. Another thing to keep in mind is that the series is currently in production for a film adaptation. It's unclear whether it is in place of a fourth season.
Derry Girls Season 3 plot
Coughlin remarked on her Twitter account that "the plots in season 3 are the greatest we've ever produced," but she didn't elaborate. She talked to the Belfast Times well about quality issues with Season 3 as well as the plots. "At the moment, we can't do anything that involves a crowd, so technically, it's incredibly difficult." However, I actually spoke with Lisa McGee, who walked me through the narratives. They are absolutely wonderful, which goes without saying given her talent, but it makes me want to do it immediately."
The program strikes a fine balance between recognizing the girls' politically divisive background and maintaining the tone primarily humorous. The war among those who desire Northern Ireland to embrace the Republic of Ireland and others who are interested in settling in the United Kingdom, known as the Troubles, mainly serves as a background hum of terror for the Derry Girls but instead of characterizing their lives.
The show's writer, Lisa McGee, has expressed her enthusiasm for the next storylines and plot lines. The present political situation in Ireland is also supposed to play an important role in the tale, as it has been in previous seasons, so paying attention to it may offer fans a better idea about what the upcoming season's setting will be like. Aside from that cultural background, little is known regarding season 3's plot.
Is Season 3 of Derry Girls going to be the ultimate season?
Although nothing has been verified, it appears like it will be the season finale. According to What to Watch, the actors cannot carry on playing teenagers for so long! Saoirse-Monica Jackson is currently 27 years old, while Jamie-Lee O'Donnell, her co-star, is 29. On Celebrity Googlebox, the two recently linked up in a humorous way. The third season will also see the group grow up towards being roughly 17 years old, and this will mark the start of the series's end, with the creator Lisa McGee admitting that she wants to end the show with a feature film just after the third season. "I might not want to portray them past the age of 18." It's just about the magical period right when you become an adult," she told I Newspaper.
Who are the cast of Derry Girls Season 3?
The series would be impossible to continue without any of the primary cast, which includes:
Clare (Nicola Coughlan)
Erin (Saoirse-Monica Jackson)
Michelle (Jamie-Lee O'Donnell)
Orla (Louisa Harland)
James (Jamie-Lee O'Donnell) (played by Dylan Llewellyn)
Various complementary characters, such as the school principal and other students, are scheduled to return for the second season. As per the show's authors, we also can look forward to extraordinary notable special appearances in the future season. According to BT, Jamie Dornan previously informed Vulture that he would love to be part of the series and that he has been in contact with Lisa McGee, the movie's creator – however scheduling issues have previously caused a lot of problems.
McGee reportedly informed Radio Times that Dara Briain would indeed be perfect for the series after the comic expressed his appreciation for it on Twitter. After a series of delays due to the global epidemic, Derry Girl's season 3 appears to be on the verge of being released sooner rather than later. Therefore, if you are looking for a new comfortable shoe, you can rest assured that this one will keep you laughing from start to finish.
Tell us what's wrong with this post? How could we improve it? :)
Let us improve this post!