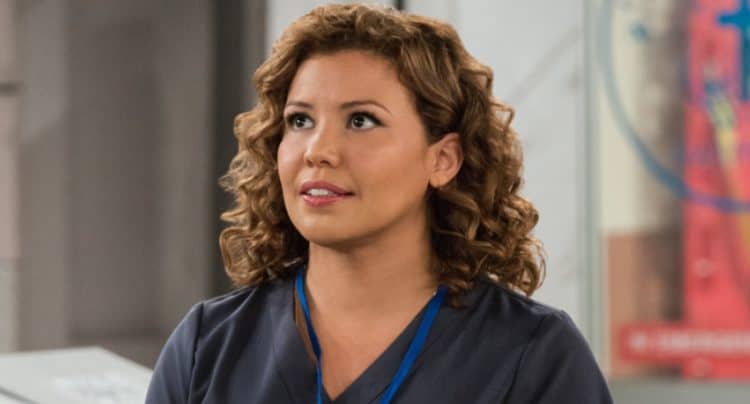 Ever since she first showed up in the 1993 ABC Afterschool Special "Love Hurts," we've seen Justina rise through the Hollywood ranks with determination and talent to match. Most recently, she's been taking it "One Day at a Time" as returning Army veteran Penelope Francisca del Carmen Riera Inclán Ruiz Maribona de Alvarez. The critically acclaimed show is a reimagined version of the 1975—1984 sitcom of the same name from Norman Lear. However, there are plenty more delightful and enlightening things to learn about her so, here are ten things you didn't know about Justina Machado.
1. Hometown Girl (Chicago)
Justina's parents moved to Chicago from Puerto Rico, so she was born and raised in the famous Windy City. She's proud of her roots there and frequently mentions her hometown. Though one of her brothers moved to LA with her, most of her family still lives in Chicago. When she was younger, Machado moved to New York, so we don't doubt moving to sunny and warm southern California was a significant change. At the very least, the winters are a whole lot less cold.
2. Dancer
Like many actors and actresses, she was active in theater as a child. Her love of performing has been a life long passion. In fact, she even took dance at Franklin Fine Arts Center for a while. Ultimately it wasn't dancing that held her attention, and the young actress left home to pursue her theatrical dreams. Perhaps we'll get to see her on a future episode of Dancing With the Stars.
3. SAG Award & More
From 2001-2005 Justina was on a very different, critically acclaimed show. During her time on Six Feet Under, Machado played Vanessa Diaz, who started as a minor supporting character but quickly evolved to become part of the main cast. Eventually, this led to a SAG "Outstanding Performance by an Ensemble in a Drama Series" award for everyone on the show. That's not the only award she's received in her time under the spotlights. From her FilmOut Festival award for Best Supporting Actress in Pedro to five Imagen nominations (with two wins), Justina has been busy, and it shows.
4. Fantastic Filmography
There's an excellent reason Machado has had so many nominations. Her filmography is impressive. With more than fifteen movies and numerous shows to her name, Justina has pretty much been on set or stage continually since 1996. It must be exhausting to be so busy all the time, but being an actress also comes with plenty of rewards.
5. Big Family
Justina isn't married as far as we can tell, though rumor has it she's been dating award-winning producer, writer, and actor Emanuel Gironi since bout 2015. She doesn't have any children either, but she does have a big family. Along with one of her brothers, the actress lives in LA. Her mother, stepfather, and three other siblings all live in Chicago, where they have other family. It must have been a busy house with five kids, but we bet Justina was the leader of the pack.
6. Not Into Improv
In spite of spending many years in theater, Justina has never been 'into' improv. Though she respects and admires actors who can wing it, that's not her style. Machado told the Chicago Tribune that one of her worst moments was when Sean Penn started improvising without any notice and Justina had to do her best to keep up. She did well enough that she was later cast in a movie called 'In the Electric Mist' with Tommy Lee Jones because the director assumed that, if she could keep up with Sean Penn, then she'd be just fine working with Mr. Jones.
7. The Theater
Though most of her work these days is on film, Machado has done stage shows as recently as 2010. Moreover, she credits her time in Chicago with the Latino Theater company for her success. That experience helped her get jobs in NYC after she moved there and eventually led to more prominent Hollywood roles. Growing up with an interest in stage shows certainly helps a budding actress on the path to stardom.
8. Grew up poor
Because we see actresses on the red carpet wearing glamorous gowns by high-end designers, it's easy to assume that they've always lived in luxury. However, Justina decidedly wasn't born with a silver spoon in her mouth. Her family moved several times before she was even ten years old. Her mother was always seeking cheaper housing so that there would be more left over for her children after the rent was paid.
9. Quinceanera Woes
Many young Latinas look back on their quinceanera's as one of the best parties they ever had. The coming of age celebration is such a cultural staple that when she was younger, Justina convinced herself, and eventually, her reluctant family too, that she needed to have one. The only problem was that she didn't exactly know what it meant beyond getting a pretty dress and a party. She wasn't even aware that it involved going to church. By the time she'd convinced everyone she had to have the lavish party and figured it all out, Machado decided it was actually "Really lame."
10. Doesn't Pander to Stereotypes
Justina has made her career playing characters that have, for the most part, avoided the racial stereotyping that can plague the careers of Latina actresses. Though it hasn't been easy, Machado is the sort of person who walks away from auditions that ask her to pander to offensive, dated, and minimizing scripts just to get paid. She has no interest in being part of the problem, for which we respect and admire her. Justina is proud of her foresight and ability to portray a more realistic and positive image for young women to look up to.
Final Thoughts
We've always been impressed by Justina Machado. The more we see of her, the better we like her as an actress. Learning more about her as a person increases the impression that she's a levelheaded and bright actress with a ton of talent and not much ego. Do you know any fun facts we missed? Share them in the comments section below.
Tell us what's wrong with this post? How could we improve it? :)
Let us improve this post!