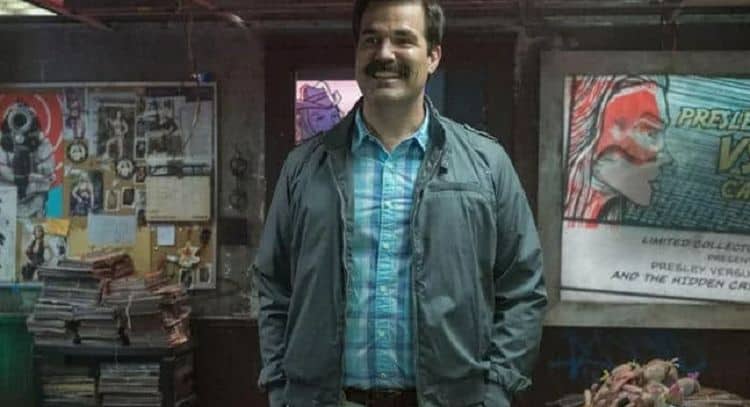 Rob Delaney may have started his career as a comedian, but he has since become a successful actor who has gotten the chance to work with some of the biggest names in the business. From TV shows to movies, Rob has shown that he knows exactly how to put on memorable performances. While his role may not always be the biggest, he always seems to command attention every time he steps in front of the camera. Although he currently has some great movie projects in the works, we thought it would be nice to take the time to celebrate some of the awesome film roles he's already done. Keep reading to see our take on the five best movies of Rob Delaney's career.
5. Hobbs and Shaw
The 2019 movie Hobbs and Shaw was a huge box office hit that was full of action and adventure. The movie is part of the Fast and Furious franchise and is set after the 2017 movie The Fate of the Furious. In the movie, Rob plays a CIA agent. Rob wasn't a star in the movie, but this project is a great example of how he always leaves his mark regardless of his role. Being in the movie was also a great opportunity for him to be a part of one of the most successful film franchises in recent history.
4. The Good House
Released at the Toronto International Film Festival in 2021, The Good House may not have be very well-known in the mainstream, but it's a great movie with a very talented cast. The film is based on the novel of the same name and tells the story of a New England-based real estate agent named Hildy Good (Sigourney Weaver) whose world is turned upside down when she rekindles a romance with an old flame. Rob plays a psychiatrist named Peter Newbold who is in an unhappy marriage. Rob's role in The Good House is a bit of a departure from the kinds of things we usually see him in, but it goes to show that he has way more range than a lot of people probably realize. This is one of Rob's biggest film roles to date and his fans are hoping to see him secure a lot more major opportunities in the future.
3. Bombshell
Sexual harassment in the workplace isn't anything new, but it has become a heavily discussed topic in recent years. The 2019 film Bombshell took a deep dive into this issue by focusing on the true stories of female FOX News employees who worked to expose the network CEO for sexual harassment. Charlize Theron and Margot Robbie are the big stars of the film, but Rob Delaney plays a supporting role as an executive producer named Gil Norman. Despite not being a huge success at the box office, the film received lots of favorable reviews from critics and viewers. Once again, Rob's work in the film highlighted his ability to attract attention even when he isn't at the center of the project.
2. Tom & Jerry
Tom and Jerry have been staples in the cartoon world for more than 80 years. In 2021, the dynamic duo was brought to life like never before in a live-action/animated movie. In the film, Rob portrays a wealthy man named Henry Dubos who owned the Royal Gate Hotel. While we've already established the fact that Rob has range as an actor, comedy is where his talent really shines. Unfortunately, the movie itself didn't have the best reviews, but several critics had positive things to say about Rob's performance. Jason Palmer, a reviewer for Entertainment Focus, wrote, " Chloë Grace Moretz, Michael Peña, Ken Jeong and Rob Delaney all try in vain to ignite some much needed energy into the movie. It's not their fault, its just a bad core story that curtails their efforts at every opportunity."
1. Deadpool 2
Ryan Reynolds may be the start of the Deadpool franchise, but it was Rob Delaney who stole the show in Deadpool 2. Rob played a character named Peter who became an unlikely hero. What's interesting about this role is that Rob agreed to do it without really knowing anything about the character. According to Digital Spy, Rob said, "It so happened that Ryan Reynolds watched Catastrophe and enjoyed it..so he just called and said, 'Hey, do you want to be in the movie?'And I was like, 'Yeah, I'd like that'… he was like, 'Do you want to know what you'll be doing?' and I said, 'I don't care'". What could've potentially been a very risky decision turned out to work at better than Rob could've ever imagined. His character in the movie was so popular that Ryan Reynolds said he'd like Peter to have his own spinoff.