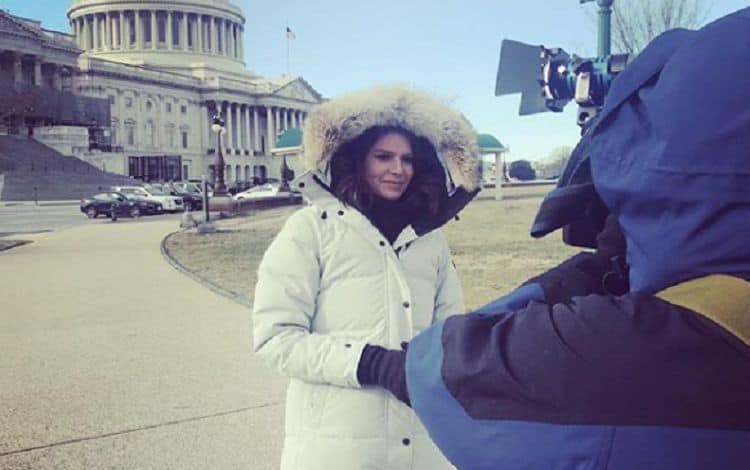 Political correspondent Kasie Hunt is making big things happen in her life these days, and she's feeling good about it. We see the reporter on the television all the time, but we also realized this election year that we don't know that much about her aside from the fact that she is quite good at her job and she's got goals. However, there is still so much to get to know about her, and we want to take a deeper dive into her life to learn as much as we can about her.
1. She's in Her 30s
Kasie Hunt was born on May 24, 1985. We imagine she grew up watching people like Barbara Walters and Diane Sawyer and wanting to be just like them when she grew up. We all kind of did, right? We all thought we'd take over the world in some way, and they were the two biggest names in her future industry.
2. She Was Born in Michigan
She was born in Michigan, but she was not raised there. Her family moved to Pennsylvania when she was very young. Wayne, Pennsylvania, to be precise. She grew up there, went to school there, and graduated from the Conestoga High School in 2003. She spent the vast majority of her own life there.
3. She's Got a Successful Family
The reason her family moved to Pennsylvania when she was growing up is because of her parents. Her father is the manager of the real estate design and construction at Penny Medicine at the University of Pennsylvania Health System. That's located in Philadelphia, so they had to move there for his job. Her mother is a yoga instructor. Her own sister is a famed golfer. She golfed in college.
4. She's Smart
She's very smart. When she graduated high school, she went on to college. She went to George Washington University, where she graduated with a degree in international affairs only 3 years after she finished high school. She graduated magna cum laude, too. She then went on to earn her Master's Degree from St. Johns College.
5. She Began as an Intern with NBC
Her first job out of college in this line of work was as an intern for NBC. It was a stepping stone for her, and she did well with it. She began in the political unit, and she moved on many times before she landed where she is now. She was a writer, a reporter, and so much more before she landed at NBC News as a Capitol Hill correspondent.
6. She's A Married Mom of One
She got married in 2017. She married NBC News producer Matt Rivera. They had a lovely wedding, and they made some big changes in their lives in 2019. They welcomed their first baby. He's a little boy who is called Mars. He was born on September 4, 2019.
7. She's Getting a Big Promotion
She is not just a correspondent any longer. She's been announced as the new host of the "Way Too Early," show that will air just before "Morning Joe," which is a huge promotion. She's going to be on the air at 5 am beginning September 21, 2020.
8. Fans Miss Her Old Show
She was hosting "Kasie DC," on the weekends for the past few years, and her fans are very disappointed that the show is ending. They are excited to see that she is moving on and that she has a new weekday show, but they were not happy that her old show ended mid-September. Fans want her to do it all, and they want her to be more than a little present in their lives. It's understandable.
9. They Did Not Learn Their Baby's Gender
It's uncommon not to learn the gender of your baby before he or she is born – especially when it is your first baby. She and her husband decided that they would not find out what they were having when she was pregnant, and it was very exciting for them to get to call out that it was a boy when they told their friends and family.
10. She's Private
She leads a very public life, which usually means she spends a lot of time with her life on the air. However, she's a master at keeping her private life to herself. She doesn't share too much, but just enough to keep her fans feeling connected to her when she's online or on the television. She's mastered her own art.
Tell us what's wrong with this post? How could we improve it? :)
Let us improve this post!