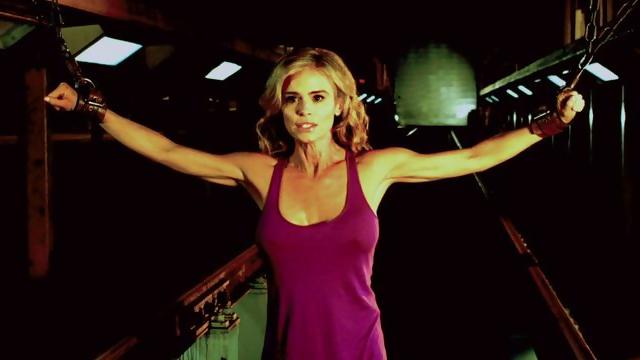 Born in San Diego, CA, Elizabeth "Betsy" Russell was born on September 6, 1963 to Constance and Richard Russell. She is an American actress who has made a name for herself in Hollywood, and although she's played a number of roles throughout her career, her most notable e roles have been, Private School (1983), Tomboy (1985), and one of her most recent was the role of Jill Tuck, in the Saw film series that aired from 2006-2010. Fans from the '80's probably still recognize this actress and if you do know the name, there's probably details about this actresses life you don't know. So keep reading to learn 10 things you didn't know about Betsy Russell.
1. She moved to LA after high school in hopes of making a career
Many actors will make a big move in hopes of starting or furthering their acting career. Once Russell got a taste of acting in high school, she decided she needed to make a move in order to help facilitate her career, so after graduation, she packed up and made the move from San Diego to Los Angeles. Once she arrived in LA, she began taking acting classes and prepared to take her first role.
2. She got the acting bug at a young age
Russell has said that she knew she wanted to be an actress by the time she was just eight years of age. It wasn't that there were other actors in the family to set an example for her, but she started acting while in school in school plays. A lot of actors seem to get the bug by participating in the school drama classes, which is why so many people feel it is important for schools to offer drama classes as an option for students.
3. Three of her grandparents are Jewish
Russell grew up with Jewish influences. Three of her four grandparents were Jewish. There isn't much information on her religious views or how much of a role the Jewish religion played in her upbringing and life, but with three grandparents of the Jewish faith, I'm sure it was significant in her life.
4. She was in a Pepsi commercial
Lots of actors have a commercial or two under their belt from somewhere in their career history, and it's not surprising when an actor says that a commercial was their first step in their career, either. Russell is one who had her first experience with acting by agreeing to be in a Pepsi commercial when she was 16 years old. She was riding a horse in the commercial and it was the first of two horseback riding roles she would have.
5. Her first big role was in 1982
Russell's first big role came in 1982 when she accepted a role on a TV series, The Powers of Matthew Star. Although her role only had one line, it was a line that got her noticed because it wasn't long after that more TV show roles began to roll-in for her, and these roles ultimately led her to the big screen, a film that really rocketed her career forward.
6. Her Private School scene earned her a nickname
Another horseback riding scene for Russell came in 1983 when she played Jordan Leigh-Jensen in the movie, Private School. One of her scenes was to ride topless on a horse, which was filmed in slow motion. It was that very scene that thrust her into stardom and suddenly she was a girl to remember in the 80's. The scene was so popular in-fact, it created a nick name for her, the "it-girl," and was one of the most iconic 1980's movie scenes of all-time.
7. Comes from a family of famous writers
Russell is the only famous actor in her family, however, though they may not be actors, there are famous people in her family. Russell hales from a family of famous writers, with her father, Richard Russell, being the famous economist and writer of the Dow Theory Letters that were popular for over 50 years. Her grandfather, Max Lerner was another famous author and syndicated columnist, and the women in her family were equally as talented with her grandmother, Hortense Lion, being a best selling author.
8. She's a college graduate
Russell was taking her acting seriously from the get-go, and by enrolling in acting classes once she moved to Los Angeles just proved it. Something else she took seriously was her education. While pursuing her acting career, she also attended the University of Santa Monica and obtained her Masters degree in Spiritual Psychology. Beyond her degree, she is also a life coach and holds a real estate license, something that is quite useful when it comes to her making real estate investments.
9. She is a licensed hypnotist
Russell has a variety of interests outside of acting. We know she went on to get her college degree after graduating high school, which for many actors, is a big feat. But Russell pursued other interests she had as well. Apparently, she enjoys the spiritual side of life and being in touch with, and helping others get in touch with, their spiritual side. She found that one way she could do this is with hypnosis. Russell not only uses hypnosis as a means to channel her inner spirituality, but she became a licensed hypnotist so she could help others too.
10. She's married and a mom
Betsy Russell met Vince Van Patten in the late 1980's at a, not-so-common place, which just happened to be Hugh Heffner's home, the Playboy Mansion. Russell often frequented the mansion due to her grandfather being a friend of Heffner's, and at one particular gathering, Van Patten, an actor and tennis star just happened to be at the mansion as well. The two met and hit if off and before long, they were announcing their engagement, then a year later, in 1989 they married. The couple have two boys together, however, the marriage didn't last. The couple divorced in 2001 and she has remained single since.