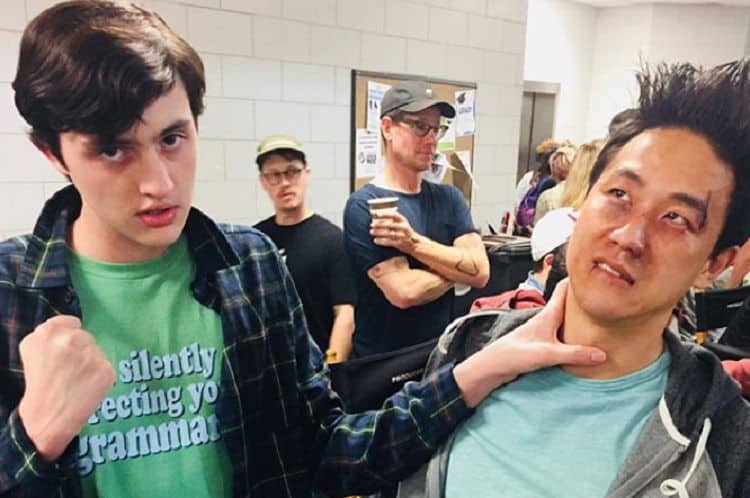 The last few years have probably been completely unforgettable to Gianna DeCenzo. The teenage actor went from being a relatively known up and comer to a certified star in the making. Gianna got his big break when he was cast as Demetri in the TV series Cobra Kai, which is a continuation of the legendary Karate Kid franchise. The show was originally released on YouTube premium but got a second wind when it was taken over by Netflix. With the third season of the series on its way, Cobra Kai has been getting more attention than ever, which means more and more people have been discovering Gianni's talent. His character on the show may be shy and full of doubt, but in real life Gianni is full of confidence and ready to take on the world. Keep reading for 10 things you didn't know about Gianni DeCenzo.
1. He Is A Big Friends Fan
At just 18-years-old, Gianni wasn't even born when Friends made its debut in 1994 and he was only a few years old when the show ended in 2004. Still, he is a big fan of the classic sitcom. Needless to say, Gianni also wasn't born when the Karate Kid premiered in 1984.
2. He Is A California Native
Gianni is a west coast kid through and through. He is originally from a small city in California called Lancaster, but he eventually moved to Santa Clarita which is much closer to Los Angeles. Being in close proximity to L.A. has allowed him to have easier access to different acting opportunities.
3. He Is A TikToker
In many ways, Gianni's teenage years have been very different from other kids his age, but if there's one thing he has in common with the rest of Gen Z, it is his love for TikTok. Gianni has an account on the platform where he posts comedic skits. He currently has just over 2,700 followers on TikTok.
4. He Has Type 1 Diabetes
When Gianni was just 15-years-old, he was diagnosed with type 1 diabetes which is also known as juvenile diabetes. Unlike type 2 diabetes which is more common in adults, type 1 is typically the result of genetics and not lifestyle related factors. According to Healthline, there are more than 1.2 million people in the United States alone who suffer from type 1 diabetes.
5. He Loves To Draw
Gianni is a very creative person to his core and acting isn't the only way he likes to express himself. He also enjoys drawing and has a knack for creating cartoon like characters. On occasion, he even shares images of his drawings with his followers on Instagram.
6. He Started Acting When He Was Just 8-Years-Old
Being an actor is something that Gianna has wanted for almost as long as he can remember. During an interview with Cobra Kai Kompanion, Gianni shared that he started acting when he was only 8-years-old. He added that his parents also have acting experience which inspired him to get it a try.
7. He Has A Girlfriend
Having a role in a popular Netflix series is a great way to get attention and has probably resulted in lots of people trying to shoot their shot with Gianni, however, he isn't looking for anyone. In an Instagram Q&A he revealed that he has a girlfriend although he didn't share any details about her.
8. His Goal Is To Eventually Work Behind The Scenes
Gianni is enjoying all of the acting opportunities he's gotten so far, and he has plans to continue to grow in his craft. Still, he is keeping his eyes towards the future and he's already thinking about what he wants to do down the line. One of his goals is to get involved behind the scenes as a writer and director.
9. He Hates Metal Utensils
We all have quirks and random pet peeves, and one of Gianni's quirks is that he hates metal utensils. He revealed this during his Instagram Q&A when a follower asked him to share something weird about himself. He didn't provide any reason behind his hatred for metal utensils, so we can only speculate.
10. He Really Did A Dissection In Cobra Kai
One of the scenes from Cobra Kai that lots of viewers may remember is when Gianni and his classmates were asked to dissect a fetal pig during science class. Most people probably assumed the dissection was just an act for the sake of the show, but in his interview with Cobra Kai companion, Gianni revealed that he really did dissect a fetal pig during that scene.
Tell us what's wrong with this post? How could we improve it? :)
Let us improve this post!