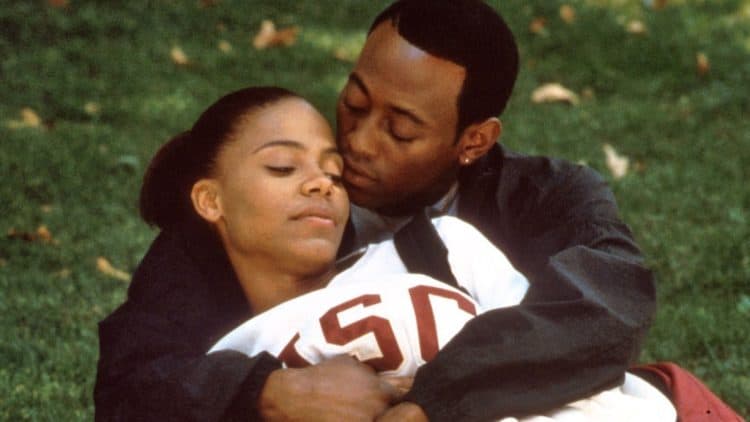 Romantic movies have always been a major part of the entertainment industry. For decades, however, Black viewers failed to see any love stories that represented them on the big screen. Slowly but surely, though, that started to change during the 1970s. By the 90s, there were several romance movies featuring predominately Black casts, and many of them became box office successes. Many of these films even helped launch the careers of some of Hollywood's best-known Black stars. Although love is at the center of these stories, they also touch on other issues that are relevant to the Black community and, in many cases, the world as a whole. Continue reading to see our list of the 10 best Black romance movies.
10. Two Can Play That Game
Starring Vivica A. Fox and Morris Chestnut, Two Can Play That Game isn't your typical love story. Instead of being focused on all of the warm and fuzzy feelings that come with being in love, this movie deals with the temptation as infidelity. Vivica's character, Shante Smith, is a highly educated woman who feels like she knows a thing or two about how to keep a man happy. However, everything she thinks she knows is put to the test when she spots her boyfriend, Keith, out with another woman. Throughout the movie, Shante and Keith go back and forth trying to one-up the other, in what is best described as a battle of the sexes. An article from Buzzfeed credits Two Can Play That Game with changing the landscape for Black romantic comedies. Although the movie wasn't a huge box office success, it has become a classic in the Black community. It also provided a solid stepping stone for Chestnut and Fox who have gone on to appear in several successful projects.
9. Brown Sugar
Released in 2002, Brown Sugar was one of those movies that was somewhat predictable, but enjoyable nonetheless. The movie starred Sanaa Lathan as Sidney Shaw and Taye Diggs as Dre Ellis. Sidney and Dre were best friends who bonded over their love for hip hop as children. Even as adults, music continues to play an important role in their lives. However, their friendship is tested when Dre gets engaged to a woman named Reese (Nicole Ari Parker). Reese isn't comfortable with Dre having a female best friend, and he is put in a situation where he needs to choose. On top of that, it becomes increasingly clear that Sidney and Dre's feelings for each other are deeper than friendship. At the end of the movie, Sidney and Dre end up together. Despite the fact that we all saw the ending coming, Brown Sugar still received fairly positive reviews. It was also nice to see an all-Black cast in a movie that centered around young professionals.
8. Mahogany
Released in 1975, Mahogany was Diana Ross' second major film opportunity after the success of Lady Sings the Blues. In the movie, Ross plays a woman named Tracy Chambers who becomes a successful fashion designer. Tracy meets a man named Brian Walker (Billy Dee Williams). After a brief back and forth, the two end up becoming an item. However, Tracy finds herself torn between love and wanting to pursue her professional ambitions. After Brian and Tracy get into an argument, she gets the opportunity to move to Rome where she is re-branded as Mahogany and becomes a model/muse for a man named Sean (Anthony Perkins). Unfortunately, though, life in the spotlight isn't all it's cracked up to be and she once again finds herself at odds. After its release, Mahogany earned an Academy Award nomination for Academy Award for Best Original Song. Although the movie doesn't have the best reviews, it is now considered a classic among many people in the Black community.
7. Poetic Justice
During the 1990s, Black movies and TV shows were getting more attention than ever before. Released in 1993, Poetic Justice would end up becoming one of the most memorable Black movies of the decade. The movie is centered around a young woman named Justice (Janet Jackson) who is going through a dark period in her life after her boyfriend was shot and killed. After being invited on a road trip, Justice gets to know a young postal worker named Lucky (Tupac Shakur). Although Justice initially can't stand Lucky, the two end up falling for each other. Unfortunately, however, their connection hits a speed bump when Lucky receives word that his cousin was killed while Lucky was on the road trip. In his sadness, he blames Justice and the two go their separate ways. At the end of the film, viewers are given hope that Lucky and Justice are able to rekindle their connection. Not only has the film itself become iconic, but the hairstyle Janet's character wore throughout the film also became very popular. To this day, many people refer to the style as "Poetic Justice braids".
6. Claudine
Claudine is the oldest movie on this list, but it's still one of the best. Even though the movie was released in 1974 when Blaxploitation films were the norm, Claudine showed a different side of black life. The movie told the story of a single mother named Claudine (Diahann Carroll) who was struggling to raise her six children and make ends meet. She meets and falls in love with a man named Rupert (James Earl Jones). At first, however, their love story wasn't just smiles and laughter. Their relationship was complicated by the fact that they were both living in poverty. On top of that, Claudine's children didn't take much of a liking to Rupert. Even with all of the odds stacked against them, Claudine and Rupert were able to get the happy ending they were looking for. Claudine received lots of favorable reviews and it earned two Academy Award nominations, one of which was for Best Actress for Diahann Carroll. Interestingly enough, Diahann Carroll wasn't supposed to play Claudine. Diana Sands was originally cast to star in the film, but she fell ill just a few days after shooting began. Sands personally reached out to Carroll and asked her to take the role. Diana Sands would ultimately die less than a year before the movie was released.
5. Boomerang
Anyone who has seen the 1992 movie Boomerang would probably agree that it doesn't always get the credit it deserves. Boomerang featured a superstar cast including Eddie Murphy, Halle Berry, Martin Lawrence, and David Alan Grier. The movie is funny, relatable, and timeless in many ways. In the film, Eddie Murphy plays a man named Marcus Graham who is known for being a lady's man. Marcus meets his match when he is introduced to his new boss, Jacqueline (Robin Givens) whose behavior mirrors his. True to its title, Boomerang is all about showing people how the things you put out always tend to come right back to you. In 2019, BET debuted a TV show called Boomerang that was based on the movie. Sadly, the series lasted for just two seasons.
4. Jason's Lyric
Most of the movies on this list have a comedic element to them, but that wasn't the case with Jason's Lyric. In addition to love, the movie also dealt with other themes such as loss, death, and mental health. The movie follows the lives of two brothers, Jason (Allen Payne) and Joshua (Bokeem Woodbine). The brothers have gone through a very difficult tragedy, and they have both chosen to cope with it in different ways. Jason chooses to follow a straight and narrow path while Joshua ends up in trouble with the law. When Jason meets a woman named Lyric (Jada Pinkett-Smith) the puzzle of his life appears to be complete. However, his loyalty to his brother ends up taking the movie on a very tragic turn. Despite its dark tone, Jason's Lyric was very successful and grossed more than $20 million at the box office. This was nearly three times the amount of the movie's $7 million budget.
3. Love Jones
When people think about Black romance movies, Love Jones is probably one of the first that comes to mind. Starring Lorenz Tate and Nia Long, Love Jones is the type of feel-good love story that has a timeless quality. Love Jones is often credited with providing a realistic portrayal of love between young adults. In the years since the movie's release, it has gained a large following and is now considered a cult classic. However, when the movie was released, it barely surpassed its budget at the box office.
2. Love and Basketball
Released in 2000, Love and Basketball was one of the most popular movies of the 2000s. With a storyline that combines the best of romance and sports, at its core, Love and Basketball is a story of how people who are meant to be will always find their way back to each other. In the movie, Sanaa Lathan and Omar Epps play Monica and Quincy, two childhood friends who bonded over basketball before eventually falling in love. Unfortunately, their relationship ends when Quincy finds himself feeling neglected because he believes Monica is choosing basketball over him. Years after their breakup, the two reunite and play the most epic game of one on one ever. Even more than 20 years after its release, Love and Basketball continues to be a fan favorite.
1. The Best Man
Featuring an ensemble cast, The Best Man is a story of love and friendship and all of the messiness that can come along with them. In the movie, Taye Diggs plays an author named Harper who is getting ready to release his debut novel Unfinished Business. Although the book has been labeled as fiction, it is almost entirely based on real events in Harper's life. This causes an issue because one of those events involves him sleeping with his best friend's fiance. In 2013, a sequel was released called The Best Man Holiday. Fans will also be excited to know that we haven't seen the last of Harper and the crew. A limited series called The Best Man: The Final Chapters has been picked up by the Peacock streaming service. The original cast members will be reprising their roles.