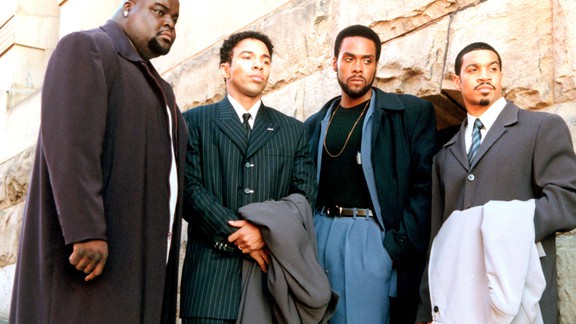 Allen Payne has one of the most familiar faces in Black Hollywood. Since the late 80s, he has been a fixture in several movies that are now considered classics among the African American community. From New Jack City to Jason's Lyric, Allen has captivated countless people. But while he's had some memorable film roles, TV is where he has really shined over the last decade or so. Most people will-know him best as C.J. Payne from House of Payne ands The Paynes. Allen's comedic timing and ability to play a variety of characters has certainly contributed to his long and successful career. Continue reading for 10 things you didn't know about Allen Payne.
1. He Left Acting After His Mother's Death
Allen's fans may remember that he essentially disappeared from acting after 2012. At the time, many people were confused, but he has since revealed that he chose to take a break from acting after his mother passed away. He said, "After my mother died, I stepped away from acting. I chose to look inward and find myself, and I think that's important when you're an actor. You spend so much time trying to work and being interpreted by fans, executives and people in Hollywood, that you can lose a sense of yourself. You've got to get back to that." He has since made his return.
2. He's Not Active On Social Media
Over the course of his career Allen has built up a pretty large fan base who love to stay on top of what he's working on. Unfortunately for his fans, however, they won't be able to keep up with him on social media. It appears that he doesn't have any official social media accounts.
3. He Believes In The Importance Of A Healthy Diet
Allen comes from a family with a long line of chronic health issues. He eventually realized that many of these issues were caused by poor eating habits and a lack of knowledge about healthy foods. After moving to Los Angeles, he began to learn more about healthy eating and how certain foods have healing properties.
4. He's a Very Private Person
Even after spending so many years in the industry, Allen has never been the type of person who likes to overshare. In fact, he seems to like to share as little as possible. He is a very private person who likes to avoid the spotlight unless it directly involves his work.
5. His First TV Role Was On The Cosby Show
During the 80s and 90s, The Cosby Show was one of the most popular sitcoms on TV. Allen made his first TV appearance on the show in 1990. He then went on to have a recurring role as Lance Rodman. During the 90s, he also appeared in other popular series like A Different World and The Fresh Prince of Bel-Air.
6. He Was Raised In New Jersey
Allen was born and New York but raised primarily in New Jersey where he attended high school in Pennsauken which is only about 15 minutes from Philadelphia. Once his film acting career started to take off, he decided to relocate to Los Angeles to do more movies.
7. His Faith Is Very Important To Him
His religious beliefs aren't something Allen has discussed very much, but comments he's made during interviews have made it very clear that he has strong faith in God. During an interview with the Black Doctor, he said "You're not owed anything in this life and as long as you are connected to The Creator, all things are possible."
8. He Was In A Musical
Allen's on screen work is what has gotten him the most attention throughout his career, but he has also done some theater work as well. He had a leading role in the 2018 musical The Neighborhood Barber Shop Live – When Love Fades which also started Mo'Nique.
9. He Hopes To Leave Behind An Important Legacy
Like most people, Allen hopes to leave behind a legacy when he is done with his career. While his work will clearly speak for itself, he also wants people to know that he worked very hard to get where he is and that he always tried to help other people along their journeys as well.
10. He Is Grateful For His Long Career
Longevity isn't an easy thing to achieve in the entertainment industry. It's no secret that the business is always looking for the next new thing. Many actors eventually get forgotten about in the process. He told the Black Doctor, "It's so rare for someone to have a career and expand over 20 years…You gotta be really lucky and you have to be diligent and just really blessed and feel like every opportunity to work is a new opportunity."