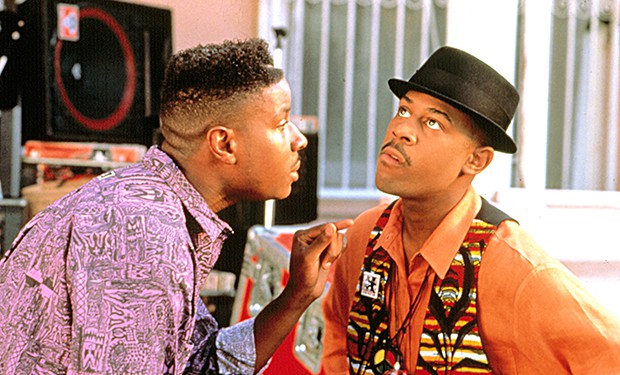 "Can't we all just get along?!" was the cry of the 90s when Martin Lawrence uttered it during an episode of his own show. Whether or not he originated the saying didn't seem to matter since his delivery was so perfect that it became a catchphrase that managed to stick for quite some time. But apart from that Martin has done a lot in his career that has managed to cement his name firmly in place with fans and in a way that has come to mean something else to many people. He's had his missteps as far as his career goes and has starred in some rather big flops, but he's also been part of some of the biggest movies to ever hit the big screen and is fondly remembered for them. Where his career is going right now is kind of up in the air since it's not really known how the next Bad Boys movie is going to perform in theaters, but so far things are fairly stable since he is coming back to the big screen.
Here are some of his best movies to date.
Being a player is all fun and games until you get played by someone that knows the game just a little better. Putting your heart on the line is something that a lot of players don't do since it becomes a huge liability and thus ruins the game. But when Marcus finds that he's actually falling for a woman that he thought might just be a rebound after the woman that essentially called him out and made him into the big discussion around the office he finds that his heart is the only thing worth listening to since it's telling him that he found the right person finally and that it's time to end the game.
4. Life
Claude and Ray are two of the most unlikely individuals to be put together since their temperaments are so different that it's no wonder that Claude wants nothing to do with Ray. When they're framed for a murder and sent to prison for life without possibility of parole though they kind of have to learn how to live with one another in an attempt to at least make their imprisonment work. With Ray trying to escape so often and Claude just trying to do his time while also trying to find a legal way out, the two are constantly at odds trying to just sort out a way that they can exist without driving each other crazy.
3. Open Season
He hasn't done a lot of animated features but this one was probably Martin's best since Boog is hilarious and the interactions he has with the forest animals is even more so. While Boog was raised in luxury and treated kind of like a pet he finds out very quickly that the wild is a much different place than his comfy garage and that being a bear means more than watching TV and eating snacks. This movie was fairly popular when it came out and it did manage to spawn a couple of sequels that didn't do much but were still continuations of the story that began when a one-antlered deer and a tame grizzly became good friends.
How much trouble could a guy get into in one night? Well that's kind of debatable since with a house party looming in his future and his father coming down on him like a ton of bricks, Kid has to find a way to get to the party, avoid a trio of tough guys he was fighting with earlier in the day, and avoid getting into more trouble along the way. As you can imagine it's not an easy task since he does tend to take a few wrong turns before getting to the party and having a good time, right up until the moment when his father shows up and starts demanding to know where his son is. As teenage movies go it was one of the best of its time.
1. Bad Boys
This is one of the best pairings in a cop show to ever come along since Will Smith plays the part of the smooth, suave individual that knows how to throw down when it's necessary and Martin plays the family man that's just trying to get his 'quality time' with his wife and is increasingly frustrated throughout the movie. The two of them make a great team despite all the verbal banter, or maybe because of it, and put in a seriously hilarious performance that's punctuated by more than enough action to make it worth it. The second movie was pretty good as well, and the third will hopefully be just as entertaining.
He's done some questionable things in his career, but Martin is still a great entertainer.
Tell us what's wrong with this post? How could we improve it? :)
Let us improve this post!