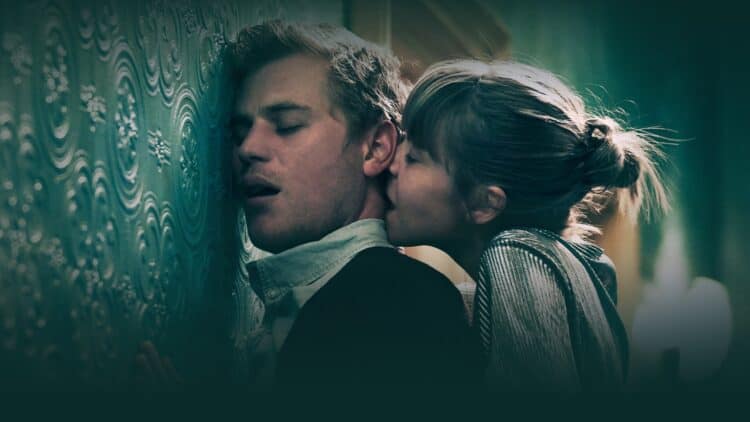 Cordelia received widespread acclaim from critics, although verdict from regular audiences hasn't yet come in. The movie was directed by Adrian Shergold, who worked on projects like Persuasion, Funny Cow, Clapham Junction, Lucan, and My Mother and Other Strangers. The movie stars Antonia Campbell-Hughes, Johnny Flynn, Catherine McCormack, Joel Fry, Michael Gambon, and Alun Armstrong. The plot of Cordelia is as follows: "Cordelia (Antonia Campbell-Hughes), a young woman living in London, meets her mysterious and alluring neighbor Frank (Johnny Flynn) for the first time but quickly becomes suspicious of his motives. With her twin sister away for the weekend, Cordelia is left alone and overcome with paranoia. She begins to unravel and sink back into past traumas the more that Frank tries to charm his way into her life, becoming a danger to herself and others." The New York Times has a glowing review of the film, with its critic Jeannette Catsoulis writing: "Enigmatic and imperfect, but nonetheless absorbing and consistently unsettling, "Cordelia" offers a haunting visualization of a breaking-apart psyche." If you are on the lookout for other thriller movies sharing similar themes with Cordelia, we have you covered. Here are five movie recommendations for anyone who enjoyed the mystery horror-thriller film Cordelia.
Fresh
The movie Cordelia tells the story of a London woman whose encounter with her charming neighbor sends her on a downward spiral. The movie Fresh tackles similar themes, with the protagonist meeting a similarly charismatic man who would eventually reveal himself to have sinister plans. Fresh was directed by Mimi Cave, who previously worked on Vessel and I'm Happy, I Promise. The movie stars Daisy Edgar-Jones, Sebastian Stan, Jonica T. Gibbs, Andrea Bang, Dayo Okeniyi, and Charlotte Le Bon. The plot of the movie is as follows: "FRESH follows Noa (Daisy Edgar-Jones), who meets the alluring Steve (Sebastian Stan) at a grocery store and — given her frustration with dating apps — takes a chance and gives him her number. After their first date, Noa is smitten and accepts Steve's invitation to a romantic weekend getaway. Only to find that her new paramour has been hiding some unusual appetites." The movie received positive acclaim both from critics and regular audiences. In a review for The Australian, Stephen Romel wrote: "This movie will not be to everyone's taste. But it is well made, well acted, and has clever, surprising twists towards the end. It marks the debut director as a filmmaker to watch."
The Boy Next Door
If you're on the prowl for creep-next-door-neighbor flicks, The Boy Next Door can't be missed. It's a critically panned movies, but fans of erotic thrillers loved it nonetheless. The movie was directed by Rob Cohen and stars Jennifer Lopez, Ryan Guzman, John Corbett, Kristin Chenoweth, Ian Nelson, and Lexi Atkins. The plot of the movie is described as follows: "When a handsome, charming teenager named Noah (Ryan Guzman) moves in next door, newly separated high-school teacher Claire Peterson (Jennifer Lopez) encourages his friendship and engages in a little bit of harmless — or so she thinks — flirtation. Although Noah spends much of the time hanging out with Claire's son, the teen's attraction to her is palpable. One night, Claire gives in to temptation and lets Noah seduce her — but when she tries to end the relationship, he turns violent." Most critics disliked the movie, but for fans of typical horror flicks, the movie was enjoyable enough. Horror Queers Podcast described the movie: "It is bad, but it's so, so good."
Greta
Greta is a film in the same vein as the flicks mentioned above, but instead of an antagonist of the opposite sex, the film deals with a villain of the same sex as the protagonist. The movie was directed by Neil Jordan and stars Isabelle Huppert, Chloe Grace Moretz, Maika Monroe, Colm Feore, Stephen Rea, and Zawe Ashton. The plot of the film is described as follows: "Frances finds a handbag on the New York subway and promptly returns it to Greta, an eccentric French piano teacher who loves tea and classical music. Having recently lost her mother, young Frances strikes up a seemingly harmless friendship with the lonely and kindly widow who enjoys her company. But when Greta's behavior becomes increasingly erratic and obsessive, Frances does whatever it takes to end the toxic relationship before things spirals out of control." The Independent praised the film, particularly giving a generous review of Isabelle Huppert's performance in the movie. The publication wrote: "Veteran French actress Isabelle Huppert gives one of her most terrifying performances in Neil Jordan's overwrought horror-thriller. She hits notes of malevolence that not even Bette Davis could reach in her later roles as psychopathic nannies or twisted old movie stars. As ever with Huppert, less is more. Her restraint and uncanny poise make her character seem all the more menacing."
Eyes of a Stranger
Eyes of a Stranger is another movie that deals with a suspicious neighbor, this time someone who lives in a building across from the protagonist. The movie was directed by Ken Wiederhorn and stars Lauren Tewes, Jennifer Jason Leigh, John DiSanti, and Peter DuPre. The New York Times had a reserved review of the movie, claiming that its only Jennifer Jason Leigh who is worth watching in this flick. "Some audiences may find the killer's career as a rapist particularly distasteful. Other audiences – smart audiences – may not find "Eyes of a Stranger" at all. The only thing worth seeing in the movie is Jennifer Jason Leigh, who plays the mute sister and, accordingly, doesn't have much to say until the end of the movie. She originally lost her powers of speech and sight when a child molester sent her into shock, and of course, a second attack by the current killer is enough to have her yelling "Help!" Say, does that mean he's done her a favor?" However, for fans of thriller flicks like Cordelia, the movie might be a good addition to your to-watch list.
Silver
Last on the list is Silver, which stars thriller queen Sharon Stone. In this movie, she worked once again with Basic Instinct screenwriter Joe Eszterhas to depict the story of a woman who starts living in a building where multiple women have been murdered. She starts to befriend the building's owner and her next-door neighbor, but not everything is what it seems. Fantastica Daily wrote about the movie: "A glossy, trashy psychological thriller that manages to entertain despite a reshot ending which is too abrupt."
Tell us what's wrong with this post? How could we improve it? :)
Let us improve this post!