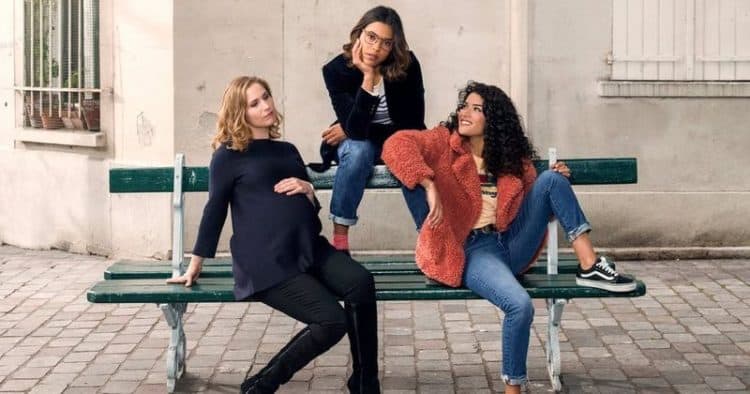 We've seen an influx of French television series making their debut this year, and this gives us the privilege to broaden our horizons when it comes to entertainment, education, and culture. "Marianne," is a horror/thriller that made a huge impression on Netflix, and there was a new series in 2018 that will be back for another season. " The Hook Up Plan" is a television comedy series, originally titled "Plan Coeur," in its native French. The series was created by Chris Lang and Noemie Saglio. The premiere aired in 2018 and the show is in its second season. It's the story of a Parisian girl named Elsa, who has difficulty moving on after a romantic relationship ends. She's fortunate to have a best friend who will do almost anything to help her pal recover and find happiness again. Unbeknownst to Elsa, she hires an escort boy to distract her, but things get intense when her plan works even better than she anticipated. The cast is a colorful collection of actors who help bring the story to life. Here is your introduction to the cast of "The Hook Up Plan."
Tom Dingler
Tom plays the part of Matthieu. He's a French actor and writer who is known for "En Famille," 2012, "Le talent de mes amis" 2015 and "Pendant ce temps" in 2013. Tom is also an author and comedian. He has co-written with his partner Alex Lutz. He has a degree in English but chose the performing arts for his professional career. He was formally trained at the Pygmalion studio. In addition to acting in a television series, he also performs in commercials and music videos. He's formed a long and productive partnership with Alex Lutz working on scenography, writing, and co-creation.
Zita Hanrot
Zita played the part of Elsa for 8 episodes in 2018. She is a multi-talented actress who is also a director, so she's spent time on both sides of the camera in her professional career. She is best known for the film "Fatima" in 2015, "Paul Sanchez in Back!" in 2018 and for "School Life" most recently in 2019. Elsa is a bi-racial character who does not fit neatly into any descriptors. She's social but there is also a shyness about her. Elsa is a little eccentric but not in a scary way. She's still carrying a torch for her ex, even if they've been apart for two years and this is why she holds herself in reserve when it comes to dating and relationships.
Guillaume Labbe
Guillaume plays Maxime on "The Hook Up Plan." Guillaume is a native of Paris and was born there in 1983. He is an actor as well as a writer. His best-known works are "The Connection," released in 2014, "Comment S'En Sortir Quant…Tu te fais griller au lit avec une atre?" in 2016 and Combien de temps dure ma tristesse." Acting runs in the family as his sister Constance Labbe is also an actress. Guillaume spent in New York from 2007 through 2011 at the HB Studio studying interpretation.
Marc Ruchmann
Marc plays Jules in "The Hook Up Plan." He's a French actor of Alsace, Jewish, Italian and Algerian descent. He is an actor, director, and singer with formal training at the Conservatoire de Paris, entering in 1998 and completing his studies in 2000. He went on for further studies at Theatre National de Chaillot and made his acting debut in "5×2" by Francois Ozon, He also appeared in "Revivre, " a French-Israeli miniseries about the 1948 establishment of the State of Israel post-Holocaust.
Sabrina Ouazani
Sabrina Ouazani is a French Actress who plays the part of Charlotte. She is of Algerian descent. Sabrina is best known for "Games of Love and Chance" in the role of Frida. She has been a professional actress since 2003. She will be 31 years old in December of 2019.
Karina Testa
Karina Testa plays the part of Manon. She is a French-born actress who is 38 years old as of August of 2019. Karina is a veteran actress who is best known for her leading role in "Frontiers." She began her acting career in 2001 and since that time she has been cast in over twenty films.
Yvan Naubran
Yvan plays the part of Roman in the series. He is a French actor who also reads and speaks in English. He's a veteran actor who appears in the Netflix series "Heart Plan." He has a lot of experience with stage acting having performed in several stage productions, starting with a 2007 performance of "Antigone" with company Keraban, in the role of Creon. In addition to appearing in a handful of television series, he's also appeared in 7 short films. Yvan was formally trained as an actor, taking courses at Company Keraban from 2004-2010, from Eva Course Saint-Paul from 2010-2011, and Laboratory of the Actor from 2011-2013.
Syrus Shahidi
Syrus plays the part of Antoine on the show. He is an actor from France who is of Iranian descent. He was formally trained at the theater school in Paris, France, and went on to star in several film roles
Brett Calo
Brett plays the character Arthur in the series. He has multiple talents as an actor editor, composer, and director. Calo was born in Boston, Massachusets adn attended the NYU Tisch School of the Arts. He earned his BFA in Film and Television, then progressed forward at the School of Theater, Film, and Television at UCLA where he earned his MFA. He is a trained musical composer, pianist, and singer as well.
Anne Depetrini
Anne Depitrini plays the part of Valerie. She is a French actress, screenwriter, and director. Her recent filmography includes "The Love Clinic" in 2011, "The School is over" in 2017 and "Starving Generation" in 2018.
Josephine Drai
Josephine portrays Emilie. She is best known for "Kiss Me!" in 2017 and "Anything for Alice" in 2014.
Tell us what's wrong with this post? How could we improve it? :)
Let us improve this post!