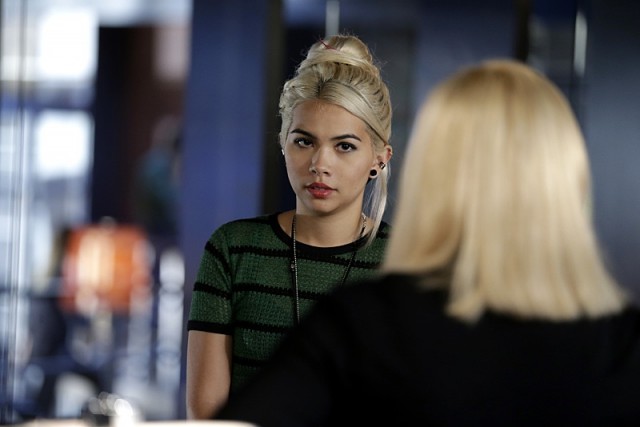 Stalking gets a modern-day makeover in this week's episode of CSI: Cyber as Raven's friend, Tracy Jacobs, gets stalked by someone named Holden Katnik via an online dating application called HeartMate, a TV version of Tinder. Man, the dude can't handle rejection and leave well enough alone. Holden hacked into all of Tracy's devices and also drained her bank account. This then led Tracy to go AWOL, because even though she didn't do all the things that people were accusing her of doing, all the evidence seemed to point straight at her.
This week's case left me guessing at every turn. I felt sorry for Tracy to have to go through something like this, but she thought that she was only talking to a guy named Kyle Bristow, who turned out to be a married man with children, on the HeartMate interface.
Turns out, it was Holden pretending to be Kyle on HeartMate, trying to find out everything there is to know about Tracy. The guy even went as far as getting his hands on the numbers of all of Tracy's friends and family and called up her mother posing as a police detective to find out where Tracy went. Diabolical. I was shocked to see Tracy take matters into her own hands by going after Holden herself when he still managed to stalk her after she received new, encrypted devices from Raven.
It was revealed toward the end of the episode that Holden used Raven to get to Tracy. He saw them together as the two friends left the bar the night before and used HeartMate to figure out Raven's whereabouts, which would then lead him right to Tracy. This is why I never want to get on those online dating sites or turn on the location function on my mobile devices, because if I do, it's going to land me in hot water.
I found D.B's Bluetooth pacifiers extremely intriguing. It could measure temperature, know its own location, and track the medications that parents are giving their babies, and all that information is sent to the parent's phone. I'm not a parent myself, but this might come in handy when the time comes. That is, if it ever comes at all.
Anyway, future parenting dreams aside, Holden is finally caught for his evil deeds, and Tracy's name is cleared. Agent Mundo also comes clean to Agent Ryan about his father's cancer diagnosis. My heart went out to him as he tried to hide his tears in front of his daughter Michelle. I agree with Agent Ryan that Agent Mundo should tell his father how much he means to him so that the elder Mundo can consider getting treatment for his illness.
I enjoyed the ending scene where Nelson signed D.B up for online dating. I almost spit out the water that I had been drinking as I tried my hardest not to laugh at the fact that Nelson used the name "Dolla Bill" for D.B's profile. I cringed a little bit when D.B mentioned that we each have microbials, as in germs that live on our bodies, that can be used to identify a person much like a fingerprint would. It's both cool and grotesque at the same time.
This was yet another great episode of CSI: Cyber. It was filled with the usual suspense and drama that the other CSIs have brought over the years, and it makes us more aware of what applications to use and how we use it so that we don't get into something that we can't get out of.
[Photo credit: Sonja Flemming/CBS]
Tell us what's wrong with this post? How could we improve it? :)
Let us improve this post!