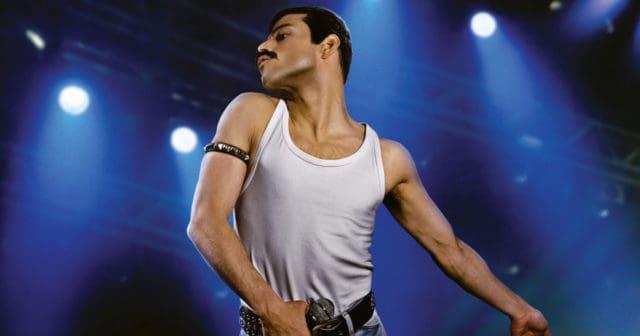 It's surely been a long time coming, and we've waited ages for somebody to come up with a film depicting the life of legendary musician Freddie Mercury. The actor who will be portraying Mercury, Rami Malek, announced the movie last year and gave us plenty to look forward to. Malek has been a prominent figure in television lately with his TV show, Mr. Robot. He's also been in a few blockbuster films including the Night at the Museum series and The Twilight Saga: Breaking Dawn — Part 2.
This Freddie Mercury role will be Malek's biggest role to date. We've got to admit that they're quite large shoes to fill, and we had doubts equal that size. Freddie Mercury was, after all, the showman of all showmen. We wondered for so long if Malek could pull it off at all, and the first glimpses of him in costume put all our doubts at ease.
First, we can talk about photos of Malek as Freddie Mercury. Wearing tight jeans and a tight white tank top, Malek was shot posing as Mercury on stage, and the resemblance is uncanny. With the beard, the haircut, and Malek's strong jawline, you really couldn't go wrong. It's almost scary how Malek looks so similar to the late singer and performer.
https://www.youtube.com/watch?v=CkT3rei2uso
Moving on to the fan-shot video, we were even more surprised and impressed with Malek. In that short clip, he managed to really convince us that he could pull off Mercury in the most detailed sense. With every flick of the wrist, every single over exaggerated step, every wave, and every bow, Malek channeled Mercury in the most fascinating sense. It's like seeing the star on stage once again, and it's a marvelous sight. The video shows Malek in full costume and character as Mercury during his famous Live Aid performance in 1985. Malek runs on stage and acknowledges the fans much like Mercury did. He then proceeds to sit on the piano to play one of Queen's most beloved tunes, which also happens to be the title of the movie, Bohemian Rhapsody.
Freddie Mercury died six years after that concert due to complications from AIDS. The movie will be mostly about the band's rise to fame in the 70s. We're expecting lots of good drama and even more good music. Queen's music has been celebrated throughout the world, and Mercury is considered to be one of the best singers, songwriters, musicians, and performers of our time. He's also easily got one of the most recognizable styles and voices in the music industry. If you're not a fan of Mercury's music, you at least respect the guy and his music.
Apart from Malek, actors Mike Myers, Lucy Boynton, and Joseph Mazzello have also signed on to the project. The movie is set to be directed by Bryan Singer, who is known for X-Men: Days of Future Past and X-Men: Apocalypse. Robert De Niro has also signed on as producer among a few others. The film is currently under production and will see a December 2018 release.
Save