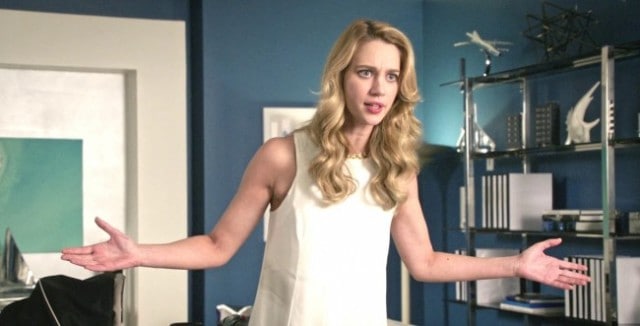 Petra started out as a despicable character (after all, in the very first episode, she tried to trap Rafael in their failing marriage with artificial insemination). But through the seasons, Petra has grown to be mature, forgiving, and likeable — even more so than the other characters!
1. Her unlikely friendship with Jane shows her ability to forgive
While it wasn't Jane's fault, she was part of the reason Rafael and Petra didn't end up together. Jane not only foiled her plan to become pregnant, but also became the woman Rafael fell in love with. So, Petra had quite a few reasons to hate her. Instead, though, they became unlikely friends — Petra even anonymously helped Jane and Michael rent the house they wanted. Petra is able to forgive, forget, and move on with her life — she doesn't hold on to grudges forever.
Now, I know what you're thinking — since Jane was the initiator of the friendship, she was the more forgiving one. But Jane had little reason to hate Petra (and thus, didn't have much to forgive).
2. Her struggles with motherhood show her vulnerability
Of course, the circumstances of her pregnancy were terrible — she swiped Rafael's sperm? Really? But after her twin daughters' birth, we saw her go through so many struggles. She had difficulty developing a bond with them, realized she had postpartum depression, and even attended a new mothers' class with Jane. These moments showed how vulnerable Petra was, and her very real struggles with becoming a new mom.
Now, of course, Jane had her own set of struggles with Mateo: she had to juggle school with his care and the pregnancy was unplanned. But Petra also had to juggle work, had twins (double the trouble), and had postpartum depression.
3. Her interactions with her twin show her generosity
Petra provided Anezka with food and shelter, even though she was pickpocketing. She defended Anezka in front of their mother, and her generosity only waffled when Anezka almost turned away a huge business opportunity. While many characters on Jane the Virgin would probably provide food and shelter for a long-lost sister, I'm not sure they would cut so much time out of their busy lives to spend with her like Petra did.
4. She had a really terrible mother… and is still a decent person
While Jane complains about Xo's immaturity and Xo complains about Alba's austerity, Petra complains about Magda murdering someone and blaming her for it. So, really, who had the hardest family life here? It all could have turned her evil — but didn't.
5. She refused Rafael's advances
Even though Petra usually has feelings for Rafael in the show, she rejected him because she knew he was still in love with Jane. This is a far cry from the woman who was trying to ensnare him with pregnancy, even though she knew the love was gone. She moved on — unlike Michael (who boomerangs back to Jane even though he was jilted), Rafael (who continues to love her when she's planning a wedding), or even Alba (who carries on with Pablo despite knowing he's bad luck).