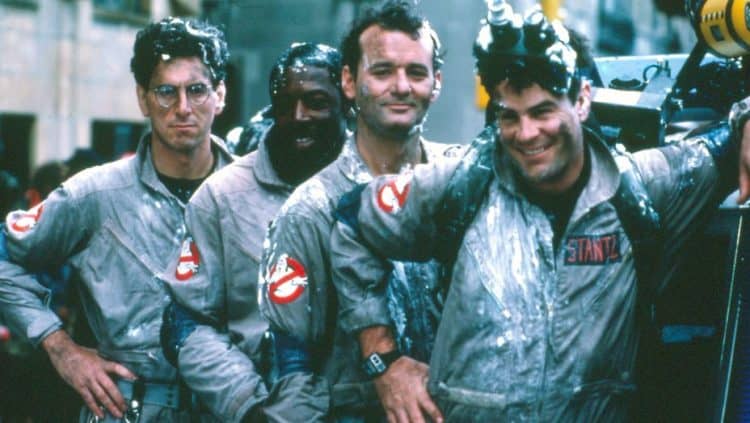 A lot of rumors get tossed around when a favorite actor doesn't take a role or gets passed up or, whatever people say happens. In the case of Eddie Murphy turning down a role on the original Ghostbusters though it came down to a matter of scheduling conflicts that kept him from taking on the role that might have been a bit of a mistake. If you'll recall back during this time he was in Beverly Hills Cop, which was a much better fit for Murphy since his comedy was better kept as a solo act for the most part than as part of a team where it might have been drowned out by his fellow comedians. Some folks would argue about that and there's no definitive way to say that the movie would have been better or worse had he been a part of the franchise, but really when one thinks about it Murphy has usually been better on his own since his personality is just too big to stifle with a team aspect which would have likely cut down on his comedic routines and even kept him from being as funny as he can be. All in all it makes sense, as Scott Campbell of We Got This Covered mentions, to have been happy with his role in BHC rather than try to push to see him Ghostbusters. Interestingly enough Murphy had this to say:
"Yes, but I did Beverly Hills Cop. It wasn't like I turned it down inasmuch as I wasn't available, because I was doing this other movie. The only movie I ever turned down that was a big hit was that Who Framed Roger Rabbit. I was going to be the Bob Hoskins dude. And I was like 'What? Animation and people? That sounds like bullsh*t to me. Now every time I see it, I feel like an idiot."
It's kind of funny that he regrets turning down Who Framed Roger Rabbit? since he DID actually say no to that one. The whole deal with Ghostbusters wasn't that he turned it down, he just didn't have the time. Some actors are able to go after multiple movies and make it work with a crazy schedule but it does feel as though working one at a time makes a lot more sense in terms of keeping one's mental faculties in good working order. The Roger Rabbit movie was a big hit with a lot of people and there's no doubt that Murphy kicked himself after that one, but even had he been accepted on the Ghostbusters movie, and it's likely he would have been welcomed being an SNL alum and all, it's also very likely that he would have been a little too much for the movie. Ryan Lattanzio of IndieWire has more to say on this matter. Some actors just tend to need a lot more space and this is one time when Eddie Murphy made the absolute right move by sticking with Beverly Hills Cop. Ghostbusters still had a great cast and thankfully those that are still with us are coming back for a third one, though we don't know just what capacity they'll be seen in as of yet since the opening trailer hasn't really shown anyone other than Paul Rudd and the kids that will be featured.
It is interesting to think about what might have happened had Murphy joined the team, as it's very possible that BHC wouldn't have been made, or it would have been entirely different and possibly not as popular since Murphy made the movie what it was. All respect to the rest of the cast, but they could have made a movie all on their own with someone else, but it wouldn't have been as amusing and definitely wouldn't have been as accepted by the fans. Plus, had he come to Ghostbusters the role he might have taken on, had he been cast as Winston, would have changed the character in a huge way. Winston is, as most of us remember, the working man of the group and the one that had the least amount of belief when it came to the job, even though he was given every reason to believe after going through with enough ghost extractions. He wasn't the token black guy since he did just as much as the others, but in a much more labor-oriented fashion that saw him as the workhorse of the group and a way to keep the other three grounded in a way. Hadley Freeman of The Guardian has another view on this that might not agree, but that's okay. In other words Winston was the guy that helped other people to actually relate to the Ghostbusters since he was the working stiff that threw in with a group of guys that had doctorates and were intelligent but not always wise. He's that guy on the group that makes others believe that if they're in the right place at the right time they can get in on something big. At least that's my take on it.