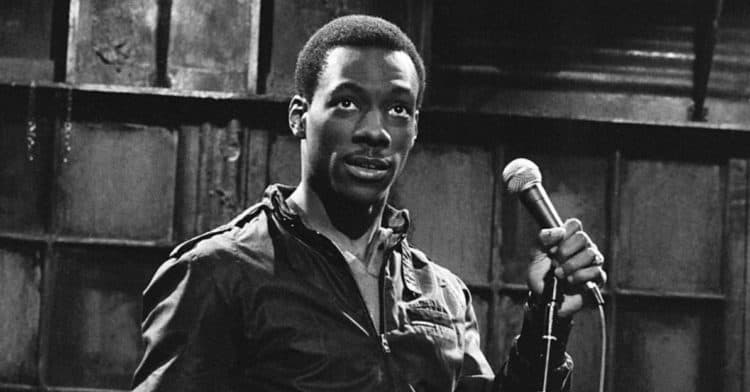 Saturday Night live has been a part of generations of lives, shaping comedy and television history. The show Spawned numerous comedy careers and furthered plenty of unique styles, but perhaps none who changed SNL as much as Eddie Murphy. From the moment he walked on stage in 1980 for the "In Search of the Negro Republican," sketch where he didn't even speak; Eddie was pushing the limits of what TV execs thought people were going to tolerate. Naturally, they were wrong.
A Different Era
Eddie Murphy was probably the brightest star ever to burn in the SNL sky. He always followed his own path and was unafraid to bring stereotypes into the public eye through the lens of comedy. That bravery helped push the equality agenda in ways few people give credit to. Most people look at him and see a clown, not a revolutionary, but that's what he was in his own way. To bring some perspective to what he was doing, which can be hard for modern generations to consider having been born after the events in Eddie's early life. Martin Luther King Jr. was shot in 1968. Eddie Murphy would have been six or seven at the time. It wasn't some distant event in a history book for him, but likely one of the most formative events in his young life.
When Millenials see Buckwheat or James Brown's Celebrity Hottub Party, the thought seems to often tend toward dismissal as though he was playing an outdated stereotype instead of a genuine cultural issue that persists even today. Eddie Murphy made himself a target with his fearless attacks on white privilege and institutional racism. Not every radical action is about standing in front of a firehose or firing squad. A video camera has a long reach. In an authentic way, he was putting it out there, forcing people to confront what so many people still avoid. He was reminding people every week that racism didn't die with integration.
Re: American Civil Rights History, The Basketball Sketch
One of Eddies most loved and laughed at sketches was when he played high school basketball player Raheem Abdul Muhammed. The sketch detailed how upset the player was over a judge in Ohio ruling that all teams must have at least two white players. The brilliance of this sketch is ignored by many and unknown to more. There's real and vital history there. Affirmative Action was a phrase first used by JFK in 1961 when he moved the federal government to hire more African Americans. It gained ground for a few years. Then Allan Bakke, a white man, who was trying to get into college, sued UC Davis because he felt it was unfair that he applied twice and was passed over in favor of minorities. There was a mandatory minimum to create diversity, and Bakke thought his agenda was more important. The short version of a longer story is that the Bakke Decision in the supreme court made big waves. It ruled first that it was unconstitutional to have a racial quota (even if it benefited and underserved community). Second, the court said it was okay for higher learning institutions to use race as a qualifier to ensure diversity. This sparked outrage and arguments that persist to this day.
A Troubled Time
When Eddie first joined the cast of SNL the show was in danger of cancellation. Ratings were tanking and creator Lorne Michaels along with most of the favorite cast members of the time were gone. Critics were harsh, labeling the show "Saturday Night Dead." In short, it was nearly over when the casting director made what was probably the best, and most unexpected hire in SNL history. A young comedian who didn't even get face time on his first episode. It's not an understatement to say that Eddie Murphy saved SNL from total annihilation. His twisted takes on beloved characters like Gumby were a hit with fans. Without his involvement, SNL would probably have been over at the end of the '70s. His contributions to the show cannot be understated. Instead of losing an excellent comedy institution, generations more would come to love and look forward to the incredible talents who made their names on Saturday Night Live.
A Career Move
Eddie Murphy was only on SNL for four years. From 1980 to 1984 he was a fixture in our weekly television routine. Murphy was so well-loved by fans that he was one of the few ever to host the show while he was on the cast. However, as it tends to happen with stars, Eddie became so big he was getting more opportunities outside the show. By 1985 he'd left the cast to move on with his career. He was on his way as a movie star making films like The Golden Child, Beverly Hills Cop and Coming to America. With over forty films in his career so far, it was clearly the right move for Murphy, but SNL lost something extraordinary. As popular and loved as he was, you might expect him to go back to SNL and do a few cameos. While we understand how busy he was over the next six years, filming on set almost constantly, he never came back to the show. Even so, he might have made appearances on the anniversaries, but in 1990, something happened that would change his feelings toward the show that made his career.
David Spade Messes Up Badly
In 1990 David Spade joined the cast and quickly became known for Hollywood Minute, a segment where he lambasted various celebs of the time. That may seem like nothing in today's social media climate. However, at the time, taking these sorts of cheap-but-funny shots at big names was fresh and, if not entirely new, undoubtedly uncommon. The show's producers, of course, encouraged him to take it further. You might easily draw a connection between what he was doing and Eddie's career. Both men pushed the limits and said things others were afraid to make into comedy. At that time Eddie had a couple of not-so-popular movies. Oddly this includes Vampire in Brooklyn which we loved because of it's over the top cheesy take on a Dracula-esque reboot. Regardless, the films had bombed in theaters, and Spade, who quite literally idolized Murphy used him in a sketch. The joke he made was "Look, children, it's a falling star! Make a wish."
That's nothing by modern standards, but those standards likely wouldn't exist without David Spade's Hollywood Minute. Likewise, David's SNL career might not have existed if Eddie Murphy hadn't saved the show a decade before. Eddie was furious and called David up to curse him out. In the end, though the pair are marginally on speaking terms, Eddie Murphy didn't reappear on SNL for over thirty years.
A Strange Return
Eddie finally returned to SNL for the 40th Aniversary show. He spoke a few words about how grateful he was to have been a part of SNL history but oddly left without participating in a sketch at all. According to Eddie, this was because they asked him to do a Bill Cosby sketch as his humorous contribution. He wasn't interested in making his brief reappearance on the show about something as horrible as the Cosby situation.
Final Thoughts
After all, that's happened, and all that Eddie Murphy has contributed to comedy, he did receive a Mark Twain Award for comedy. Amusingly he did tell a Bill Cosby joke there. Of course, that's not the only award he's won over the years, but it is significant and rare. Yet it seems to us that his contributions to comedy, culture and modern American society are largely underappreciated. That said, we wanted to leave you with the good news. Eddie may not be coming back to SNL, but some of his SNL characters are coming back on Netflix. We're looking forward to bingeing Dolemite is My Name. As always, we'll keep an eye on the brilliant Mr. Murphy to see what subversive and humorous characters he creates next.