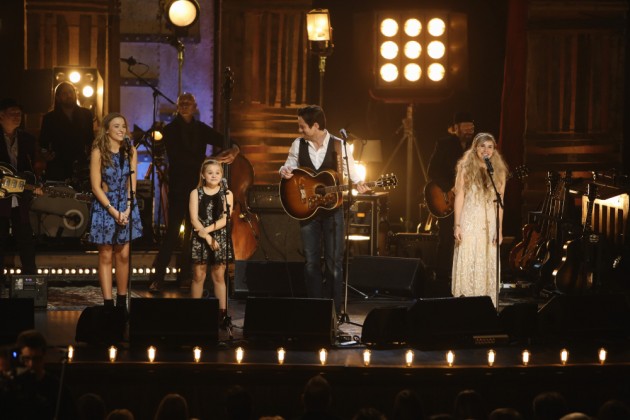 Oh how I wish I could have been at this concert! Last night's Nashville was not a new episode, but rather a tribute to the music that keeps this country sudser a cut above others. After all, what is Nashville without the music? Okay, it's pretty good, but the music just makes it better and is good all on its own, too. So let's review tonight's concert, and discuss what has happened in Season 3 so far, as well as what lies ahead.
"Borrow My Heart"- Jonathan Jackson, Sam Palladio and Clare Bowen
This is the true trio of Nashville. The decision to actually make them a trio on the show was long overdue, and this upbeat song was perfect for them. Plus, since Scarlett has long been (too long!) a very weepy character, it is wonderful to see her portrayer Clare Bowen freely dancing about on stage.
"Fade Into You"- Clare Bowen and Sam Palladio
Now this is a song from way back in Season 1, bringing back the intense chemistry of Sam Palladio and Clare Bowen. It's a love song that reaches deeper into the physical need and lack of control that defines what it truly is to be in love. Every song these two have done since their cover of The Civil Wars' "If I Didn't Know Better" in the pilot has brought goosebumps. Individually their voices are great, but together they have an unmatched synergy that reaches deep into the soul. I am putting my personal plea to the songwriters of Nashville to have more of these two singing for the latter half of Season 3.
"How to Learn to Live Alone"- Jonathan Jackson
Now I've been a Jonathan Jackson fan since his days on General Hospital (seriously, the guy won four Emmys starting when he was a child; check out his work on YouTube). He even had the early opportunity to showcase his singing on the show, though I'll admit I wish he'd had more opportunity, which was the reason he chose to come to Nashville. I've always known he was talented, but I didn't expect his performance to be the one that gave me tears. This is probably because his great acting is what's been showcased his whole career, so his incredible voice isn't always the first thing noticed.
"If Your Heart Can Handle It" – Chris Carmack and Aubrey Pepples
Okay, when this song was performed on the show, I actually hated it. Not because of the song, because the song itself is awesome and actually one of my favorites this season. It really showcased the talents of Chris Carmack and Aubrey Peeples in a way I think hadn't been done before. I hated it the first time around because it's performance on the show as a love song was completely tarred by the circumstances of their characters in that particular episode, and the entire first half of the season. It's one of those rare instances when a show that revolves so much around music misses the mark simply because of the circumstances. Anyone else feel that way? Great song regardless, and so much more emotion during this live performance is what made it worth it.
"I Know How to Love You Now" – Charles Esten
Now this is a true country song if I ever heard one. Charles Esten's voice drips with that classic, soulful country sound. Every note, every lyric is perfect for Esten, as well as his character. I didn't know how much more beautiful this live version of the song could be given the amazing job he did with the first recording for the Season 3 premiere. The fact that he co-wrote the song with country artist Deana Carter is even more reason to love this song.
"We Got a Love"- Stella Sisters
What can I say about these girls? Their talent has been evident from the very first season, and the older they get, the more talented they become. Other duet singers sometimes have to work to find a harmony, but these two just work the way only sisters can. I have no doubt that one day they will spread their wings with individual careers, but their talents together will always be what country music is all about, home. This song was definitely their best of Season 3 so far.
"If I Drink This Beer"- Will Chase
Another true country song (seriously all you had to say was beer), Will Chase skyrocketed with this song this season. His tenure on the show so far, I'm not afraid to say, has been so-so, both because of his character arc and that most of his co-stars had the breakout songs. When his character Luke Wheeler felt the sting of being left at the altar a few months ago, Will Chase rose to the occasion with an emotional performance of a man with a broken heart.
"Going Out Like That" – Reba McEntire
Cue the country superstar-induced squealing! Reba McEntire entered the Grand Ole Opry for a performance that brought the crowd to its feet, and why not? Reba is not only a star, she gives performances that make you feel like, "Yeah, I'm right there with you." She speaks to her audiences through her songs, and it was such a treat for her to come and perform for this concert.
"Friend of Mine"- Nashville Cast
For the final song, the cast of Nashville came together as one to honor the songwriters and audience of Nashville. It was beautiful from the first acapella version on the show, and it was so much fun to hear this time around. This song was definitely a perfect ending to the night as it was all about the bonds of friendship, and ultimately, family that are at the center of country music.
Now, looking ahead we should all be very excited because there don't seem to be any more breaks the rest of the season, or at least they won't be nearly as long, which means Nashville is moving full steam ahead, and viewers even have Christina Aguilera to look forward to!
What song has been your favorite so far of Nashville Season 3? Which storyline are you most looking forward to for the rest of the season?
[Photo via ABC]