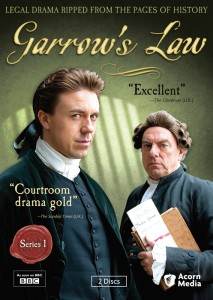 Sometimes the most exciting settings of television lie not in the future, but in the past.
You hardly see the eighteenth century portrayed on television anymore. That's a shame, because some of history's most exciting times happened in that time period. Many of these events have been overshadowed by the importance of the American revolution, but perhaps one figure that was overlooked was William Garrow, a barrister who changed the face of the British legal system permanently.
That's where Garrow's Law comes in. The British series, which just saw the release of its first series on U.S. DVD Tuesday, is certainly one of the most engrossing shows I've gotten from Acorn Media. The four hour-long episodes are quite engrossing, both in the trials themselves and the fascinatingly hot-headed Garrow, who is a genius when he's not shooting himself in the foot.
The supporting cast are all brilliant as well; Alun Armstrong plays Garrow's friend and advisor John Southouse, while Lyndsey Marshal (Cleopatra on HBO's Rome, Lucy on Being Human) plays Lady Sarah Hill, Garrow's contact within the social aristocracy of British politics. The most magnetic figure, though, is Aiden McArdle's Silvester, Garrow's nemesis who often steals the scene from Garrow himself.
The episodes follow a format of a shorter case at the beginning (usually a loss on Garrow's part), and then a longer, more dramatic case (usually a victory) for the later three-quarters of the episode. Strangely enough, though, this doesn't detract from the series. Perhaps it's the lesser number of episodes, but each case seems fresh and new. There's a good variety of cases dealing with various aspects of the law, and watching Garrow work them out is just as entertaining as watching the cases themselves play out.
The two-disc set, released by the great Acorn Media, features all four episodes of he show's first season on BBC One. Bonus features such as a behind-the-scenes featurette (a rarity for such releases), as well as on-screen cast filmographies, a biography of the real-life William Garrow, and a photo gallery from the show.
You can order Garrow's Law, Series 1, from Amazon for $36.49.
Tell us what's wrong with this post? How could we improve it? :)
Let us improve this post!