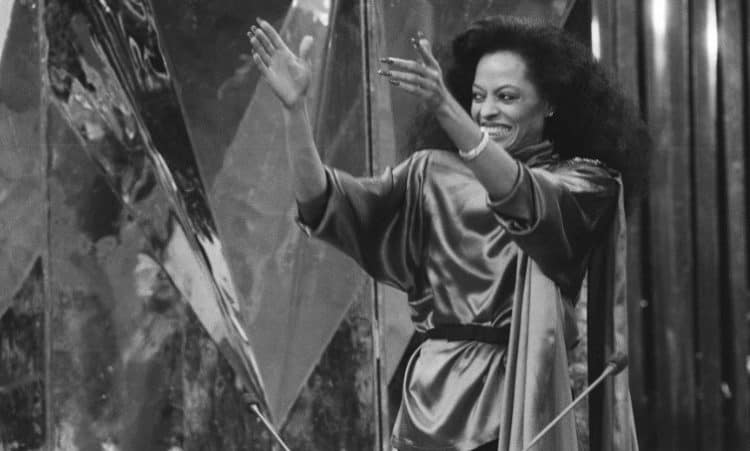 Born in Detroit, Michigan, on March 26, 1944, Diana Ross is a successful singer, actor, and record producer. She is known for her work as a solo artist, and also as the lead singer in the 1960s Motown group, The Supremes. This group was the best charting girl group in the history of music in the United States, and also the most successful Motown act ever. She has lived most of her life in the limelight, which has led to her achieving international fame. Although she is a very well-known vocal artist, there are many things that people do not know about this talented woman. Here are 20 interesting facts about Diana Ross that you probably didn't know.
1. She Was Originally Called Diane and Not Diana
When she was born, a clerical error made when signing the birth certificate meant that she was officially registered as being called Diane Ernestine Earle Ross. This was later rectified to Diana, although many of her friends and family still call her Diane to this day, says Spring Chicken. Prior to becoming famous, Ross would often introduce herself as Diane. A similar thing happened when Diana had her own daughter. She had intended to call her Chutney, nut misspelled it as Chudney. However, she kept this spelling of the name for her daughter.
2. She is From a Big Family
Ross comes from a large family. She was the second child of six born to Fred Ross Sr. and Ernestine Moten, says PPCORN. She and her siblings grew up in the Detroit Housing Projects in Detroit, Michigan. Ross went on to have a large family herself as she has five children from two marriages. Her children are called Rhonda Ross Kendrick, Tracee Ellis Ross, Ross Naess, Chudney Ross, and Evan Ross.
3. She Has Never Won a Grammy Award for a Single Song
Despite more than a dozen Grammy Award nominations and some hugely successful singles and albums, Diana Ross has never won a Grammy Award for her music. However, she did win the Grammy Lifetime Achievement Award in 2012. Although her songs haven't won a Grammy Award, three of them have made it into the Grammy Hall of Fame, says Greenville Online. These are 'Where Did Our Love Go?', 'You Keep Me Hanging On', and 'Stop! In the Name of Love'.
4. She Was in the Half-Time Show of the 1996 Superbowl
According to Greenville Online, Diana Ross performed in the half-time show at the 1996 Super Bowl. For her performance, Ross was lowered onto the stage on a crane embellished with sparklers. At the end of the show, she departed by helicopter.
5. Ross Was Once Booed at a Funeral
It was a long slog for The Supremes to became famous. To help them gain fame, their record producer, their record producer, Berry Gordy, changed the name of the group to Diana Ross & The Supremes. This meant that the fame of Ross Eclipsed the other Supremes, who originally included Mary Wilson, Florence Ballard, and Betty McGowan. When McGowan left, she was replaced by Barbara Martin, who then also left. This made the quartet a trio, says Mental Floss. Ross having the most fame caused bad feeling. Things got even worse when Ballard was fired in the same year as the name of the group was changed. Ross left the group to become a solo artist in 1970, and Ballard's friends and family never forgave her. When Ross attended Ballard's funeral in 1976, she was booed by fans gathering outside.
6. She Almost Starred in 'The Bodyguard'
Whitney Houston is famous for playing the role of a pop star in the 1992 film 'The Bodyguard' opposite Kevin Costner as the bodyguard. Many years earlier, Diana Ross almost played the role of the singer. The screenplay was written by Lawrence Kasdan in 1976, says Mental Floss. Ross wanted to launch a second career as an actress and she was originally cast in the lead female role opposite Steve McQueen as the bodyguard. Unfortunately, the project never took off and it was a further 16 years before the film was finally released with Houston and Costner in the lead roles.
7. She is in the Guinness Book of World Records
According to Mark's Diana Ross Website, one of Diana Ross' many recognitions is that she is recognized by the Guinness Book of World Records. The record book says that Diana Ross is the most successful female artist of all time, with over 70 hit singles to her name. Ross has also been given many more accolades that name her as the best female entertainer of all time.
8. She Suffered from Anorexia Nervosa
Diana Ross wrote an autobiography titled 'Secrets of a Sparrow'. In this book, she reveals that she suffered from anorexia nervosa. She has blamed suffering from this eating disorder on the pressure she and The Supremes were put under by Motown and Berry Gordy in the late 1960s. This is a condition from which Ross no longer suffers.
9. She Has Been Arrested Twice
Diana Ross was once arrested in an airport. The incident, which took place in 1999, involved her grabbing the breast of one of the airport's guards. Ross explained that she had done this because the guard had grabbed her breast first while frisking her. Her second arrest was for DUI in 2002. This was while she was receiving treatment for substance abuse at a rehabilitation facility in Tucson, Arizona.
10. She Worked as a Secretary
Diana Ross is one of Motown Records' most successful acts, and she has a long history with this record production company. However, she had a history with this company long before she became a performer. She worked as a secretary for Motown Records before she was signed with them as a singer.
11. She Inspired a Musical
Ross has been an inspiration to many other artists. She is also the inspiration behind the play and the 2006 romantic comedy musical drama movie 'Dreamgirls'. The character Deena Jones is loosely based on Ross and her life in the music industry, says Heavy. In the film, Deena Jones is played by Beyoncé Knowles. This movies also starred Jennifer Hudson, Eddie Murphy, and Danny Glover. The film was written and directed by Bill Condon.
12. Her Second Husband Died After Falling Off a Mountain
Ross had a relationship with producer Berry Gordy which resulted in her pregnancy with her first child. While pregnant, she married her first husband Robert Ellis Silberstein, a music executive. He raised Ross' daughter as his own and they had two more daughters together. Sadly, the couple divorced after six years of marriage. In 1986, Ross married Norwegian shipping magnate Arne Nass Jr. and they had two sons together. Despite divorcing in 2000, Ross remained adamant that he was the true love of her life. Sadly, he died in a tragic accident four years later. He fell from the side of a mountain in South Africa while climbing.
13. She Lives Amongst Celebrities
Diana Ross owns an apartment in an apartment building that is inhabited by many other celebrities. These include Glenn Close and Jerry Seinfeld. The apartment building is on the northwest corner of 81st Street and Central Park West in Manhattan.
14. She Has Many Links to Cicely Tyson
Although Diana Ross and Cicely Tyson have never worked together, many aspects of their life stories are shared. Both women were nominated for an Academy Award for Best Actress in a Leading Role. This was unprecedented to have two African-American actresses nominated for such an award. In fact, only one African-American actress had been nominated for this award previously, and that was Dorothy Dandridge for her performance in the 1954 film Carmen Jones. Other than this, a few African-American women had been nominated in the best-supporting-actress category. According to IMDb, Ross and Tyson were next linked in 2016 when they were both awarded the same Presidential Medal of Freedom award in the same ceremony from Barack Obama.
15. She Supports Children's Charities
In her spare time, Diana Ross likes to support children's charities. She is a spokesperson for National Children's Day. This is an event when America's leaders listen to the hopes and concerns of young people. She is also on the board of a national charity program called 'A Better Chance'. This charity finds academically talented children in inner cities and puts them in the best preparatory schools in the nation. Ross also once performed free in a park to raise money for a children's playground. She continued her performance even though a storm had broken out.
16. Ross Made Her Television Debut as a Nun
It is widely known that Diana Ross made her film Debut playing Billie Holliday in the 1972 film 'Lady Sings the Blues'. However, it is less well-known that her first appearance on television was playing the role of a nun. This was in a 1968 episode of 'Tarzan' in which she appeared with the other Supremes.
17. There is a Scholarship in Her Name
BoomsBeat says that there is a music scholarship in Diana Ross' name. She was honored by the McNally Smith College of Music in 2004 when they established the Diana Ross Performance Scholarship. This is a full four-year scholarship that is awarded to an outstanding student who is pursuing a degree in music.
18. She Had Wanted to Become a Fashion Designer
Ross' first ambitions were not to become a performer. In fact, she had wanted to become a fashion designer. While she was a student at Cass Technical High School, she took extra classes to help her pursue this career. These included seamstress skills, millinery, pattern-making, and design. She also had classes in modeling and cosmetology. He interest in beauty extended to providing hairdressing services to her neighbors to earn a little extra cash. Unfortunately, she never began her career in fashion design. Instead, she worked at Hudson's Department Store. In her biographies, it says that she was the first black employee of the store that was ever let out of the kitchen.
19. Her Ancestors Were Slaves
Diana Ross' grandfather was called John E. Ross. He was born in Gloucester County, Virginia, to Virginia Baytop and Washington Ross. Virginia Baytop's mother was Francis 'Frankey' Baytop, who was a slave prior to the Civil War. Following the Civil War, Ross' great-great-grandmother trained to become a midwife. Therefore, Diana Ross has slavery in her ancestry.
20. She Has an Estimated Personal Net Worth of $250 Million
According to Celebrity Net Worth, Diana Ross has an estimated personal net worth of $250 million. The majority of the money she has accrued has come from her career in the music industry as both a solo artist and as the lead singer of The Supremes. This includes both records sales and sales of tickets to tours and live performances. She has also made money from her film and television appearances, and from the sales of her books.