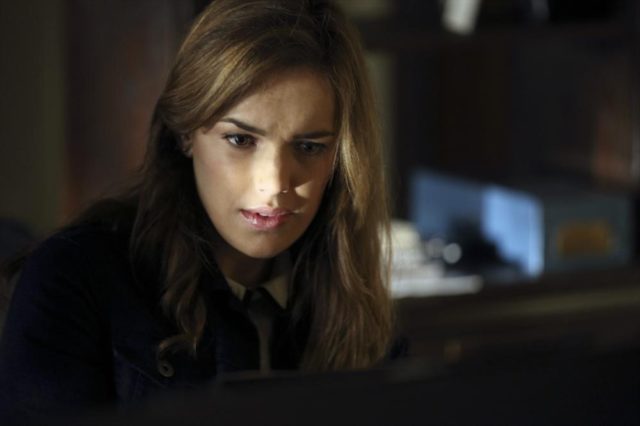 There is no denying the fact that Marvel Comics is experiencing a resurgence in comic book sales, and a great deal of this newfound popularity stems from the fact that so many of its comic book themes and stories have made it to television and the big screen. One television adaption that has caught on is Agents of S.H.I.E.L.D., which airs on ABC. One of the stars of the series is Elizabeth Henstridge, who plays Agent Jemma Simmons.
While fans are definitely into Elizabeth, there is still a lot that they don't know about this actress, so we thought we would help you out a bit.
1. She is British
There seems to a never ending influx of British actors invading Hollywood and staking their claim to its fame and celebrity apparatuses, and when they are as beautiful as Elizabeth Henstridge, who in the hell is complaining. The Agents of S.H.I.E.L.D. star was born in on September 19, 1987, in Sheffield, England, but has not allowed her nationality to impede her progress in pursuing her dreams of being an actress.
2. She Is Extremely Outgoing and Accessible
All it takes is a quick visit to Elizabeth Instagram page (She is Instagram Famous by the way.) to see that Elizabeth is not like some celebrities that limit access to themselves and avoid the public life. She lives every free moment enjoying her family and friends in some of the most common of places. This will definitely go a long way in helping her build her fan base.
3. She is Classically Trained in Acting
We all know that there are many ways to break through the barriers of acting, entertainment and ultimately Hollywood. Elizabeth chose the more direct and explicit path. She did not leave anything to change. She received her training as an actress at East 15 Acting School and she has taken that training and parlayed into a very successful career. She also attending and graduated from the University of Birmingham, and not the one in Alabama.
4. She Has Done the Soap Opera Thing
While day time soap operas are a dying thing in the U.S., they are still alive and kicking in other localities around the world. During the process of building her resume, Elizabeth took on a role in a popular British soap opera called Hollyoaks in the role of Emily Alexander, but no role has been so powerful and promising for the young star than her current role as Agent Jemma Simmons on Agents of S.H.I.E.L.D.
5. She Shares Her Birthday with Her Character
We are not sure how much of an input Elizabeth had in this slight correlation between actress and character, but she shares her actual birthday with her character, Jemma on the series. I don't know if that somehow allows her to get into character if it is just a subtle nuance, but I am sure that Elizabeth enjoys the connection to the character that she is investing so much of herself into. Whether the correlation is intentional of a coincidence is irrelevant in the grander scope of things, but it is still quite intriguing.
Save