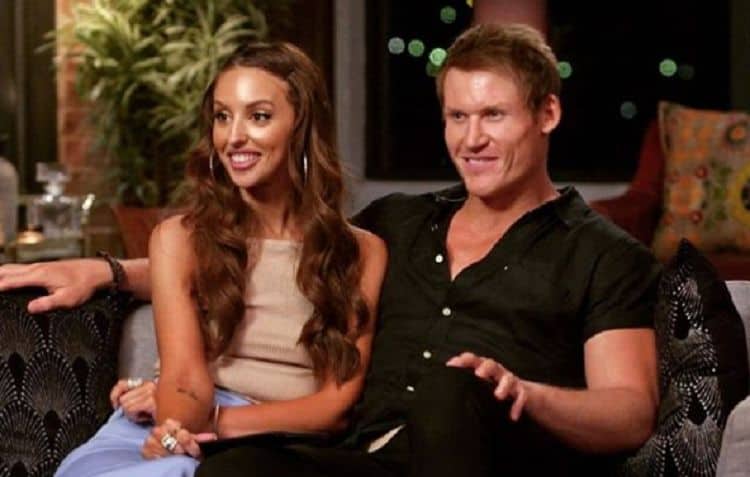 Elizabeth Sobinoff is a reality television star who became famous after appearing on the television competition series "Married at First Sight." She joined with the other members of the cast who are all involved in a social experiment to determine if two people can make this kind of arrangement work and find true love in the process. To help you get to know her better, here are 10 things about Elizabeth Sobinoff that you might not know.
1. Sam Ball's cruel comments changed her life
It was tough for Elizabeth when her MAFS husband Sam Ball publicly fat-shamed her at first sight. He referred to her as a "bigger girl." Even though the comment was not well-received by the Australian viewers, this didn't ease the hurt of the comment, nor the damage to her self-confidence. It didn't take Sobinoff long to transform her body shape and gain a beautiful figure. She's been revealing her new look in photos with skinny jeans and she looks amazing. Her new look was achieved after filming ended.
2. She has a lot of fan support
Australian viewers were quick to respond to Ball's thoughtless comments with the support of Lizzie. Many of them offered compliments on her new look. She gained a lot of fans during her time on the show and they gave her well-wishes after her negative experience with the experimental husband who was a terrible match for her.
3. Elizabeth has taught us all a few life lessons
Soboroff was pressed to reveal her secrets for losing weight so quickly. After fans asked, she was happy to share precisely how she accomplished her own transformation. While the second lesson that she taught us was how to achieve a more fit and healthy body, the most important thing we learned from her is that it's vital to get toxic people out of our lives. Her journey to fitness came much easier after she accomplished this feat.
4. She had a good reason for disappearing
Elizabeth Sobinoff took a week off of the show to attend to personal matters. While she was gone doing so, Sam Ball went to a fun6eral and was gone also. We now know that Elizabeth became ill with a respiratory infection. She also developed a bacterial secondary infection which made it necessary for her to take the time off to get healthy before returning to the show. This wasn't fully explained to viewers who were left wondering where she went and why.
5. Sam cheated on her while she was gone
During the time that Elizabeth was trying to recover from illness, Ball, her husband on the show saw this as an opportunity to chase another woman. It was revealed that he and Ines Basic had an affair during Sobinoff's absence. This was quite the learning experience for her and it taught Lizzy that you really have to be careful about who you trust. Sam proved that he was opportunistic by carrying on with another bride at a difficult time in Lizzy's life. Definitely not a keeper.
6. Lizzy's life was threatened by trolls
In an unfortunate turn of events, Elizabeth Sobinoff had her world briefly shaken by a few sick individuals who made threats against her online. She shared that this is the first time that someone had actually threatened to kill her. There were two incidences when the internet trolls made these deadly threats and it was unsettling for her
7. Her biggest influences are family
Elizabeth has enjoyed a close relationship with her mother and father. She has been fortunate to have a parent-child relationship as well as a deep and abiding friendship with them both. She credits them with being there for her and providing her with a lifelong support network. She also stated that they have been her best friends and the greatest influences in her life. This is likely the reason why she has such a high level of self-confidence and belief in herself. Although the experience with Sam Ball was unpleasant, she wasn't devastated by his actions.
8. Elizabeth has ongoing health conditions
Elizabeth Sobinoff battles two major health conditions that can at times affect her daily life. She deals with an autoimmune disorder that can be compared to the symptoms and effects of lupus. This has given her the side-effect of photosensitivity and to compensate, it is important for her to keep her ears covered. She also has a second condition that she has not told the public the details about, but it also causes photosensitivity and leads to periodic bouts of extreme pain when the condition flares up.
9. Elizabeth refuses to settle for second best
We learned that Elizabeth is not afraid to enter a relationship. She values this type of experimentation, but she has proven that she is not willing to settle for a man who is not a compatible match for her. So far, she has been in six relationships that she has disclosed. Each of them was short term because none of her previous partners were who she considers being the ideal mate. Sam Ball made it obvious with his opening statements so it must have been tough for her to stick out the four weeks she spent with the reality show.
10. She is unapologetic
Elizabeth Sobinoff knows who she is and she is comfortable in her own skin. When she discovers something that she isn't satisfied with within her own life, she changes. it. This was apparent when she went on a body shaping regimen. She makes no apologies for being outspoken and confident. She is not out to please the world or viewers, but she does hold herself accountable. She doesn't whine about it, she simply figures out what needs to change and then she applies a fix. There is a lot that we can learn from her.
Tell us what's wrong with this post? How could we improve it? :)
Let us improve this post!