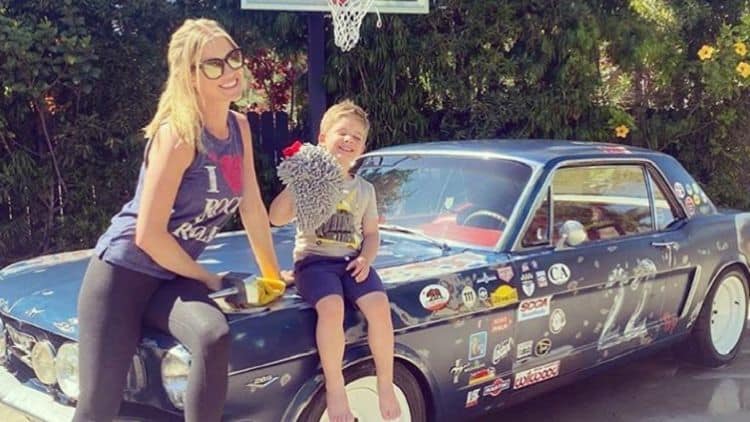 In the world of reality TV there are stars that shine and those that are just kind of there to make the show seem important or in some way more appealing. Christina El Moussa, now Christina Anstead, is among those that do pretty much everything when it comes to drawing people in to watching Flip or Flop. After having made her way into real estate following her college years she and her former husband Tarek managed to open their own company with a fellow investor to start flipping houses after the housing market crashed. The show was something interesting to watch and many people picked up a great many ideas from the techniques that Tarek and Christina employed, but it wasn't meant to last of course. Following a tense ordeal with Tarek's cancer and the struggle that came from Christina trying to have another child everything became too much and the couple finally split.
Here are a few other things you might not have known about Christina.
10. Christina felt like a bad mom at times for putting so much energy into the show.
She had to switch her schedule around so that she could spend more time with their children since the show and the actual job took up so much of their days and nights. Christina felt that she was neglecting their kids and didn't want to lose touch with what they were really working for.
9. She had a tough time getting pregnant when she and Tarek were trying for another child.
In vitro didn't take the first time, and on her second attempt she miscarried unfortunately. The third attempt she and Tarek were determined to make it work so she was confined to her bed for a week and couldn't lift anything over a certain weight so as to make certain she wasn't putting too much stress on herself.
8. The tension in her marriage started building after their second child was born.
There was just too much going on and Christina felt that their marriage wasn't going in the right direction. Between the struggles with their health and the time spent with their kids things were deteriorating rapidly.
7. She's been remarried since divorcing Tarek El Moussa in 2018.
It seems kind of rushed to marry in the same year that a person gets divorced but at the same time she and Tarek had been separated since 2017 while they're divorce was finalized in 2018, so in all honesty it's not as if Christina was simply jumping from one husband to another.
6. Apparently the news media has been trying to make more out of the divorce than was really there.
There have been reports that Tarek was actually put out by the fact that she married someone else but it would seem when taking his statements that he's happy for her and irate at the news media for daring to think that there's more to the story than has been told.
5. She called the police thinking Tarek was suicidal at one point.
One day he took off with a gun in his possession and Christina thought that he might be suicidal. Tarek's explanation was that he was going for a walk in the hills and the gun was protection against any wandering wildlife since the place he was planning to walk was known for being kind of wild.
4. Christina's net worth is around $8 million.
This isn't hard to imagine at all thanks to the popularity of the show and the fact that she and Tarek were each making upwards of $10,000 per episode. There were enough people that tuned in to this show to make it a worthwhile production and quite honestly it's never suffered that much.
3. The names of her parents aren't exactly known.
It's not so much that her parents aren't worth reporting on, but instead might seem to be that they want their privacy and quite honestly deserve it just like anyone else. The media, as much good as it does, can also be a means by which to dig into people's lives in a way that's not at all desired and can do more harm than good at times.
2. There isn't a whole lot of information on her early life.
Much of what is written about her on the internet has to do with her college years and what came after. Anything before that hasn't really been covered and perhaps it's at her behest that it's been left out as a matter of public record. People do like to keep some part of their lives close to the chest after all, as letting people know everything simply invites more comments and judgement now and again.
1. There are rumors that she's had work done or received Botox injections.
Without her to say yes it's hard to know what the answer is, but given how great she looks it's an easy assumption to make.
To be honest she's not everyone's favorite person, but she at least seems to know what she's talking about on the show.