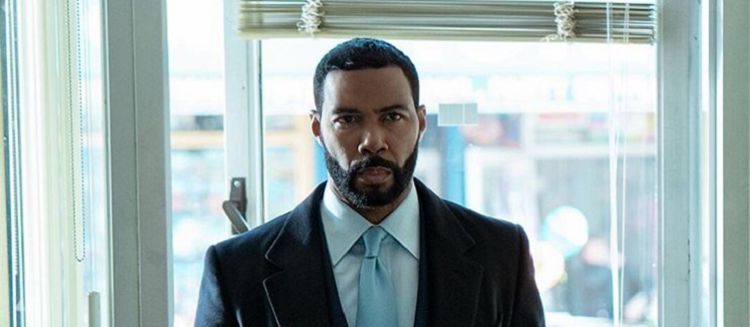 Actor Omari Hardwick is at the top of his game. With a series of critically acclaimed TV shows and films behind him, he's currently making waves as James "Ghost "St Patrick in the 6th season of Starz's hugely popular crime drama, Power. Unfortunately, the current season is where we'll say goodbye to Ghost and the rest of the Power crew… although if Hardwick's past record is anything to go by, it won't be long before he's back. Find out more about the actor with these ten little facts.
1. He's been homeless
In the early days of his career, Hardwick took on numerous odd jobs (including selling women's shoes at Nordstrom, coaching at a day school in LA, and working as a security guard) to fund his acting classes. In the early noughties, he won what he thought would be his big break: a part in Spike Lee's Sucker Free City. Keen on giving the job his all, he quit all his side gigs- a decision that proved his undoing when the project fell apart in the midst of legal troubles. With no other source of income, Hardwick found himself unemployed, broke, and, for a brief period of time, homeless.
2. He's found help in unexpected sources
Broke, unemployed, and living out of the back of his car, Hardwick was all but ready to pack in the acting game for good when help came along from a very unusual source. A few years prior, Hardwick had met Denzel Washington and his wife Pauletta while mentoring their eldest son, the actor John David. The friendship proved to be his saving grace: after learning that Hardwick was on the verge of losing his car (and at that point, home) after failing to make the repayments on his car lease, Washington lent the aspiring actor $1500 to pull him through.
3. He's an activist
Hardwick has always been heavily involved in social and community causes, but in recent years, his activism has intensified- something he attributes to his own experiences of injustice. While filming in Canada, Hardwick came face to face with the realities of racial profiling when he was pulled over by cops for the crime of driving a "nice Jeep Cherokee". On another occasion in LA, he was stopped after the LAPD decided he fit the profile of a murder suspect. "I was stopped in the front yard of my $350-a-month apartment; handcuffed, with a gun to my head … shoving knees on me …," Hardwick recalled to Ebony. "That's why I speak up for injustices."
4. He's a poet
Hardwick's been writing poetry since he was a teenager, a pastime he's not only credited with helping maintain his sanity when he was homeless and unemployed in his youth, but which has seen him win two National Poetry Slams, the first in 2003 and the 2nd in 2004. Poetry hasn't been the only outlet for his creative talent: in 2018, he co-wrote (and featured on) the 50 Cent single, "50 + O = 500".
5. 50 Cent is his "brother from another mother"
In 2014, Hardwick (who'd previously balked away from leading man roles) was convinced to take on the pivotal role of James "Ghost "St Patrick in Power when show creator 50 Cent made a very convincing proposition. "Curtis called me, I was in Atlanta, and he called me and he talked to me for about two hours about the show and about the character and how many colors the guy had," Hardwick told GMA. "I signed on." Since then, the two have formed a close friendship, with Hardwick saying "He feels like the brother that I've added to my two brothers…"
6. He got a little close for comfort with Beyoncé
If there's one fan club you don't want to mess with, its Beyoncé's. In April 2019, Hardwick learned what it's like to have Queen Bee's loyal army go against you when the pair's awkward greeting at the NAACP Image Awards kicked up a media storm. After a 2nd kiss from the actor landed a little too close to the superstar's mouth for comfort, Hardwick was accused of all kinds of things — overstepping the mark being the least of them.
7. He's experienced huge personal tragedies
Over the last decade, Hardwick has experienced huge losses in his personal life. Within a space of just three years, he lost his brother, his sister, and devastatingly, his first son with wife Jennifer Pfautch. The actor opened up his heartbreak on social media, posting the grief-stricken message "thought it was ugly losing my son. I thought it was ugly losing my brother at 45 & sister at 33. All within a 3-year span. Ugly of HATE is."
8. He's off the market
Hardwick has been married to his wife, Jennifer Jae Pfautch, since 2012, and together they share parenting duties of their 2 children. Unbelievably, the couple has been subject to ongoing criticism for their relationship, with Hardwick in particular receiving slating comments from "fans" angry that he's married a white woman. "Love you ghost … you lost points for marrying white…but we still got you," one Instagram follower commented under a photo of the couple. Unwilling to let the racial slur stand, Hardwick retorted with "I'd prefer you not to have me. You just lost all points with me. Good luck in life."
9. He's a music video regular
Hardwick's association with the music world runs a lot deeper than his friendship with 50 Cent. As well as creating his own music, he also regularly pops up on music videos for the likes of Estelle, Jay-Z, Ph Morton, Ruff Endz, and Floetry.
10. His Net Worth
Hardwick has come a long way since he was cash-strapped, homeless, and reliant on handouts. According to the latest estimates from Celebrity Net Worth, the actor is currently worth the very impressive figure of $5 million.
Tell us what's wrong with this post? How could we improve it? :)
Let us improve this post!