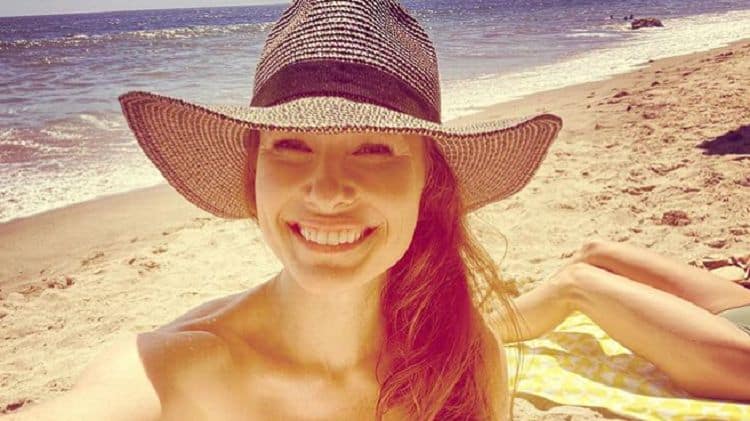 Just because someone isn't on the A-list doesn't mean they can't have a successful and consistent career in the entertainment industry. Kelly Frye is proof. Since making her on screen debut well over a decade ago, she has has managed to stay on our screens. She has had recurring roles in several popular TV shows including Criminal Minds and General Hospital. No matter how big or small a role she has, she commands attention every time she steps in front of the camera. Recently, she got a huge opportunity when she was cast with a main role in the Disney series Secrets of Sulphur Springs. Not only is this an opportunity for her to share her talent with the world, but it's also a chance to show just how versatile she is. Keep reading for 10 things you didn't know about Kelly Frye.
1. She's A Texas Native
Texas is home to several well-known people in the entertainment industry, and Kelly Frye is one of them. She was born and raised in the Houston area and will always have love for The Lone Star State. These days though, it appears she's calling California home.
2. She Got Into Acting In High School
Kelly was born into a very creative family. Still, however, acting wasn't something that she was always interested in. It wasn't until high school that she began to develop an interest in acting. Even then, she still wasn't thinking of it as something she could do as a career.
3. She Did Some Modeling As A Child
Acting may not have always been at the forefront of Kelly's mind, but she's always been drawn to being in front of the camera in one way or another. According to Preview, "Frye did some modeling as a child, before graduating to commercials for Academy Sports + Outdoors and Titleist golf balls."
4. She Finished College In Three Years
Have you ever had a plan in place for your life only for things to turn out completely differently? Kelly Frye sure has. After high school, she attended Loyola Marymount University where she studied international business and business law. Her goal was to become a lawyer but she eventually realized that acting was what she really wanted to do. Kelly completed her degree in just three years.
5. She Enjoys The Outdoors
Kelly spends a lot of time working, so when she does get the chance to take a break she enjoys taking time to appreciate the simple things in life. She has lots of respect and admiration for nature and she enjoys being outside as often as possible. Kelly loves doing things like hanging out at the beach and going on hikes.
6. She's A Writer And Producer
Being on screen isn't the only place where Kelly shines. In more recent years, she's also decided to take her talents behind the scenes. In 2020, she made her debut as a writer and producer with a short film called My, What A Lovely Vase. She has also produced several episodes of a TV show called All the Way to the Top.
7. She Loves To Travel
There are so many beautiful things to see all over the world, and Kelly has been fortunate enough to see a good amount of them. She has an adventurous spirit and she enjoys traveling and having new experiences. Some of the countries she's visited include England and the Czech Republic.
8. Her Mom Is One Of Her Biggest Inspirations
Lots of actors cite other actors as their biggest inspirations, but Kelly has always drawn inspiration from a much closer source: her mother. During an interview with Runway Live Kelly said, "My mom is a strong woman herself, a constant inspiration and a great motivator. She gave my brothers and me the confidence to go after what we want in life. When my own confidence wavers, I call and ask her to tell me a few magic stories from our life."
9. English Is Actually Her Second Language
Kelly doesn't just like to travel, she also loves to learn about different cultures. In fact, According to Cliche Mag, Kelly learned to speak Spanish first. She also studied Japanese and French in college although it's unclear whether she speaks either of those languages.
10. She Was A Competitive Figure Skater
Even before Kelly got into modeling and acting, she had gotten a lot of experience in the art of performing. She was a competitve figure skater for several years. While acting and competitive figure skating may not have that much in common on the surface, they both require a lot of patience, hard work, and dedication.