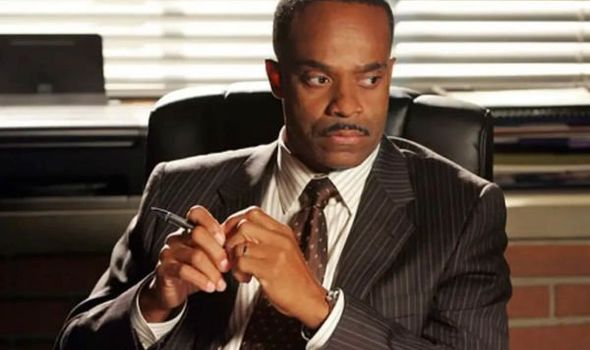 Rocky Carroll is one of the longest-serving actors we have today and is known for being the Director on "NCIS." Despite his massive success, he did not plan on being an actor, but his teacher in elementary school discovered the talent in him. When the teacher told Rocky he had the potential of being a good actor, Rocky took the initiative to get fully into it. In the different roles he takes in the various movies, he shows how versatile he can be by playing different personalities. Although Rocky keeps his life away from the limelight, we have managed to uncover a few facts about as detailed below.
1. He is an actor and a director
Rocky has different roles in theatre. Sometimes he is in charge of telling people what to do, and sometimes he is the one doing it. Rocky got to the position of the director because of his long time in the series as an actor. He does not see himself as more of a director than an actor. Rocky finds it hard instructing people today on what to do, and the next day working with them as a fellow cast member. He has to work with the actors without any friction when he is directing to avoid having issues with them when they will be acting together. He made his directorial debut with "NCIS" season 12.
2. His other talents besides acting
Apart from being a famous actor, Rocky boasts of other skills. According to him, in this world, you should do at least three different things very well. Consequently, he is an excellent trumpet player, an art he learned while still young. He can also dance and sing. The combinations of these talents are useful to him in theatre since, in some roles, one needs to know them all. He is, therefore, content to be a versatile person and views it as a survival skill.
3. He participates in foundations that support actors
Rocky knows what it takes to become an actor due to experience. He understands that there are many potential actors out there who might be very talented but lack the resources to pursue their dreams. Rocky, therefore, involves himself in organizations that support these actors by raising funds to assist them in getting the necessary resources and skills. According to the TV music network, he was among the famous actors in an event by SAG foundation. During the event, they managed to raise $320,000. The foundation raises money for actors in need. Rocky admitted that he finds joy in seeing young actors achieve their dreams through his help. Hence, he is ready to identify other actors to mentor and provide them with financial support when necessary.
4. His location influenced his journey into acting
While other actors have to move to different places to get theatre training, Rocky attended a school which neighbored a school of performing arts. His art teacher in the elementary school saw potential in him because of his habit of landing in trouble over minor issues. His teacher finally told him to audition for the school, and he did well in the auditions. He started focusing on acting from grade 6 as he proceeded with his education.
5. His education
Rocky started schooling in an elementary school in Cincinnati and then joined The School for Creative and Performing Arts. After graduating, he joined Webster University School of Conservatory of Theatre Arts. Most of his education revolved around arts, and that paved the way to becoming one of the best actors today.
6. His extended stay in theater is because he loves what he does
Rocky reveals in an interview with Blast Magazine, that what keeps him in acting is his love for the art. He always finds it fun being in theatre, and although some people end up quitting once they feel that there is nothing more to explore, Rocky wants to learn a new thing each day. He adds that his fans fascinate him, and he loves the way they keep reacting to some of the issues. Rocky always wants to know how fans feel about him and what they want from him so he can work his way out to ensure they are happy.
7. He prefers a low-profile life
According to Rocky, in acting, you have to move from one role to another. Moving from one character to another means that you must have the skill of switching personalities. He thus keeps most of the details about him a secret. If he did reveal a lot about his personal life, Rocky believes that fans will know him more and fail to believe his act when he takes up new roles. The new perception about him will affect their reception of the film. He, therefore, has to control being famous and only leak what he feels will not affect his acting career.
8. He loves hiking
According to NCIS fan wiki, Rocky finds hiking an excellent way to relax after spending long hours in the theatre. He sometimes takes his family along when he is going for a hike.
9. He is married
Rocky married Gabrielle Bullock, an architect, in 1996, and they have one daughter together. His wife has an architecture firm with 14 offices and around 750 employees. The two dated for a short period before getting married. Rocky is a loving and responsible father who wants the best for his daughter. There have not been any rumors about challenges in their marriage, and they seem to be enjoying their life as a couple.
10. He is worth $4 million
Rocky is among the highest-paid persons in "NCIS" due to his work both as an actor and a director. He acts in other films as well, and the more the roles, the more the amount he takes home. According to the cheat sheet, Rocky is currently worth $4 million. The amount is among the lowest in the "NCIS" cast net worth and pales in comparison to Mark Harmon's $60 million