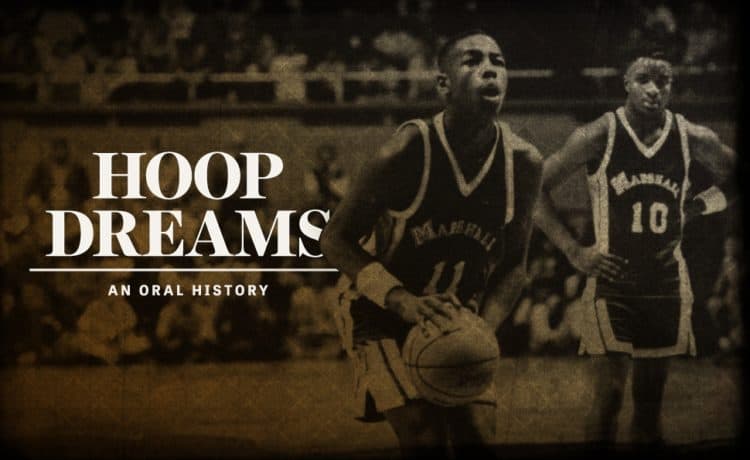 Hoop Dreams is arguably the greatest basketball documentary ever made. It's also probably one of the greatest sports documentaries in general. Released in 1994, the film followed the lives of Arthur Agee and William Gates, two young basketball players from Chicago who had dreams of making it to the NBA. The documentary was filmed over the course of five years, beginning when Arthur and William were in 8th grade and ending in their freshman year of college. Over the course of the film, we watch as both of them go through many ups and downs on and off the court. By the end, most people would probably agree that they really felt like they got a chance to know both young men. Unfortunately, however, since the film was released before the internet was part of most people's daily lives, it was initially hard to keep track of what became of Arthur and William. Now, nearly 30 years after Hoop Dreams was released, lots of people are still wondering what the cast is up to now. If you're one of those people, you're in luck. Keep reading to find out what happened to the cast of Hoop Dreams.
The Impact Of Hoop Dreams
Hoop Dreams began receiving critical acclaim almost immediately after its release. Basketball may have been at the center of the project, but the Hoop Dreams was truly about much more than that. In the end, it became a representation of life in America – particularly for Black people living in inner cities. The fact that neither Arthur nor William achieved their dream of making it to the NBA also represented the harsh realities of disappointment. As a result of these universal themes, Hoop Dreams attracted an audience that included much more than athletes. Viewers watched Arthur and William cling to basketball, partly out of genuine love for the game but also because they saw it as their ticket to a brighter future. Many couldn't help but feel empathy as they watched Arthur's family struggle through poverty – or, as they saw William's career began to suffer after a knee injury. Hoop Dreams is often credited with changing the entire landscape for documentary films. Once seen as an outlet for social issues, Hoop Dreams proved that other subjects could thrive in the genre.
So whatever happened to the cast? Here's where they are now:
Sheila Agee
Arthur's mother, Sheila Agee, wasn't the documentary's main focus, there were several times throughout the film where she stole the show. The hardworking mother always did her best to make sure her family was taken care of. Even when her husband struggled with addiction and left the family, Sheila kept pushing forward. Despite the fact that she went through a lot of rough times during Hoop Dreams, we also saw her experience some happy moments as well. Camera crews were there when Sheila finished at the top of her class at a local nursing program. At the end of the film, she was incredibly proud to see her son get the opportunity to go to college. Since Hoop Dreams, things seem to have gone well for Sheila. She worked as a private nurse for many years and eventually earned her degree. From what we can tell, she still lives in the Chicago area and she and Arthur continue to have a very close relationship.
Bo Agee
Arthur's father, Arthur Sr. AKA Bo, was a figure of both love and heartbreak throughout the film. When we first met Arthur, he and his father had a great relationship. Bo was an active figure in the home and he was doing his best to provide for his family. He was also a steady source of support for Arthur as he chased his dream of becoming a professional basketball player. Sadly, though, Bo became addicted to drugs and left the home. As a result, he was largely absent from a portion of the documentary. Eventually, however, he returned and was able to rebuild his relationships with his wife and children. After Hoop Dreams, life was really looking up for Arthur. He had gotten clean and clean and he became an ordained minister who was active at a local church. Sadly, though, Bo's life would end in tragedy. In 2004, he was murdered in an alley near his home in Berwyn, Illinois. According to an article from The Chicago Tribune, "About 8:30 p.m., Agee went to his garage, where he kept clothing, accessories and perfume that he sold to help make ends meet, the family said. They think he was confronted by at least one robber and tried to run." Bo was just 52 years old at the time of his death. In 2005, a separate article in The Chicago Tribune revealed that one of the two suspects in Bo's murder had been arrested and charged.
Curtis Gates
Sibling relationships can be very complicated, and that might be one of the best words to describe Curtis Gates' relationship with his younger brother, William. Like William, Curtis has also been a standout basketball player who was the star of his high school's team. He even earned a college scholarship, but he left school without graduating. Curtis' own disappointments then became expectations for his brother. Since he hadn't been able to make it to the pros, he really wanted to see that happen for William. Despite the occasional tension, it was clear that Curtis always had his brother's best intentions at heart. By the end of the movie, he was just as proud as anyone to see William go off to college. Unfortunately, tragedy would befall Curtis a little less than a decade after Hoop Dreams was released. Curtis was shot and killed in 2001 after allegedly being involved in a love triangle. An article from The Spokesman-Review reported: "William was in so much denial, he asked to see Curtis' lifeless body at the hospital the night of the murder." The person who killed Curtis was not convicted.
Gene Pingatore
Gene Pingatore, head basketball coach at St. Joseph High School, played a central role in Hoop Dreams. Arthur and William both started their high school basketball careers at St. Joe's but Arthur failed to live up to expectations and never made the varsity team. Viewers also watched as Gene's relationship with William changed after his injury. Gene was known for being a tough coach who never coddled his players. Gene went on to coach at St. Joseph for more than 20 years after Hoop Dreams was released. Under Gene's tutelage, the St. Joseph's basketball team won two state championships. When he retired from coaching in 2015, he had achieved more than 1,000 wins. Coach Pingatore passed away in 2019 at 82 years old. He is widely considered a legend in Illinois high school basketball.
Luther Bedford
After Arthur left St. Joseph, he went on to attend John Marshall High School. There, he was coached by Luther Bedford. In addition to caring about his athlete's wellbeing on the court, it was clear that Luther also wanted the best for them as people. He was instrumental in pushing Arthur to take himself more seriously. After Hoop Dreams, Bedford continued to coach at Marshall High School where he was also the athletic director. He remained at the school until he retired in 2002. Unfortunately, he never won a state championship throughout his coaching career. Luther Bedford passed away in January of 2006.
Earl Smith
Earl Smith didn't get a lot of camera time in Hoop Dreams, but he was instrumental in Arthur and William's stories. In fact, he was actually a big part of the reason why Arthur was chosen to be a subject for the film. Earl was an insurance salesman who doubled as a basketball scout of sorts. When he spotted Arthur playing on a nearby court, he told producers that he believed Arthur was going to have a successful career. Earl was responsible in helping Arthur and William get accepted into St. Joseph. It's unclear exactly what Earl did in the years following the film's release. However, we do know that he passed away in the fall of 2016.
Arthur Agee
When viewers were introduced to Arthur at the beginning of Hoop Dreams, he was a scrawny kid whose life revolved around basketball. He left Earl Smith in awe when Smith saw Arthur playing at a neighborhood park. Arthur's skills eventually earned him a partial scholarship to St. Joseph High School, but he failed to make the varsity team during his freshman year. Since he did not become the standout player the school was hoping for, Arthur lost his scholarship and was forced to leave St. Joe's after just one year. As mentioned earlier, Arthur experienced a series of ups and downs on and off the court. However, he never let anything stand in his way. After transferring to Marshall, he went on to have a solid career that included winning a Public League championship. When Arthur graduated from high school, he went on to attend a junior college called Mineral Area College. After playing for two years, he earned a scholarship to Arkansas State University where he was on the basketball team for two years. In 1996, he got the chance to try out for a CBA team in Connecticut, but he decided to pass up on the opportunity. In 2004, he started a clothing line called Hoop Dreams which sells sports apparel. As of 2021, he also co-hosts a podcast called Hoop Dreams with William Gates. Arthur is also a proud father and grandfather.
William Gates
Early in his high school career, William was thought to be the next legendary player at Saint Joseph. Many believed that he would follow in the footsteps of basketball legend Isaiah Thomas who had also attended the school. Unfortunately, however, a knee injury derailed his career. Despite not performing as well as he hoped in his last couple of years in high school, he still earned a scholarship to Marquette University. He played for Marquette for three years and graduated with a bachelor's degree in communications. In 2001, he got the opportunity to work out with the Chicago Bulls, but he was not offered a contract. The workout took place just days after his brother Curtis' murder. William eventually went on to become a minister at a church in Chicago. However, he and his family relocated to Texas in 2012. In addition to hosting the Hoop Dreams podcast with Arthur, William is a very proud father. He married Catherine Mines, his girlfriend who was seen in the documentary. They now have four children.
Tell us what's wrong with this post? How could we improve it? :)
Let us improve this post!