Some coaches in the movies are just jerks, while others are the kind you remember for all time just because of a catchphrase, a special moment in the movie, or some quality they possessed and used to the utmost of their ability. Coaches in the movies come in all shapes and sizes and aren't limited to the traditional role that so many feel is the only definition of the word "coach". You don't have to be a football coach, or a baseball coach, or even a hockey coach. Movie coaches are those that are by deed the greatest influences in the lives of their movie athletes, and are often just exciting to watch as those portraying the athletes.
Here are out picks for the top 20 movie coaches of all-time: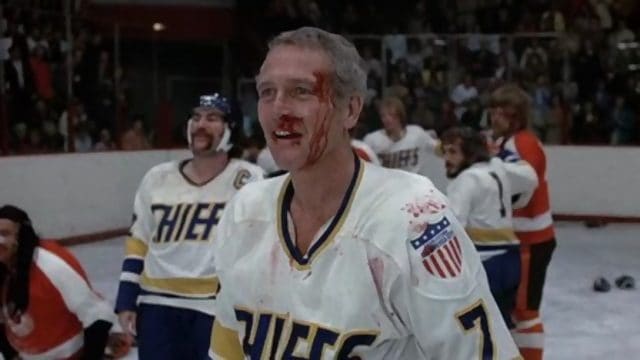 20. Paul Newman as Reggie Dunlop in Slap Shot

In 2015, Reggie Dunlop was inducted into the Fictitious Athlete Hall of Fame. If this hall of fame existed prior to 2015 he'd have been one of the first inductees. When it comes to hockey coaches few are better than Reggie Dunlop. Although if you're dealing with the Mighty Ducks you certainly have a chance to one up Reggie as you'll find out below.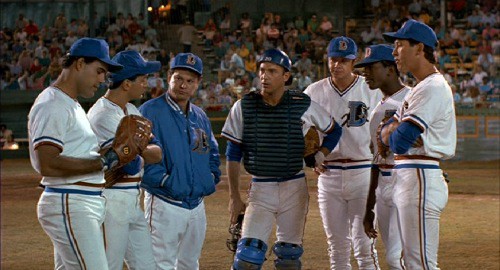 19. Robert Wuhl as Larry Hockett – Bull Durham
Some coaches don't appear as professional as others, and in some cases seem far more goofy than professional. Coach Hockett was known more for his affable and sometimes humorous nature considering that he is a backup coach. He's still an integral part of the Durham Bulls, but as authority figures go he's kind of stuck as a secondary figure.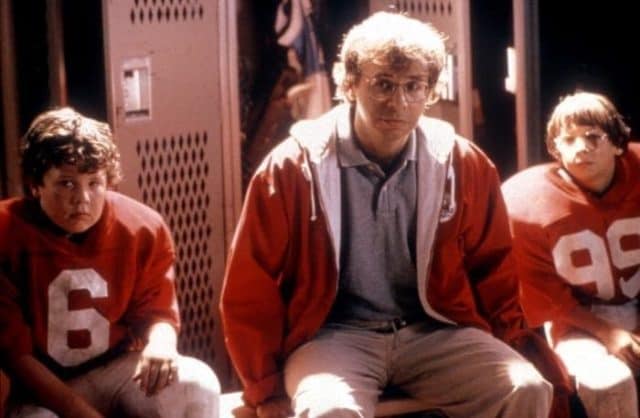 18. Rick Moranis as Danny O'Shea – Little Giants
So he doesn't know much about football. He does however know what it means to quit before you try, and as one of the O'Shea brothers, Moranis gives his young athletes a much-needed boost when they need it most. What he lacks in football knowledge he more than makes up for in sheer heart and determination.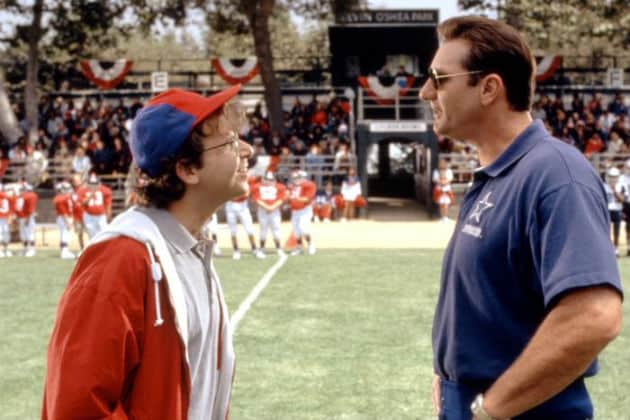 17. Ed O'Neill as Kevin O'Shea – Little Giants
The star athlete, the guy that everyone wants to be like, and the penultimate jerk that knows everything there is to know about the sport. That fits Kevin O'Shea to a tee, and O'Neill plays the part with such fervor that fans might actually think him to be kind of a bad guy right up until the moment he threatens to throw a kid out of the game if he lands another cheap shot. While he's still kind of a jerk, you still have to respect a man that wants to win a fair game.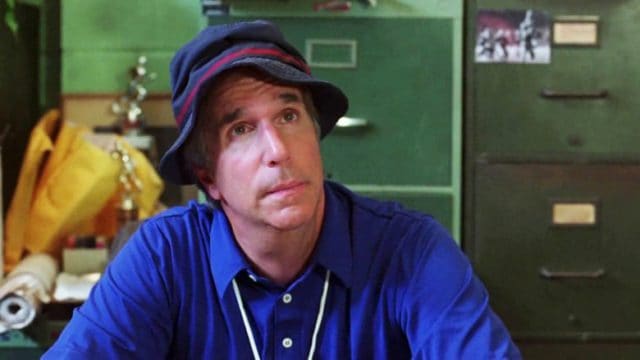 16. Henry Winkler as Coach Klein – The Waterboy
Coaches are the source of confidence that athletes need at times, but in this case it's kind of the opposite. Winkler plays a coach that's had everything taken from him and doesn't know how to mount a comeback until a moderately young athlete with enormous talent shows him what real courage is all about. From that point on his genius and love of the game become a rallying point for his team, and an important reversal of fortune for him.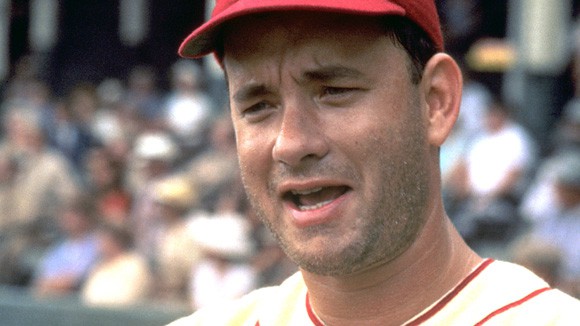 15. Tom Hanks as Jimmy Dugan – A League of Their Own
There's no crying in baseball! If anyone else had said this the line itself might never have been memorable, but given that Tom Hanks is a legend in his own time and can nail any role he plays with such skill, it's one that fans everywhere will remember. Playing as a player turned coach, Hanks brings a level of skill to the role that fans can easily believe and still love as he slowly but surely makes the transition from hated, lazy coach to hardworking, dedicated legend.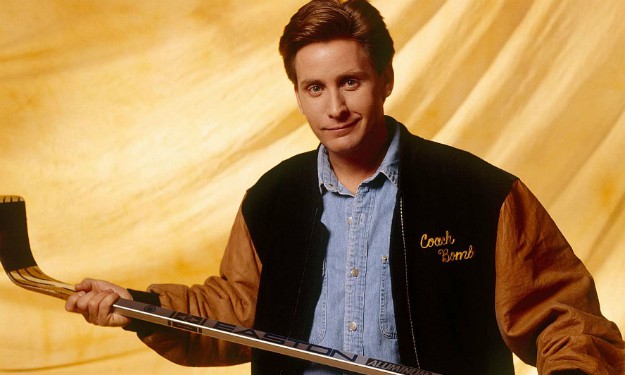 14. Emilio Estevez as Gordon Bombay – The Mighty Ducks
No one ever said coaching kids was easy, and yet Bombay eventually makes it look like a breeze. Charged with taking a band of misfit kids that one one wants to coach, he eventually turns them into a team worthy of a championship game, where he comes up against a past he wishes he could forget. The laughs and the heartwarming moments in this film show just what it means to be a coach, and the trials that one must go through in order to find out where they belong.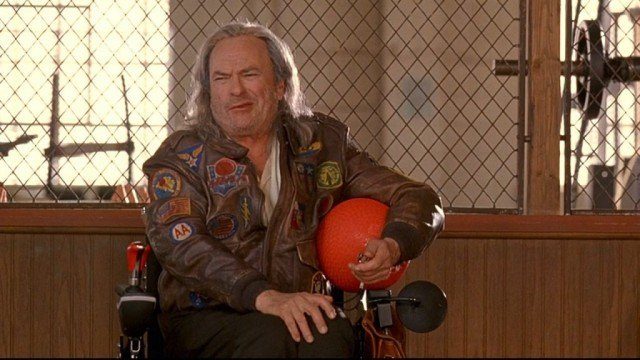 13. Rip Torn as Patches O'Houlihan – Dodgeball
He's not entirely conventional, and in truth he's not even all there. Rip Torn is the kind of coach you might tell stories about over a round at the local pub when all is said and done, and probably laugh about more often than not. Yet for all his abuse and strange but effective teaching methods, he still managed to get at least a few points across, kind of.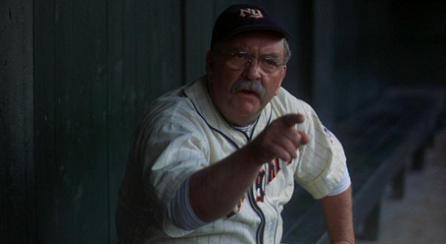 12. Wilford Brimley as Pop in The Natural

He'd give anything to win a pennant, even his mustache. Brimley as the gruff and old school coach of the New York Knights was one of the best performances in what many consider to be the greatest baseball movie of all-time, The Natural. An amazing film all around and Brimley reminds us of the "tough guys" of coaching MLB back in the day.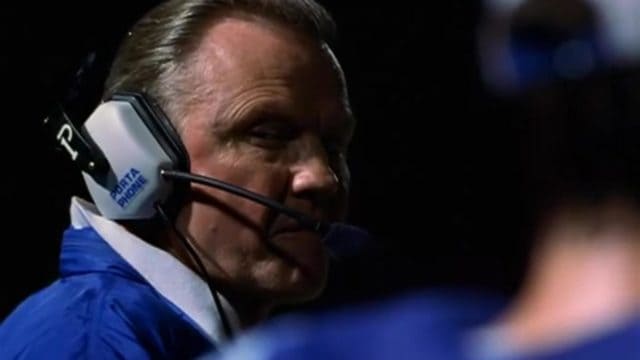 11. Jon Voight as Bud Kilmer – Varsity Blues
If Bud Kilmer is going to be remembered for anything, it's going to be as the nastiest, downright meanest coach to ever step onto a football field. Drill instructors could learn a lesson from Kilmer and his antagonistic methods, as even his most star athletes absolutely hate him in private even as they do everything he says during practice. The type of coach that does nothing but grind his players into the dirt is the type of coach that is easily remembered, but not for the best reasons.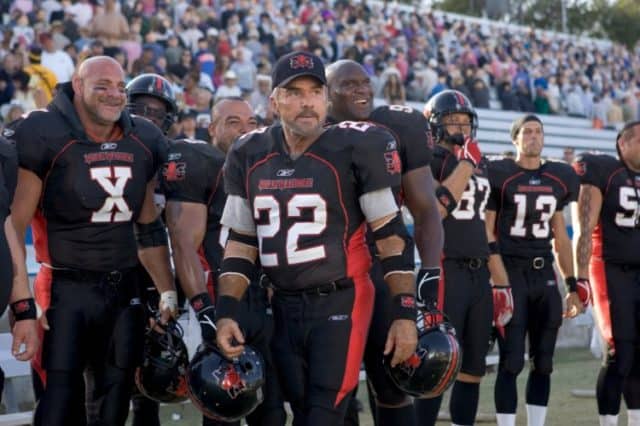 10. Burt Reynolds as Nate Scarborough – The Longest Yard (or him in Mystery Alaska)

Despite this film being a reboot, and despite the fact that Reynolds played the main part in the original, he still shines as a coach in this film for a couple of reasons. One is that he's far more experienced now and can give that kind of knowledge to the next generation, and two is that he's Burt Reynolds. There's not a lot he hasn't done or can't do to make a film great. Some might argue that he can just step on the set and enhance the experience, but in truth, his presence in this film is a lot of fun and capable of making it a memorable experience.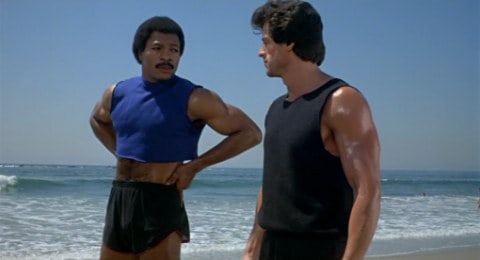 9. Carl Weathers as Apollo Creed – Rocky III
Eye of the Tiger. Even all these years later no one has quite forgotten that line. Apollo Creed was the best boxer in the world for a time until a low-level, unskilled fighter named Rocky Balboa rocked, pun intended, his world. After losing it took Apollo some time to get over the fact, but once he did, it was inspiring to see him teaching Rocky how to get his fire back. Mickey was a great coach for his time, but Apollo was the man that Rocky needed in his corner to keep moving forward.
8. Gene Hackman as Jimmy McGinty – The Replacements
Anything but conventional. Hackman is an awesome actor without equal, and in many roles he brings a kind of static energy that doesn't always get off the to quickest start but is hard to resist when he really gets going. Plus he can be funny, which is enlightening and amusing to watch. As a coach he's straight to the point, no-nonsense, and will tell you what you need to do to get your butt in gear, which is a great quality to have in any coach.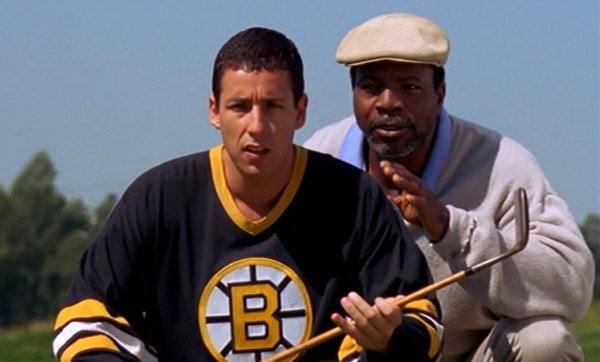 7. Carl Weathers as Chubbs Peterson – Happy Gilmore
It shouldn't be too surprising to see Carl Weathers on this list twice, he's actually a decent character when it comes to playing a coach. As Chubbs he's a little more low-key and far calmer than he was as Apollo, but one has to keep in mind he's older, wiser,and of course, in a completely different film. In Happy Gilmore he doesn't have to play a hard-hitting, smack-talking boxer that loves to win, he has to play opposite Adam Sandler in a film about golf. That alone is worthy of a second mention.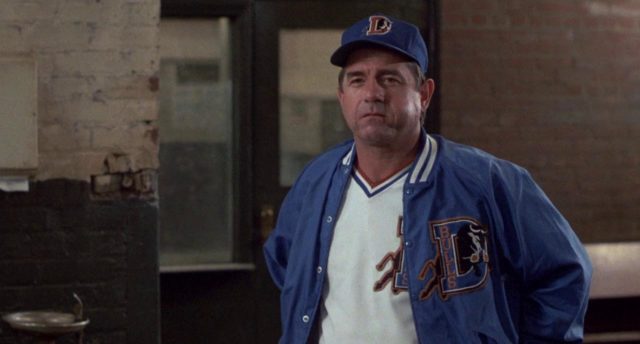 6. Trey Wilson as Joe Riggins – Bull Durham
So let's put it out there, Joe Riggins absolutely hates when people lollygag. You don't lollygag to first base, you don't lollygag to the plate, and you don't lollygag on your into and off the field. His harsh demeanor and expressions throughout movie depict a man that is simply fed up with losing, but the term lollygag and its repeated use never seem to get old.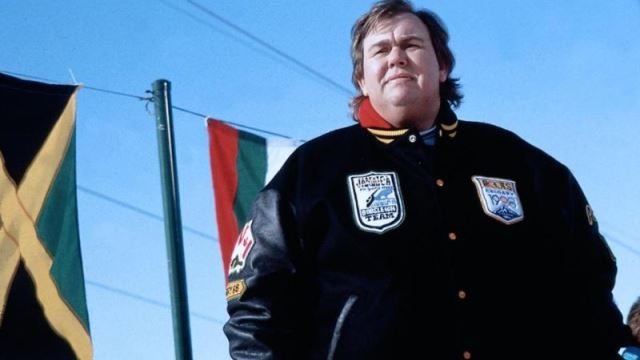 5. John Candy as Irv Blitzer – Cool Runnings
Of all the movies the late great John Candy starred in this was probably one of the most downplayed ones of all. Keeping in mind that it was a role he took later on life, it wasn't quite on par with some of the roles he took when he was younger. But all the same a different side of Candy came out during this movie, a side that showed that he could be serious as well as funny. If nothing else, it really showed that he knew how to act like a human being with obvious faults, and not just a funny man.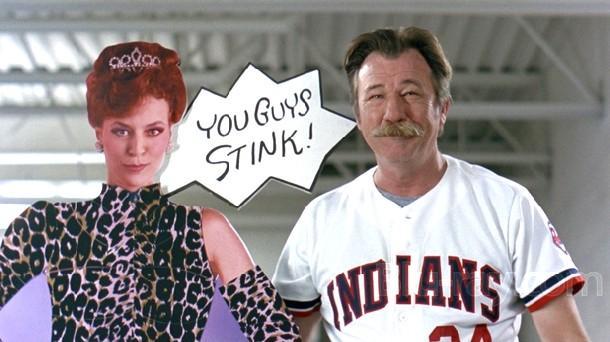 4. James Gammon as Lou Brown – Major League
Now when was the last time you saw a coach peeing on someone's contract? Lou was the coach that didn't care what your doctor said, didn't care whether you were able to do one hundred push ups or fifty at a time, he demanded that you do your absolute best every time and leave it all on the field. He was the old school coach that played you based on skill, not on the politics that surround the game, and would go head to head with owners without blinking. That's a real coach, and that's what endears a coach to their players.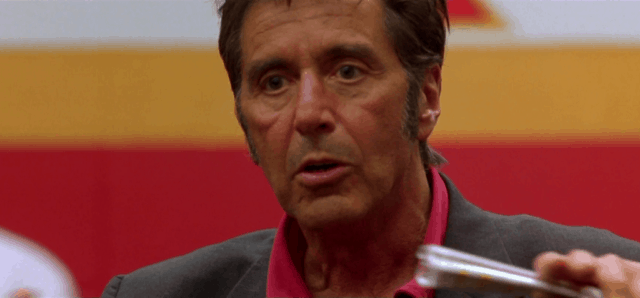 3. Al Pacino as Tony D'Amato – Any Given Sunday
Pacino is usually big on emotion, speeches, and getting to people through his words, and its not much different here. As he clashes with "Steamin" Willie Beamen and the team owner, played by Cameron Diaz in a truly vindictive role, he shows the dark underside of what being a coach is all about. No matter if people love him or hate him, Pacino fulfills this role as only he knows how, and shows the kind of heart and perseverance that a coach must have to move through one disappointment after another in search of that ever-elusive win.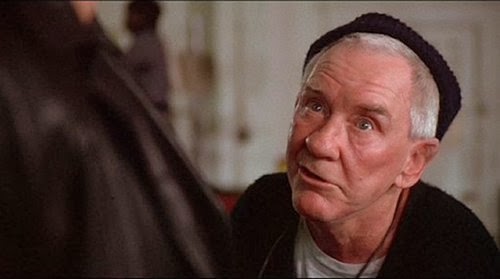 2. Burgess Meredith as Mickey Goldmill – Rocky
If you're ready to eat thunder and crap lightning then Mick is the coach you need to go see. His hard-nosed style of coaching is so up in your face that it's little wonder that Rocky became the nonstop, rock-hard champion he eventually became. As time went on Mick eventually took his role of protecting Rocky to heart and went a little overboard, but his teachings were what kept Rocky up in the beginning, allowing the Italian Stallion a chance to show the world what he could do. He also coined some of the best catch phrases ever such as "He's no machine!" and "I didn't hear no bell!"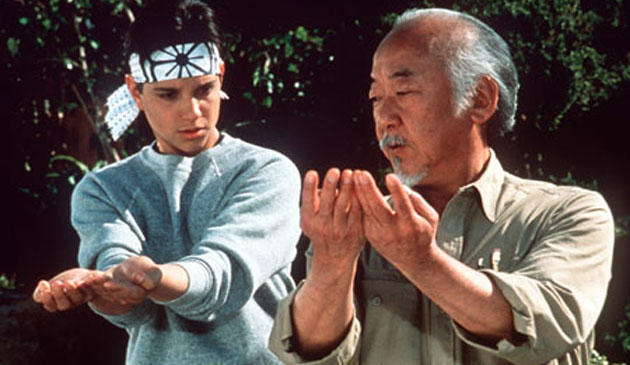 1. Tie: Pat Morita as Mr. Miyagi – The Karate Kid and Gene Hackman as Norman Dale – Hoosiers
If cinema remembers any teacher, or coach, that ever trained a single athlete of any caliber, then Mr. Miyagi will almost always come in close to the top of that list. True enough, he is more of a teacher and a friend to Daniel, but the end of the first film it's been established that he is a coach, and as such is worthy of this distinction. More than anything however, his different style of teaching his young friend is at first quite hilarious and anything but conventional, despite the fact that it is very real and shows young Daniel that what he wants to learn is what he's been doing all along.
And come on. Gene Hackman in Hoosiers? I don't even think we need an argument here. No one's going to disagree.
P.S. we realize there are plenty others out there so I'll name a few – Nick Nolte in Blue Chips, Josh Lucas in Glory Road, Martin Lawrence in Rebound, Keanu Reeves in Hardball, Walter Mathau in Bad News Bears, Mike Leake in Bad News Bears: Breaking Training, and plenty more.
Save
Save
Save
Tell us what's wrong with this post? How could we improve it? :)
Let us improve this post!